The greatest Tour of them all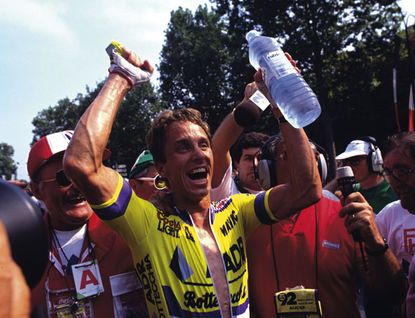 Cycle Sport's Big Read 2009 Twenty years on from the best Tour of them all, we looked back at what made it a great race. We spoke to the riders to piece together the story. Cycling Weekly's Keith Bingham recalls the drama on the Champs-Elysees and Paul Kimmage writes superbly about the race which marked the end of his career as a professional cyclist

This article appeared in the August 2009 issue of Cycle Sport
It is somehow fitting that the greatest and most exciting Tour de France of all stands alone as a stepping-stone between the era of a myth-heavy sport laden with tradition, to a bright, vibrant future.
Twenty years on, the 1989 Tour is defined by the battle between its two key protagonists, and particularly the decisive time trial on the Champs-Elysees.
Think of Greg LeMond in what seemed then achingly modern and cool fluorescent yellow with matching Oakley shades, as he used innovative technology - triathlon-style handlebars, to clinch the narrowest victory in Tour history.
Then consider Laurent Fignon, the proud Parisian who attacked throughout the race only to be undone on the final day. The sight of Fignon slumped exhausted, defeated, on the cobbles is equally enduring as those of LeMond yelling in delight.
There was more to the 1989 Tour than Lemond's eight second victory. It was the greatest Tour not just because the lead swung from one to another, but because Fignon attacked and faltered, while LeMond ducked and dived. It was like watching a three-week boxing match. It was fire versus ice. It was also the only Tour in history where the other two riders on the podium - Fignon and Delgado - had won the Giro and Vuelta in the same year.
LeMond had been shot in a hunting accident in early 1987. He joined PDM in 1988 but his comeback was problematic. When it came to getting a contract for 1989 there weren't many takers, certainly not at LeMond's old prices.
The Belgian ADR team, sponsored by a haulage firm, stepped in. Their manager was Jose De Cauwer. "Greg was on the market. I won't say it was without risk, but we got him for a small price. The boss of ADR offered him six million Belgian francs [around €150,000] as a salary. Then there was a bonus system."
LeMond would get another six million if he rose to number one in the world. "He was down in 400th place, or something like that," says De Cauwer. "So, no chance."
LeMond would get six million for winning the World Championships. "Possible, but not probable."
And he'd get six million for winning the Tour. "No way. Not because he wasn't a classy rider, but not this year."
"He ended up doing two out of three," says De Cauwer with a laugh.
Fignon was enjoying a renaissance too. After years ruined by injury, he returned to his best with a classy win at the Giro d'Italia.
LeMond's season had started slowly. "It was up and down," recalls De Cauwer.
"We weren't expecting miracles. The only question was, can we bring him back? The Giro was bad. There were a couple of days when he was behind and the race radio would announce 'Groupe LeMond', six minutes down, seven, eight...
"I remember he had an insurance policy he could have cashed in if he'd stopped. Collect the money, retire, go do something else. I know he considered it.
"But in the last week of the Giro he did better on the climbs and in the final time trial he was second behind Lech Piasecki. That day we put the heart-rate monitor away and I said 'Give it everything, let's see when the engine cuts out'. He was one of the early starters. After six kilometres he caught one rider, then another, he ended up taking seven riders that day."
As defending champion, Pedro Delgado would be the last rider to start the prologue in Luxembourg. In those days, riders did not warm up on a static trainer, they had to find a quiet back street nearby. After getting his rear disc wheel fitted by the team's mechanic, the Spaniard went to finish his preparation.
Delgado's Reynolds team had just agreed a sponsorship deal with Banesto. Earlier that day, Delgado had heard his team manager, Jose Miguel Echavarri, talking to the bank's directors, who were guests at the race. Echavarri explained sagely that running a cycling team was not like running a bank. "He said there were hundreds of tiny factors that can wreck a season," says Delgado. "Good thing he warned them."
Delgado's troubles began when a policeman tried to throw him off the course during his warm up. "I didn't have a motorbike outrider with me, so he didn't think I was allowed there. I pointed at my race number, but he got angry, so I went somewhere else.
"I wasn't worried about my start time because I'd been given a new watch by the team. I thought I had more time than I did."
Delgado saw the French prologue specialist Thierry Marie, who had just completed his ride. "Just the man you want to see before a time trial," says Delgado. "I was trying to get from him an idea of what to do and what not to do."
Out of the corner of his eye, he saw Sean Kelly roll down the start ramp. "That was what threw me, because I thought he was due off five or six minutes later."
Delgado's mechanic Carlos Vidales was yelling, but it took a while for Delgado to realise who was shouting and why.
"Go, go," yelled Vidales. Still Delgado did not realise he was late. Echavarri was turning purple. "Suddenly I clicked something was up," says Delgado.
"The guys from the organisation said I was late and wouldn't let me start. I had quite a bit of a tussle with them, but as I rolled out I was still wondering why everyone was shouting at me."
Delgado had started his ride two minutes and forty seconds late. Time waits for no man, not even the defending champion.
Had he been on time, Delgado would have been 16th, 14 seconds down on Dutch winner Erik Breukink. Instead, he was 198th. Last. Two minutes and 54 seconds down. The Tour had barely begun, but for Delgado it was over. He better than anyone knew the effort it would take to make up three minutes in the mountains. Three minutes carelessly tossed away might take two or three concerted attacks to regain. It would take a Tour-winning ride simply to drag himself back into contention.
Delgado's immediate response was to panic. "You can imagine how bad I felt. I'd taken a sleeping pill the previous two nights and woken up feeling worse, so I didn't bother, but I wish I had. I had a terrible night, sweating, feeling ill, turning over and over in bed."
Sunday featured a split stage. In the morning there was a hilly road stage in the Grand Duchy, followed by a 46-kilometre team time trial in the afternoon.
In the morning, Soren Lilholt, a Dane with the Histor-Sigma squad who lived in Luxembourg, attacked. Another rider who had adopted Luxembourg as home was Acacio Da Silva, who was said to have left his native Portugal in order to avoid national service.
Da Silva asked one or two senior peloton figures if he might go up the road to greet his family and friends, as was customary. The bunch expected Da Silva to sit up after seeing his family, but instead he chased down Lilholt, won the stage and took yellow, angering the peloton. Meanwhile, Delgado chose this moment to attack, which made the bunch even more ferocious. "I knew I couldn't get the time back, but I went for it anyway," says Delgado. "It didn't work. I just got more knackered."
In the afternoon Delgado paid the price. Julian Gorospe had to drop back to tow him back up to the team. Delgado had shouted, but the team hadn't heard, and they dropped their own leader. Reynolds finished last, almost five minutes down on Fignon's Super-U, who'd won. Delgado was now more than seven minutes behind. "It was a disaster. I'd come to win the Tour, and I was last. People always say the Tour takes years off your life. Well, just Luxembourg took away a few months."
Even when he was racing, Delgado couldn't escape the inquisition. "Laurent Fignon kept on coming up to me. 'Oh, so you're still here on the race,' he said, 'why don't you go home? What's the point of going on?'"
Everyone expected Delgado to abandon. "If I stopped for a piss, all the photographers would gather because they thought I was going to quit."
Fignon's Super-U team won the team time trial, but ADR were fifth, losing only 51 seconds despite having what was supposedly a weak team. Dutchman Johan Lammerts was one of the more experienced ADR riders.
"People always say we were weak, and in the high mountains we were, but for the opening few days, we were as strong as anyone," says Lammerts. "We had Eddy Planckaert, Frank Hoste and a young Johan Museeuw. For a team time trial we were perfect."
Stage three headed through the Ardennes and finished on the motor racing circuit at Spa, then stage four from Wasquehal crossed a handful of cobbled sections. "It was the perfect start for Greg, because he was very good in the Classics. He finished fourth in Paris-Roubaix [1985]. All the climbers were uncomfortable with that stage, but I thought it was good to put the cobbles in the Tour. It was good for Greg because his confidence was beginning to grow."
Five days into the race came an air transfer from Lille to Dinard. The Tour's organisers had chartered two planes, getting the riders to in Brittany in time for lunch. One of them, a Super-Caravelle, developed a problem on the way from Paris to Lille. A smaller Boeing 727 got eight of the teams away at 11.45am, 45 minutes behind schedule. The other 14 teams had to wait as officials scoured the country for another plane. Eventually a 48-seater Fokker arrived and it was decided that Super-U, ADR, Panasonic and RMO, the teams of Fignon, LeMond, Breukink and Mottet, should get priority. The rest waited another hour for a third plane to arrive from Toulouse. It was a shambles.
Rooks and Theunisse, being slightly maverick anyway, had opted out of the air transfer, choosing to travel most of the way by car before riding the final 150 kilometres by bike, getting in their rest-day training session that way.
After arriving in Dinard, De Cauwer had a dilemma. LeMond had decided to use the new handlebars. It wasn't the first time they'd been used in competition, as the 7-Eleven team had unveiled them at the Tour de Trump in May. But that was in America, this was Europe. Someone was bound to object.
De Cauwer remembers the bars' inventor Boone Lennon approaching LeMond. "He said to Greg 'I've got something special for you. You have got to see these handlebars.'"
LeMond and a team-mate, Estonian Janusz Kuum, did a comparison test. LeMond used the new bars, Kuum rode a standard time trial bike. LeMond went in front, Kuum sat on his wheel. Using a heart-rate monitor, LeMond rode up to a pre-determined heart-rate, 175 beats per minute, and kept it constant. Even riding in LeMond's slipstream, it wasn't long before Kuum was struggling to keep up. LeMond's heart-rate was not rising, but he was able to go significantly faster.
After a rest, they reversed roles, Kuum went ahead, LeMond tucked in behind on his tri-bars. "If anything, Greg's heart-rate was going lower," says De Cauwer.
LeMond could have used the new bars during the Giro d'Italia or the Tour prologue, but he didn't.
But De Cauwer knew the race jury had to give them the all-clear. He didn't want to spring the handlebars on the authorities at the start line, but neither did he want to give them time to ponder over a decision.
The day before the Rennes time trial, De Cauwer presented the bike to the head of the race jury, a Swiss man named Jacquard.
"I went early, so no one from any other team would see we were intending to use them. I said 'LeMond wants to use these bars'.
"The chief judge said 'Okay, you can use it, no problem.' I carried on. 'He has a problem with his back, this is more comfortable for him'. The judge replied, 'I said it's okay, he can use them'.
"Then I got out of there."
The time trial was 73 kilometres long. Early sunshine gave way to cool rain. Delgado, still at the bottom of the overall classification, set a time that stood for almost the whole afternoon and LeMond won by 24 seconds to take yellow.
LeMond was back. The handlebars made a bit of a buzz, but no one thought they'd made that much difference. They were just handlebars.
Lammerts recalls: "We had the yellow jersey. For us, it meant a few days to defend the jersey until the Pyrenees. I don't know if anyone thought it would last longer than that."
A stage win put LeMond on the radar. "When you see a rider like that, do a time like that over 73 kilometres, you know they are in good form. That wasn't a one-off. I think everyone noticed," says Kelly.
Fignon's manager, Cyrille Guimard was also worried about LeMond, and had feared him since that ride in the final time trial at the Giro. The Tour was now between two men.
Two short but intense stages days in the Pyrenees offered Delgado his next chance. Stage nine from Pau to Cauterets was 147 kilometres long, crossing the Marie-Blanque, the Aubisque and finishing at La Cambasque. Delgado's team-mate Miguel Indurain was sent on the attack on the Aubisque. The plan had been for Delgado to attack on the Aubisque and get across, using his team-mate as a springboard. "He couldn't do anything, so I went for the stage win," says Indurain.
"Pedro had good team support behind, so I could go for it. It was my hardest day on a bike. If it had gone on another three kilometres, I wouldn't have made the finish."
Delgado attacked in the closing stages and gained 29 seconds over Fignon and LeMond, a lot less than he'd hoped.
The following day would require a more sustained effort. Robert Millar and Charly Mottet had attacked on the Tourmalet and shortly after Delgado ordered Gorospe to go for it. On the Col d'Aspin, Delgado set off, bridged to Gorospe, then went alone and caught the leaders. By the finish, Delgado had clawed back another three minutes and was up to fourth, 2-53 down. It had taken a week, but Delgado was back where he'd stood after that disastrous prologue.
LeMond didn't crack on Superbagneres, but he did splinter. "LeMond was incapable of attacking," says Fignon. "He just stayed on my wheel all the way up, which really pissed me off. In the final kilometre I gathered all my strength to distance him."
LeMond crossed the line 12 seconds after Fignon, his grip on the yellow jersey gone, but only by seven seconds. Seven seconds was nothing. Fignon would have to shake off his shadow in the Alps.
Marino Lejaretta, who went on to finish fifth overall, says: "Fignon should have won, and I think if he'd really considered LeMond a threat, he would have gone all out in the first half of the race and wiped him out. Fignon paid a high price for underestimating him."
Fourth-placed Theunisse agrees: "If I'm honest, Fignon was better. Everything worked out perfectly for Lemond - he had a lot of luck. He was very smart. A very good rider, but Fignon deserved it more."
By now, there was a sense that this Tour was something special.
Bastille Day. Stage 13 ran along the coast from Montpellier to Marseille, side-on to the prevailing wind from the Mediterranean.
Fignon's team-mate Vincent Barteau gave the French the victory they craved, but that barely begins to tell the story. Fignon, the maillot jaune, and Charly Mottet, who was third overall, 57 seconds behind, attacked and gained a significant advantage.
"We [PDM] started that by attacking in the feed station," admits Sean Kelly. "It was forecast to be quite a strong sidewind when we changed direction after the feed, so the tactic was to attack in the feed station."
Attacking in the feed station is one of cycling's taboos, a distinct no-no. "Yes, well..." says Kelly. "It's not the done thing, but it was a team order. The idea was to get a group with Theunisse in it, maybe get a minute.
"I took responsibility, but I was the only one to really go for it. Eventually we all started to ride and we caused a lot of problems, but the wind wasn't strong enough to do any real damage."
PDM's aggression, or more to the point, the timing of it, went down badly. "We didn't have too many buddies, that's for sure, and it's why Fignon attacked."
Fignon was angry, hissing and swearing, so he launched a counter-attack, with Mottet. They got a gap and kept going while the favourites looked at each other, and then turned their gaze to PDM.
"We'd started it, so everyone looked at us, which was fair enough," says Kelly. "We had a very difficult chase. At one point we were doing 60 kilometres an hour and we still weren't getting them back. You could see them about two or three hundred metres up ahead, surrounded by motorbikes.
"I'm not patting myself on the back here, but I did a heck of a lot of riding to help bring that back. LeMond and Lammerts were also very strong."
Once Fignon and Mottet were under control, Kelly had to intervene in his own team. "We'd all calmed down and there was Theunisse and Alcala throwing punches at each other." Theunisse thought Alcala had been 'glass cranking', not pulling his weight during the chase. Kelly spent the following morning in the start village apologising to people.
In the time trial from Gap to Orcières-Merlette. LeMond had another good day, finishing fifth behind the winner Steven Rooks, 47 seconds faster than Fignon. The yellow jersey moved back to LeMond.
LeMond was rarely able to call on the support of his team-mates in the mountains, but on stage 16, from Gap to Briançon, De Cauwer's foresight was invaluable. "There was a long flat section between the two main climbs, the Vars and the Izoard, and that could have been very dangerous. Greg could have been vulnerable."
ADR's plan was to send someone in the early break, so LeMond would have some help in the valley. Eddy Planckaert was responding to one such attack when he punctured. "We had to quickly tell Lammerts to cover the move," says De Cauwer.
"I had to attack hard to get in that group," says Lammerts. "I made it, and although I was dropped near the top of the Vars, I was caught by Greg's group on the descent and I rode as hard as I could to keep it all together."
Instead, it was Fignon who had the bad day, getting dropped over the top of the Izoard. Several times he almost got back, only for a fresh attack ahead of him to lift the pace and reopen the gap. He rode virtually unassisted for the final portion of the stage, yet conceded only 13 seconds.
Early in the stage to Alpe d'Huez LeMond was anxious to attack, but De Cauwer talked him out of it. Gert-Jan Theunisse, frustrated at his PDM team's inability to work together, took matters into his own hands, attacking on the Galibier, the first climb of the day. Theunisse hoped one of his team-mates would join the attack.
Theunisse went on his own. "The team car told me to stop but I said 'No, I asked the others to attack with me'. I was more and more pissed off with the team." Theunisse rode on to the finish. "On the last climb I couldn't see anything any more. It was like a black tunnel."
Fignon's plan was to wait for the Alpe and make a brutal attack. The idea was to give it everything, as if the finish line was 100 metres away. "I attacked at the bottom, LeMond reacted... I went again, harder and he still came back. Then he attacked, in a huge gear. I followed, my legs burning. We were equal, and we were exhausted.
"To beat LeMond, the great follower, you had to hassle him, put him into the red, then keep trying."
As they went on up the climb, De Cauwer spotted the tell-tale signs that his man was beginning to crack. LeMond was trying to turn over a bigger gear than was comfortable, his shoulders were rocking, his head stooped.
"I was in driving the car behind the group on the climb," says De Cauwer. "I could see Greg was looking shaky, but I knew that Guimard would recognise it too. Guimard was in the car behind me, but I was going from side to side a little bit so he couldn't get a clear view. He must have noticed Greg was tiring because he was sounding his horn, trying to come past, but I didn't want him going up to tell Fignon to attack.
"The commissaire was on the radio, telling me 'you have to move to the side,' There were huge crowds and I knew there were not many opportunities to come past, so I kept it like this for two or three kilometres, playing stupid, moving a bit so there wasn't room. Eventually Guimard comes past."
"Six kilometres from the top, Guimard drove up and said 'Go for it, he's cooked'," says Fignon. "I told him, 'I can't. I'm done too.'" Another two kilometres on, Fignon did manage to accelerate. LeMond blew.
LeMond lost 1-19 in those four kilometres. Fignon was back in yellow, by 26 seconds.
The PDM team were mob-handed, but as Kelly points out, having four riders in the top 10 does not automatically mean you have one capable of winning the race. Naturally, everyone looked at PDM to do the work, because they had strength in numbers.
On stage 18, just 91 kilometres from Bourg d'Oisans to Villard de Lans, Fignon attacked towards the top of the St Nizier climb and looked back to see it was PDM's Steven Rooks who was chasing. Fignon pressed on and shook off the pursuit to win the stage and gain another 24 seconds, to give him a 50-second cushion over LeMond with three days remaining. Not for the first time in the race, though, Fignon suspected PDM were helping LeMond.
The American had ridden for the Dutch squad the previous year. To add to Fignon's paranoia, Delgado was also a former PDM man, taking second place in the 1987 Tour for them.
"[Theunisse and Rooks] did all the work for LeMond," says Fignon. But Kelly says the PDM team were incapable of working among themselves, let alone for someone else. "Fignon has asked me many, many times over the years when we've met 'Come on, tell me, were you really riding for LeMond' but that was never the case. There was never anything planned."
De Cauwer was concerned about the time LeMond had lost, but felt it could have been a lot worse. "Fignon is a proud man. He wanted to win the Tour in a certain style, by clenching his fist and shouting 'I will win the Tour this way'. But he didn't make the smartest decisions." The run-in to Villard-de-Lans was into a headwind and Fignon had to dig deep to preserve the lead he'd carved out. "In a sense, he'd left it to the last minute."
Delgado tried to claw back some more time on the final day in the Alps, but succeeded only in dragging clear a move consisting of the five riders who would take the top five places overall in Paris. LeMond won the sprint in Aix-les-Bains and Fignon congratulated him on a good, fair fight. In the Frenchman's mind, he had won the Tour. A fifty-second advantage would be enough.
On the final Saturday evening, the riders took the TGV from Lyon to Paris. Brian Holm was completing his second Tour for the Histor-Sigma team. "Before we went to the train station I saw Greg in his team car. He had a pair of shorts on but no t-shirt, tanned and laughing. He looked totally relaxed. He was eating chocolate biscuits and drinking a can of Coke."
Vincent Barteau, who rode with both LeMond and Fignon on the Renault team, was now a team-mate of Fignon's at Super-U. "I talked to Greg on the train to Paris and he said 'I haven't lost yet'."
That train journey to Paris was a testing one for Fignon. There were too many journalists and photographers on board, and he hated it. The Italian rider Gianni Bugno remembers Fignon losing his cool with the photographers as they got off the train. The pressure was mounting.
It was this irascible exterior that meant the French public never truly warmed to him in victory. During his two convincing Tour de France wins, in 1983 and 1984, Fignon demonstrated attacking panache. But there was still coldness.
Lemond wasn't beaten, but he wasn't sure he could win either. "The thing was the course was slightly downhill for much of the way, so we knew it would be fast," says De Cauwer. And the faster the ride, the greater the advantage those aero bars would give LeMond. Fitting a 55x12 gear to his Bottecchia bike, LeMond streaked to what was the fastest time trial in Tour history, averaging 54.5 kilometres per hour.
In the morning, De Cauwer drove from ADR's hotel to the start three times, to ensure he knew the way automatically. Then he followed LeMond on the course. LeMond practiced some corners three or four times, riding behind the car to get up to race speed, and testing the fastest line. He wasn't necessarily looking for the shortest line, says De Cauwer, but the overall fastest one.
Reports got back to De Cauwer that Fignon had been seen trying a pair of aero bars.
All around the course both riders had helpers posted to give time checks. For Fignon it was all bad news.
On the Champs Elysees, De Cauwer pulled off the course further up, stopped the car and watched Fignon pass on the opposite side of the boulevard. "I knew it was going to be very, very close."
The greatest Tour in the history of cycling was ready for its final act.
CYCLING WEEKLY'S COVERAGE OF THE 1989 TOUR
How Cycling Weekly covered the greatest Tour. The stage-by-stage reports from 20 years ago are online here
EYEWITNESS
Paris, Sunday July 23, 1989. Time: 16.43 hours approx
Keith Bingham covered the entire 1989 for our sister magazine Cycling Weekly. Here, he recalls the impact of the incredible final day in Paris, from the point of view of the press tent.
The double Tour winner was odds-on favourite. Surely Fignon's third victory was a certainty? A fitting celebration of the bicentennial of the French Revolution!
It wasn't.
Suddenly, stories were ripped up, guys were grabbing phones. French journalists who'd had the temerity to write up Fignon's glorious victory in advance of him actually doing it were white faced!
We had just seen the French race leader destroyed in the "Race of Truth". Unforgettable. Sensational.
I will never forget standing on that famous stretch of cobbles watching in disbelief as Fignon lost the Tour by eight seconds to Lemond.
The same LeMond, remember, who was very nearly killed in a shooting accident two years before.
Glory for LeMond, and a second Tour victory. The guillotine for Fignon. A savage end to a glorious campaign.
You couldn't have scripted it better. Stage 21, Versailles - Paris. What a stunning climax.
For this final test, LeMond's bike sported revolutionary aero bars, a sloping top tube and a slightly smaller diameter front wheel, 26-inch, as I recall.
It was last word in aerodynamics.
No such helmet for pony-tailed Fignon in the yellow jersey. The day was hot. He rode his normal road bike, but with disc wheels.
At 16.12, LeMond sped away. His 50 seconds overall deficit on Fignon considered too great to overcome.
Two minutes later Fignon took up the chase, resplendent in yellow.
The first shock came at 11.5km. Fignon trailed LeMond by 21 seconds!
I remember how we absorbed this information in the press tent. Shared glances. A chin-stroking moment.
We watched LeMond on the TV monitors, He was sitting comfortably, powering a huge gear through the streets of Paris, taking the corners well.
By contrast, Fignon was in and out of the saddle, uncomfortable, unsettled.
As the pair neared the Champs Elyseés where the massed crowds were a hubbub of chatter and anticipation, I left the press tent and went to the roadside.
The sight of LeMond flowing over the pave drew gasps from the crowd. He had 3.5km to go, and he seemed to fly up the Champs Elyseés.
As LeMond raced downhill to the line some 1.5 kilometres away, Fignon, backed by the massive entourage of press bikes and cars, reached the famous Avenue.
I was shocked. His body language conveyed pain. A man on the rack.
I recall watching the clock on the finish line gantry, LeMond hurtling beneath it, clocking 26-57. Fastest.
Gasping for breath, the American came to a halt, sweat running from under his helmet, immediately lost to sight in a scrum of team helpers, TV and press.
There was a sense of triumph, but also foreboding.
LeMond had averaged 33.8mph to win his third stage of the Tour. But to win overall, he had to overcome the 50-second deficit.
We all held our breath.
Our eyes strained toward a distant figure illuminated in a blaze of headlights by the following race traffic, spread across the road lined by tens of thousands of noisy spectators, the whole scene framed by the giant Arc de Triomphe in the background.
It was one of those occasions when everything becomes crystal clear. I recall watching Fignon's approach, then refocusing to the clock on the gantry over finish line.
Looking up to gauge his latest position, nearer, nearer. Then looking at the clock, watching time ebb away.
He had 10 seconds to get to the line.
Then nine, eight, seven.... LeMond was wide eyed, fidgeting, wiping his brow. No one breathed. Fignon was within 300 metres of the line. Six, five, four, three, two, one! There was a huge roar - agony and ecstasy.
It was over.
I was stood rock still. But Fignon's Tour would last eight more agonizing seconds.
LeMond and his people whooped. They hugged, they jumped. And still Fignon came on. As hard as he could, as hard as he knew how as the crowd roared him across the line.
Fignon braked hard to avoid the press and TV ruck blocking his way and collapsed in the roadway. Gendarmes strived to keep the tumult at bay, to preserve his dignity.
Jeez. It was wild back in the press tent, I can tell you.
DANIEL MANGEAS - THE LONGEST COUNTDOWN

It was Tour speaker Daniel Mangeas' job to keep the Parisian crowd informed of the race. He went down in cycling history when he famously counted down the time Fignon had to save the Tour.
"I was watching from my position as Fignon went up the climb on the opposite side of the Champs, and at that exact moment, the two were equal on general classification.
When he was approaching the line, my colleague shouted at me that he had 10 seconds left to save the Tour, and I just started counting down, like that. Ten, nine, eight, seven, and we could see it was going to be so close. I got to zero, and that was it, Greg had won the Tour, and above all at that moment, I wanted Fignon not to have heard me counting down.
Being an objective commentator, it was important not to take sides. Being French, I felt desperately sorry for Fignon, even if I also sensed the great joy at Lemond's victory.
The atmosphere in Paris that day was different from other Tours. Normally it's a celebration, but there was extreme tension that day. I knew from the very start that it was going to be that kind of race. Every Tour is beautiful, but I've never known a race as animated as 1989.
FIGNON

An exclusive extract from Laurent Fignon's new book - Nous étions jeunes et insouciants. The double Tour winner, and runner-up in 1989, has recently been diagnosed with cancer.
The American had decided to defy the regulations again with his famous triathlete's bars, which gave him a significant advantage. I had to avoid losing more than two seconds a kilometre. And going by Guimard's early indications, that was precisely what I was losing: two seconds a kilometre.
I gave it all I could, clenched my teeth, tried everything to concentrate on my efforts and forget the throbbing pain [of the saddle sore].
After a while, Guimard stopped giving me updates. I had no more information, no splits. This was a bad sign. I lost concentration.
Above all, I was riding all out, but going all out wasn't making me go faster. I don't know where my heart rate was going, but it felt like my breath was fighting against me.
Everybody has seen the pictures. When I crossed the line, I collapsed to the ground. I needed to breathe, get some air. That's all I needed. At that exact moment, I had no information. I asked the scrum around me, "what happened?" No answer. I tried again. Still no answer. Nobody dared look me in the eye and tell me the truth. The truth that everybody knew except for me: that I had lost. By eight seconds. Eight bloody seconds.
In the indescribable chaos, somebody finally got the courage to tell me: "You have lost the Tour, Laurent." I don't know who'd said it. I didn't believe it. Or rather, I wouldn't believe it. I didn't think it possible.
"It's not true," I told myself. It's as if the information was too much for my mind to process. For some time, it was as if the defeat had not yet happened to me - it didn't get through to me. I went into shock.
I walked like a punch-drunk boxer, in a world of frenzied noise. I walked with robotic steps, in no particular direction. I don't know where I was going, or who was making me go there. I felt arms supporting me, helping me to stay upright. Around me, people were in a commotion. Some were shouting. Some were distraught, groggy, stunned. Others were celebrating.
I wandered around a little more. I didn't know anything, who I was or where I was. Then the shock began to sink in, to become reality. I went to the anti-doping control, where I met [team mate] Thierry Marie. Without warning, he embraced me and collapsed in tears.
And in those welcoming arms, I wept like a baby. Long sobs.
After, I remember vaguely that I didn't really want to stand on the podium. The very idea repulsed me. But it was better that I did.
Lemond tried to make me feel better. "You won the Giro," he said, clumsily.
"Sod the Giro!" I said.
But he was right - the three winners of the Grand Tours that season were on that podium together.
SEE IT FOR YOURSELF

Edward Pickering sits down with the 1989 Tour DVD and reminds himself what made the race so special.
Over 20 years, the 1989 Tour, the greatest, most aesthetically perfect race in the event's history, has been reduced to a series of iconic images: Delgado rocking up late to the start house in Luxembourg; Lemond on his tri-bars; Millar and Delgado's escape in the Pyrenees; Lemond's Oakleys and style in the Gap TT (where I watched the race live for the first time, camping on the Col de Manse); the yellow jersey going one way, then the other, then back again; Theunisse on Alpe d'Huez; Fignon's solo escape, his handlebars coloured with the red, white and blue of the tricolor; and the final tragedy and glory of the time trial in Paris.
But the 1989 Tour is not just these images. The Incredible Comeback reminded me of the stories behind the two main protagonists. Pedro Delgado's aggression in the Pyrenees is only one part of the story - it was actually some incredible work by his team which got him back in the race.
In the Alps. Fignon's attacks to Alpe d'Huez and Villard de Lans are well known. But he had a desperate day on the stage to Briançon, getting dropped on the Vars, then the Izoard, but fighting his way alone to the finish, in the wake of Lemond's group. He almost closed the gap on the final climb into Briançon, in an astonishing display of grit, losing 13 seconds. If he lost the Tour anywhere, it was probably here.
As well as the most exciting racing action cycling has ever seen, there's the usual quirky footage of the race - snaggle-toothed farmers watching the race from their fields, spectators in only swimming trunks, old boys handing out newspapers at the top of mountains, the Reynolds team's revolutionary blue-fronted shorts - the first ever non-black shorts to look good, skinny frames and wheel rims, a mesmerisingly ghostly electro soundtrack, and best of all, unpredictable performances, pain on riders' faces and a gloriously liberated attacking performance by Fignon, Delgado and Theunisse, while Lemond judged his own race to perfection. Last year's Tour could have been decided by two seconds, and it wouldn't have held a candle to this one.
The Incredible Comeback is available from the Cycling Weekly shop
INSIDE THE GREATEST TOUR IN HISTORY

by Paul Kimmage
The award winning journalist, who competed in the 1989 Tour in his former life as a professional cyclist, looks back at the race, and opens his race diary, 20 years on.
The 50 French franc notes sat in an uneven pile amongst the half-eaten croissants and pots of jam. At the head of the table, Patrick Valcke, the Fagor assistant team manager, waited for the last member of staff to place his wager and gathered the notes. "Okay, I think that's everyone," he announced. "Now, write your name and prediction on the sheet of paper and we'll gather them up."
The date was Saturday, July 1, 1989. It was a dry, overcast morning in Luxembourg, six hours before the prologue of the 76th Tour de France and I had left the modest hotel room I was sharing with Stephen Roche and joined the staff for breakfast. The game was to predict a likely winner of the prologue. I watched, intrigued, as Valcke opened the ballot box.
Eric Breukink, Roche and Charly Mottet had earned most of the votes. Then he came to the forecast of our Spanish masseur, Txomin Erdoiza... "Greg LeMond".
There was a ten second pause as we reflected on the American's chances. The whole table erupted with laughter.
Our scepticism was well placed. We had not long returned from a month spent racing with LeMond at the Giro d'Italia. On the second stage, a summit finish at Mount Etna, Sicily, he lost ten minutes to the new pink jersey, Acacio da Silva. I beat him by eight minutes that day - a first in my career -and remember passing him early on the climb, amazed by his state of distress.
Etna was only the beginning. Twelve days later, on a brutally cold and wet stage to another summit finish at Tre Cime de Lavaredo, LeMond was hopelessly distanced again. It snowing at the summit and he was ushered into the kitchen of a small hotel to change, shivering and exhausted. A team helper arrived with a basin of warm water to wash but LeMond placed it at his feet and stepped-in without removing his shoes. "God, that was awful," he moaned.
Depressed by another poor performance, he shared a room with the Dutch rider, Johan Lammerts, that night and spoke about retiring. "I won't be a has-been in this sport, Johan," he announced. "I'm stopping at the end of the year to find a job." Lammerts believes the admission was almost cathartic. "It was as if he was relieved to have made a decision because next day he started to ride better."
Three weeks later, on a Saturday morning in Luxembourg with 3,250 kilometres of the Tour to race, the notion that LeMond might win the prologue was hilarious. And the Tour? You would have been certified.
LeMond wasn't the only rider contemplating retirement. A week before the Tour, I accepted an offer join the staff of The Sunday Tribune in Ireland as a sportswriter. The plan was to honour my contract with Fagor until the end of the season and start at the newspaper in January. On the eve of the prologue, I faxed a 3,000 word preview to Dublin and listed my five favourites in order:
1. Pedro Delgado
2. Charly Mottet
3.Laurent Fignon
4. Stephen Roche
5. Andy Hampsten.
This is what I wrote about Delgado: "The logical favourite in most people's books. The fiasco of last years Tour, when he was caught with traces of the drug Probenecide in his urine, stained the "maillot jaune" and leaves many people wondering about Delgado's integrity. With his angelic face and manner Pedro - so gracious in defeat to Roche in '87 - remains one of the gentlemen of the peloton. But like the politician caught leaving the brothel who claims he is only canvassing, his victory of last year leaves a doubt."
...Not exactly Hemingway but the kid had potential.
A week later, I began my last diary as a professional cyclist.
Day 1: Luxembourg

Question: When does a prologue become an epilogue? Answer: When the favourite arrives up at the starting ramp two minutes and 40 seconds late. Rule 28 in the Tour de France bible states that any rider presenting himself after his fixed hour of departure will be penalised by the sum of his delay. At 17:17, when he should have been on the starting ramp, Pedro Delgado was a kilometre away, turning his pedals outside the train station, oblivious to the panic of his entourage. He presented the other race favourites with a gift voucher towards victory in the Tour de France worth two minutes and 40 seconds.
The 76th Tour de France started with an earthquake. Even now, twenty years on, it seems extraordinary. Delgado started the prologue in the yellow jersey (as the '88 winner) and finished as the lanterne rouge. Sensational! The other favourites had enjoyed a much more pleasurable afternoon: Fignon (second) Mottet (sixth) Roche (13th) Kimmage (175th). And LeMond? Well, poor Txomin had lost his wager but the American had given him a run for his money and finished an excellent fourth.
Day 2: Luxembourg

I am starting to feel worried. In the build-up to the Tour, I've been struggling in training. Today, a split stage consisting of a loop around Luxembourg in the morning and a team time trial in the afternoon, did not ease my fears. My legs feel tired and heavy. It's as if I finished the Giro three days ago and not three weeks ago. This morning, I sat at the back of the peloton and spent most of my time with a Delgado very much in mourning after his disaster of yesterday.

His eyes hidden behind dark glasses, it was hard to know what hurt he was feeling but I was sure he was hurting. I felt sorry for him but how could I communicate that for I felt compelled to do so? I opted for sign language, a simple pat on the back as a way of saying 'hang in there.' He replied with the same, lifting his right hand from the handlebars in acknowledgement. It was nice. I like him.
WTF! Was that me? The anti-doping evangelist? The guy who crucified David Millar for his compassion towards Alexandre Vinokourov in 2007? Did I write that? I still find it hard to explain. Logically, I should have felt as outraged about Delgado as I would feel later about Vinokourov, but I clearly didn't. I was still a professional athlete and still afflicted by what the American writer, Gene Collier, described once as their "impenetrable sense of entitlement." We expected our strengths to be celebrated, even embellished, and our weaknesses to be tolerated. That's how the world appears when you're inside the tent looking out. And for the next 12 months until my book, Rough Ride, was published, I would remain inside the tent and at one with my "band of brothers".
Day 5: Dinard

Today we had a transfer from Lille to Dinard, the starting town for tomorrow's time trial. The plan was to fly all of the riders down on two chartered jets but one of them broke down and we had to wait three hours for a replacement. The highlight of the evening took place at about 11:30. I was lying in bed, trying to doze-off but there was a mosquito in the room with turbo charged wings and a broken exhaust pipe. I wondered if Roche was asleep.

"Stephen? You awake?"

"Yeah."

"Do you hear that mosquito?"

"Yeah."

"Will we kill him?"

"Yeah."

The light went on and we nailed the bastard to the bedroom door with a crisp swing of a Fagor jersey.
Okay, I hear you. What does this story tell us about the greatest Tour in history? I agree, not much. But read (the excellent) Michael Barry and tell me what you learn about Lance Armstrong? Or the (excellent) David Millar diaries. The race appears different viewed from the inside. The next stage, a 73 kilometre time-trial in the rain, was won by the incredible LeMond. He had also claimed the yellow jersey by five seconds from Fignon. The tone for the race had been set. They would go toe-to-toe until the finish in Paris.
Day 9: Cauterets

Today is our first day in the mountains but disaster strikes before we reach the first slope. The chain of Roche's bike slips between gears, he is thrown off balance and cracks his knee off the handlebars. It often happens and it hurts. It hurt Roche. He slips to the back of the peloton and calls the race doctor. I rally to his side and ask what is wrong.



The grimace on his face says it all. The doctor gives him some anti-inflammatories but as we start the first col, the Marie Blanque, he is immediately in difficulties. I'm feeling good but decide to stay with him. On the second col, the Aubisque, we regain contact with the leaders but let go when the pace shoots up again.



He finished the stage 15 minutes behind and explained what had happened to French TV. Tonight they were all banging on his door and looking for the story. I have never seen him so low. He won't be starting tomorrow. Patrick has advised him to fly to Munich for treatment. Just when we thought things couldn't get much worse, Patrick noticed two of the Fagor executives talking to Greg LeMond tonight in the hotel and reckons they are trying to sign him for next year. Not a great day.
Such slavish devotion to Roche; what a cruel disappointment that would prove. And it seems absolutely absurd to me that in four years as a professional I never spoke to Greg LeMond. He was staying at our hotel that night. Why didn't I say hello? Or well done (he was still leading)? Or remind him of how far he/we had come since the Giro? Maybe I spent too much time trying to be French. My two outstanding memories of him are moments he will want to forget - his dishevelled state on that mountain top finish at the Giro, and tenth stage of the '86 Tour to Futuroscope, when he was afflicted by a terrible dose of the scutters (it was literally rolling down his legs) near the finish. Roche, to be fair, was the classiest looking bike rider I have known and Kelly, without question, was easily the toughest but LeMond was the real deal. What a bike rider! He had an Armstrong in each leg.
Day 10: Luchon (Superbagneres)

Stephen leaving the race was a huge blow to me but the last thing he said before leaving was that I should go all the way to Paris. My morale was poor as we started the first hairpins of the giant Tourmalet and I drifted towards the back. Giant Belgian sprinters, guys I would normally blow away in the mountains were leaving me behind. Patrick Valcke knew what was going though my mind. He drove alongside and told me that if I did not reach the group 500 metres in front then the Tour was over for me. I nodded and sprinted up to the group.



Just as I was about to make contact, the open-topped Fiat Uno of the race doctor drove alongside. There was a big, dark-skinned curly haired guy in the back - the French rugby player, Serge Blanco. "Hey Serge!" I roared "What about an interview?" He looked stupefied. "I can't do it at the moment because I'm slightly occupied but I'll get back to you," I said. "D'accord" he smiled. At least the day was not an entire waste.



A short stage of 140km, the time delay was tight. At the bottom of the last mountain, Superbagneres, our 30-strong group split to pieces. Twelve were outside the time limit at the top. I made it by three minutes. I was happy."
Happy. I had survived the Pyrenees. But two days later I abandoned the Tour and my professional career was over. If I could rewind the clock I would keep going until Paris. Physically, I had never felt better. Mentally, I was shot. It's the only thing I regret in my time as a pro. The race for the maillot jaune was hotting up. After losing the lead to Fignon at Superbagneres, LeMond reclaimed the jersey five days later at Orcieres-Merlette. The following afternoon, I took a call from my sports editor in Dublin: "Why don't you take a picnic to Alpe-d'Huez and write a piece for Sunday?"


Day 20: Alpe'D'Huez

Suddenly the four riders sweep into view. Delgado, flanked by his team-mate, Rodon, leads from LeMond and Fignon. The yellow jersey glances nervously over his shoulder, Fignon is still there, still following. He knows Greg and has spotted the cracks. LeMond's head has dropped and his shoulders are rocking.



Fignon attacks four kilometres from the summit. Delgado glances at LeMond but the yellow jersey can't respond. Delgado takes off in pursuit. Fignon is absolutely flying and it takes the Spaniard almost two kilometres to claw his way back. LeMond is beaten. His race to the summit is a calvary. He has lost the yellow jersey by 26 seconds.



Further down the mountain, the news that Fignon has reclaimed the lead has delighted French fans. "Fignon, maillot jaune!" a friend roars with clenched fists. I just had not got it in me to remind him that he doesn't like Fignon. We followed the riders to the summit and spent an hour gawking at the crowds gathered around the team hotels. A group of unhappy Scots had left a hand-written note on the windscreen of a Z-Peugeot team car.



It was addressed to Robert Millar. It read: 'Dear Robert, we have driven 1,200 miles to support you. We have asked to meet you on three occasions but each time you refuse to even say hello. You are an ignorant bastard and Phil Liggett agrees with us.'



Phil Liggett pandering to the fans? Well, there's a surprise. LeMond looked to have blown it on the Alpe. Four days later, when the race finished in Paris, I watched the amazing conclusion from an apartment near Grenoble. LeMond's performance was pulsating and extraordinary but there are times when sport seems just too cruel and my heart was with Fignon.
A few weeks earlier, on the morning after Fignon had won the Giro, we were on the same flight to Paris. It was an Air France flight, economy class, and I had expected the captain to congratulate him and solicit a round of applause but he was ignored. His partner and two children were waiting in the arrivals hall. His two-year-old son had recently broken a thigh and limped across the floor and into his arms.
The tenderness of Fignon's embrace was incredibly moving and returned to me as I watched his exhausted body, prostrate on the cobbles. Nobody deserves to lose a Tour like that.
Related links
1989: The greatest Tour de France ever: every stage report, videos and much more from the 1989 Tour
Thank you for reading 20 articles this month* Join now for unlimited access
Enjoy your first month for just £1 / $1 / €1
*Read 5 free articles per month without a subscription
Join now for unlimited access
Try first month for just £1 / $1 / €1