The things we all love about cycling
There are many reasons why cycling has an enduring appeal... and it's not just the excuse to eat cake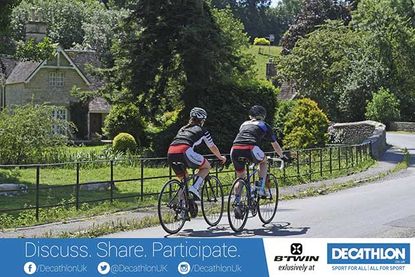 A love of cycling can be a personal thing. Some love it for the freedom, some for the personal challenge, and others for the opportunity to make new friends.
We recently asked Cycling Weekly readers what they most loved about cycling, and we present a selection of the answers here, in association with B'Twin.
What do you most love about cycling? Tell us in the comment box below.
For me, it's timeless freedom. When I am gliding along I am out in the world and in a state of mind I can't get to in other ways.
Mark Middleton
The striving. Always challenging yourself. Getting stronger. Enjoying pulling the group and being strong. Finding the perfect mix on a flat of cadences and power for long delivered outputs. I love riding my bike!
Scott Landreth
Exploring. Taking new and different roads and getting to see different aspects of a place. It's also a great way to sightsee!
Leanne Coulthard
What I love about cycling is its ability to cleanse my head of everything going on in life, good or bad. When I'm in the saddle, it's all about the ride.
Phil Nunez
A sense of sporting achievement, which is only really limited by yourself. I'm riding 220 miles at the weekend, over two days — something I would never even have thought was possible a few years ago.
Diado Ramirez
Jelly babies.
Allison Budge
Bike building, especially if you build the wheels. The sense of adrenaline and achievement in racing is heightened when you've bolted it all together yourself.
Neil Bah
Cycling is meditation on two wheels, taking in everything around you, without the distractions of 21st century life.
Brock Strongo
>>> Six things no-one tells you when you start cycling
The freedom, the fun, the friendships and obviously the cake.
Ron Cunningham
Mastering the art of shaving your legs without cutting yourself. It took me four years.
Dave Pargeter
I love the wind in my face. It just feels different on a bike, when you are the one making it.
Josh Strub
Going out and specifically targeting mates' KOMs on Strava!
Mac McDade
Going down hills, obviously...
Steve Giles
The escapism. You get just the right amount of time to think about stuff going on in your life...
Dan Chippendale
>>> 11 things guaranteed to happen on every cycling holiday
Being able to trough cake with total impunity.
Martin Woollatt
That I can ride on the same roads the pros do.
Paul Mathias
Thank you for reading 20 articles this month* Join now for unlimited access
Enjoy your first month for just £1 / $1 / €1
*Read 5 free articles per month without a subscription
Join now for unlimited access
Try first month for just £1 / $1 / €1