There's only one thing wrong with this 'give cyclists space' road sign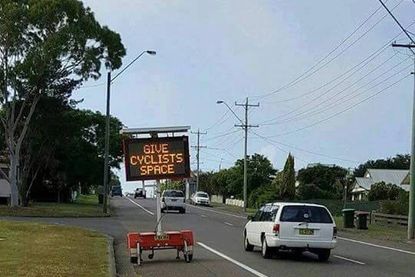 After all the negative news stories about the state of cycling in Sydney, Australia, recently it's good to see they are trying to take care of their cyclists by placing 'give cyclists space' signs around their roads.
But one in particular caused a bit of consternation among locals, when it was shown that the mobile electronic sign actually took up most of the cycle lane and forced bikers into the traffic.
The picture below was posted to the 'I love Sydney bike lanes & cycle ways' Facebook group.
>>> Sydney 'decades behind' other cities when it comes to cycling provisions
The government in New South Wales has come under fire from cyclists in recent weeks for imposing huge fines for minor cycling infractions, such as not wearing a helmet and even trackstanding at traffic lights.
Bike lanes on a busy Sydney street have been ripped up in an attempt to ease congestion around the city and 450 cyclists were fined in one day for a variety of infractions before new cycling laws were enforced.
Thank you for reading 20 articles this month* Join now for unlimited access
Enjoy your first month for just £1 / $1 / €1
*Read 5 free articles per month without a subscription
Join now for unlimited access
Try first month for just £1 / $1 / €1