Thibaut Pinot: I want to enjoy raising my arms in victory
FDJ's Thibaut Pinot may have finished on the podium at the Tour de France, but he aims to win more races in 2014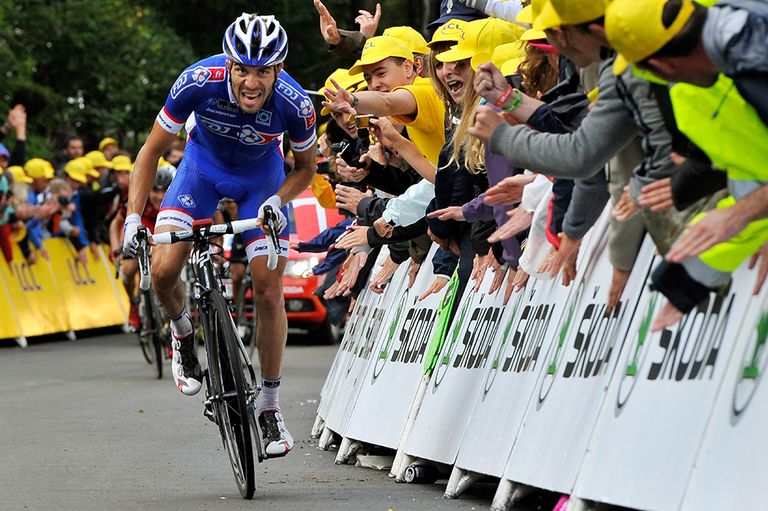 FDJ rider Thibaut Pinot wants to get back to winning ways in 2015 after a season of frustration at the finish line.
While Pinot proved his GC credentials with a series of top-10 finishes, including third at the Tour de France, the 24-year-old failed to notch up a single stage win last year.
Four second-place finishes, notably on Hautacam on stage 18 of the Tour, helped Pinot in the overall standings, but did not satisfy his urge to win.
"I'm happy to pin a number on my jersey again even if I enjoy training. Winter went well, even if it went quick, But it's time to race on Sunday and that's feels good," he told FDJ's website.
"Last year I finished second four times; when you really focused on the classification it's not as easy to win. But I want to enjoy raising my arms in victory."
Pinot's manager at FDJ, Marc Madiot, is confident his squad can build on their breakthrough 2014, but says a Tour de France win could still be some years away.
"The Tour has been unreachable for years, for reasons you know as well as I do," Madiot told l'Equipe. "But now we have the potential. This can be done in the next four to five years, if we continue to progress and if fate is in our favour.
"2014 was a continuation of what was expected. Year after year, we're trying to build the foundations. We were lucky to find talented young racers and give them the time to assert themselves. As a result the team has grown."