Thomas Dekker to take on Hour Record in Mexico this month
UCI confirms Dutchman's attempt scheduled for February 25 in Aguascalientes, Mexico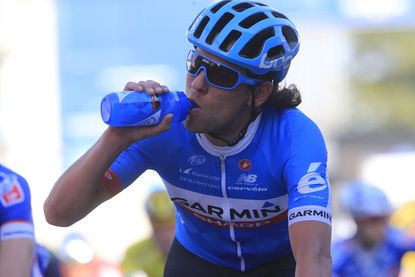 (Image credit: Watson)
Thomas Dekker will make his attempt at the Hour Record at the Aguascalientes Bicentenary Velodrome, Mexico later this month, the UCI confirmed on Friday.
Dekker will be the third man to make an attempt at the prestigious endurance record this year, with Jack Bobridge failing to beat Matthias Brändle's record of 51.852km in late January, while his compatriot Rohan Dennis will make his attempt this coming Sunday (February 8).
The Aguascalientes track sits at 1800m above sea level, which lends itself to Dutchman's attempt due to thinner air at altitude creating less aerodynamic drag, and has hosted several major track cycling events including a round of the UCI Track World Cup in 2013.
The 30-year-old Dutchman still remains without a team for the 2015 season however, after being released by Garmin at the end of last season, but announced his Hour Record attempt in November 2014 despite the lack of a major pro team behind him.
"It feels like an honour to take part in a historical event like the UCI Hour Record," Dekker said.
"I also know it's a brutal event and that you need to face it with respect. Great riders tried to break it in the past and some succeed and some not. Matthias Brändle set a fantastic record and he is the man to beat on this moment. But my teammate from last year Rohan Dennis is in his best form ever and a great rider. I'm curious to see what he can achieve on Sunday."
Since the UCI revised its regulations over the record in May last year, a flurry of riders, including Britain's Alex Dowsett and Dame Sarah Storey, have announced their intentions to attempt their respective Hour Records.
Dowsett was forced to postpone his attempt after breaking a collarbone while on a training ride in January, while Storey will make her attempt at the women's record on February 29 in London.
UCI president Brian Cookson stated that he was pleased with current state of the record, while he was also keen to see the record attempted outside of Europe, with Bobridge having already made his attempt in Melbourne.
"The start of the year is busy with several UCI Hour Record attempts, showing that this legendary event has regained its appeal since we've changed the rules last year," Cookson said.
"I am pleased to see that riders are taking on the mark beyond Europe, in territories such as Oceania and the Americas where our sport enjoys a growing popularity. Jack Bobridge's attempt demonstrated that the UCI Hour Record is not an easy one to achieve. Let's see what the riders are capable of."
http://www.youtube.com/watch?v=-XYhYAvYB-k&feature=youtu.be
Thank you for reading 5 articles this month* Join now for unlimited access
Enjoy your first month for just £1 / $1 / €1
*Read 5 free articles per month without a subscription
Join now for unlimited access
Try first month for just £1 / $1 / €1