TOUR DOWN UNDER: GREIPEL SEALS OVERALL VICTORY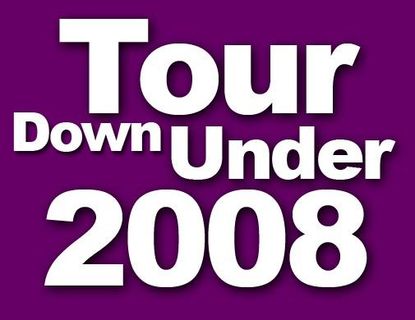 Stage six video highlights>>
The odds on André Greipel winning his fourth stage of the Tour Down Under to confirm his overall title would not have been generous before Sunday's final 88-kilometre stage.
There was a sense of the inevitable before the criterium got underway on a tight 5.5-kilometre circuit.
And as if to make certain there were no doubts he was the fastest sprinter of the week, Greipel took advantage of more fine work by his High Road team-mates and, when in sight of the line, he didn't disappoint.
* Read the full report and results here.
Stage six video highlights>>
Swipe to scroll horizontally
TOUR DOWN UNDER: VIDEO HIGHLIGHTS
Stage six>>
Stage five>>
Stage four>>
Stage three>>Stage two>>
Stage one>>
Down Under Classic>>
Swipe to scroll horizontally
TOUR DOWN UNDER: STAGE REPORTS AND RESULTS
Stage six: Inevitably, Greipel wins to clinch overall title>>
Stage five: Who can stop Greipel? German takes third win and overall lead>>
Stage four: It's Greipel again, Renshaw keeps the lead>>
Stage three: Davis boosts his job chances, Renshaw back in ochre>>
Stage two: André Greipel wins the stage, Graeme Brown takes overall lead>>
Stage one: Mark Renshaw takes opening stage>>
Down Under Classic: André Greipel wins for High Road>>
Swipe to scroll horizontally
Sunday, January 20 Down Under Classic: Glenelg, 50km
Tuesday, January 22 Stage 1: Mawson Lakes ? Angaston, 129km
Wednesday, January 23 Stage 2: Stirling ? Hahndorf, 148km
Thursday, January 24 Stage 3: Unley ? Victor Harbour, 139km
Friday, January 25 Stage 4: Mannum ? Strathalbyn, 134km
Saturday, January 26 Stage 5: Willunga ? Willunga, 147km
Sunday, January 27 Stage 6: Adelaide, 88km
Swipe to scroll horizontally
It says ProTour on all the Tour Down Under?s official literature, so it must be true.
The early season race celebrates its tenth edition with elevation to professional cycling?s elite level, and all eyes are on South Australia as the 2008 ProTour season kicks off.
Although the improved status has led to a bigger and stronger field, the race remains what it has always been ? a superbly organised event of tremendous importance to Australian cycling, but little more than a training exercise for the European professionals sent to compete.
The landscape is pleasing to the eye but it is not a classic parcours conducive to exciting, aggressive stage racing. It?s warm-up territory, a chance to score a few important ? but not season-defining ? early victories and assess the form before the real business gets underway.
It?s impossible not to think of this as a pre-cursor to the real business in a month or so.
While the field is strong ? with all the previous winners still active but one taking part (Michael Rogers of Team High Road is the exception) ? the number of A grade superstars who have made the journey is none. The biggest stars are the Australians but 2007 ProTour winner Cadel Evans is not riding because he says the race comes too early in the season for Tour de France contenders like him.
The relaxed atmosphere and shorter journey to Tour of Qatar and the trend for team training camps on the west coast of America prior to the Tour of California is always going to limit the field of the Tour Down Under, ProTour branding or not.
Having said that, the spotlight will be on the race like never before. The UCI?s concept may be down on its knees, gasping for breath, but the Tour Down Under isn?t complaining, the race is bigger and better than ever before.
Swipe to scroll horizontally
What?s the route like?
Pretty much the same as usual. There are rolling stages in the hills that offer enough chances for groups to get away but with flat run-ins there's plenty of opportunity for the sprinters to bring them back. It?ll be interesting to see if the teams with top sprinters will be keener to set up the opportunities rather than let a race-winning move go early in the week now the race is in the ProTour.
Being the ProTour has probably boosted the quality of the field, right?
The field is the biggest yet, with 19 seven-man teams taking part, but it?s not packed with stars. Apart from Robbie McEwen and Stuart O?Grady, who have wintered in Australia anyway, most of the big squads have spared their stars the long trip to race in 40-degree heat. Not everyone is delighted to be there. Bouygues Telecom rider Jerome Pineau told a French website he considers being sent Down Under 'a punishment'. And he's not making a joke about Australia's history either.
Any Brits riding?
Just one. Jeremy Hunt is making his debut for Crédit Agricole and will challenge in the sprints. At last a chance at the very top level for the 33-year-old. Sean Yates takes charge of the Astana team for the first time too.
Who?s going to win it?
If history has anything to do with it, a rider from Ag2r. They?ve won the Tour Down Under four times in nine years, with Gilles Magnian in 2000, Mikel Astarloza in 2003, Simon Gerrans in 2006 and Martin Elmiger last year. The Swiss rider Elmiger is back to defend his crown. It?s very difficult to assess form but the Australians will be going great guns. Stuart O?Grady ? twice a winner ? skipped the national championships to give himself a better chance of winning. He?s coming back to full fitness after that horrendous crash at the Tour de France. Robbie McEwen will want at least one stage win and new Aussie champ Matthew Lloyd could figure. But it?s real needle-in-a-haystack stuff. The composition of the first break to take any time will go a long way to deciding the race.
Stick your neck out, who?s going to win?
No idea for the overall ? perhaps O?Grady or Simon Gerrans. It?s the sprints that really excite ? look at how many top-class sprinters there are. McEwen, Hunt, Aurelien Clerc, Bernhard Eisel, Rene Crashelbacher, Robert Forster, Heinrich Haussler, Graeme Brown, Allan Davis? it?s going to be frenetic at the finishes.
Anyone else to watch?
Apart from the strong Aussie challenge, there?s a former world champion, Milram?s Igor Astarloa, last year?s Ghent-Wevelgem winner Marcus Burghardt for Team High Road, Classics star Philippe Gilbert for Française des Jeux and Frenchman David Moncoutié, who is also on the comeback trail after serious injury.
What's good... and what's bad about the race?
Good... the season is getting underway, the crowds, and great opportunities for the marketing men. The route is set up for the sprinters, which could mean a tight fight overall.
Bad... it's likely to too hot for most of the riders, half the field isn't fit yet, the start list is a bit on the ENECO Tour/Tour of Poland scale, there's a big chance two thirds of the bunch will finish 15 minutes behind on stage one.
Swipe to scroll horizontally
Sky Sports is showing highlights of the race each day, although it moves around the schedules a bit. Cycling Weekly will also have video highlights on this site.
Sky Sports 2
Tuesday, January 22, 6.30pm: Stage 1
Wednesday, January 23, 6.30pm: Stage 2
Friday, January 25, 4.30am: Stage 3
Saturday, January 26, 5.30am: Stage 4
Saturday, January 26, 6.30am: Stage 5
Sunday, January 27, 6.30am: Stage 6
Sky Sports 3
Friday, January 25, 7pm: Stage 4
Sunday, January 27, 5am: Stage 5
Sunday, January 27, 8pm: Stage 6
Sky Sports Xtra
Tuesday, January 22, 11pm: Stage 1
Wednesday, January 23, 11pm: Stage 2
Thursday, January 24, 6.30pm: Stage 3
Friday, January 25, 11pm: Stage 4
Saturday, January 26, 11pm: Stage 5
Sunday, January 27, 10.30pm: Stage 6
Swipe to scroll horizontally
2007 Martin Elmiger (Swi) Ag2r
2006 Simon Gerrans (Aus) Ag2r
2005 Luis Leon Sanchez (Spa) Liberty Seguros
2004 Patrick Jonker (Aus) UniSA
2003 Mikel Astarloza (Spa) Ag2r
2002 Michael Rogers (Aus) AIS
2001 Stuart O?Grady (Aus) Crédit Agricole
2000 Gilles Maignan (Fra) Ag2r
1999 Stuart O?Grady (Aus) Crédit Agricole
RELATED LINK
Thank you for reading 20 articles this month* Join now for unlimited access
Enjoy your first month for just £1 / $1 / €1
*Read 5 free articles per month without a subscription
Join now for unlimited access
Try first month for just £1 / $1 / €1