Tour hero Brian Robinson makes slow recovery in hospital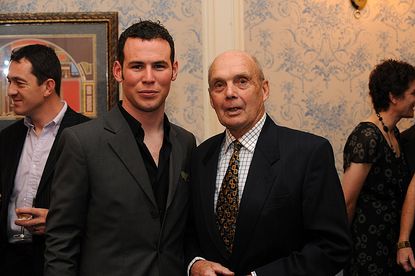 Brian Robinson, the first Briton to win a stage of the Tour de France in 1958, and make the podium in Milan-San Remo, is in hospital in Sheffield, making a slow recovery after a fall when cycling last month.
Robinson, 79, was cycling with friends when in a rare moment of inattention, he fell heavily. Detained in hospital overnight, he was released next day with 'minor' injuries.
But he was far from well enough to attend last month's Dave Rayner Fund-raising dinner in Harrogate - Robinson is president of the Fund - to welcome chief guests Bradley Wiggins, Russell Downing and Sir Jimmy Savile.
Dinner guests signed a get-well card for their missing host, but it turned out he needed more than kind thoughts.
It was discovered he had sustained severe bruising to the groin, which led to complications, and he returned to hospital for a series of operations. When these were only partially successful he was transferred to another hospital, under the care of a specialist in this type injury.
Otherwise, Robinson is in good health and frustrated at losing his fitness. He sends his best wishes from his hosital bed and would welcome visitors. He is in Sheffield Northern General Hospital, Ward Huntsman 4.
Thank you for reading 10 articles this month* Join now for unlimited access
Enjoy your first month for just £1 / $1 / €1
*Read 5 free articles per month without a subscription
Join now for unlimited access
Try first month for just £1 / $1 / €1
Keith Bingham joined the Cycling Weekly team in the summer of 1971, and retired in 2011. During his time, he covered numerous Tours de France, Milk Races and everything in-between. He was well known for his long-running 'Bikewatch' column, and played a pivotal role in fighting for the future of once at-threat cycling venues such as Hog Hill and Herne Hill Velodrome.