Tour of Ireland start list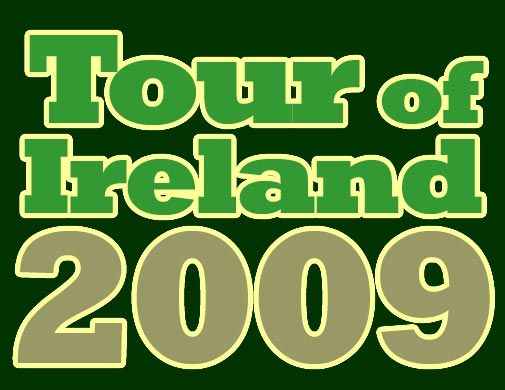 The three-day Tour of Ireland will get underway from Powerscourt tomorrow with arguably its finest field yet.
Two of the sport's biggest stars, Lance Armstrong and Mark Cavendish, will certainly draw the crowds but, in the likes of defending champion Marco Pinotti, Stuart O'Grady, Matti Breschel and Yaroslav Popovych, the race can also boast several other big-name attractions.
Alongside Tour star Cavendish, the best of British talent is also here, from experienced European-based riders such as Roger Hammond and Jeremy Hunt to main players in British domestic racing like Russell Downing, Kristian House and Ian Wilkinson.
Cycling Weekly will be covering the Tour of Ireland in full.
Astana

Manager: Johan Bruyneel
Armstrong, Lance USA
Brajkovic, Janez SLO
Hernández, Jesús ESP
Schar, Michael SUI
Popovych, Yaroslav UKR
Rubiera, Jose Luis ESP
Zubeldia, Haimar ESP
Team Columbia-HTC

Manager: Brian Holm
Pinotti, Marco ITA
Cavendish, Mark GBR
Eisel, Bernhard AUT
Lewis, Craig USA
Rabon, Frantisek CZE
Reynes Mimo, Vicente ESP
Possoni, Morris ITA
Irish National Team

Manager: Tim Barry
McCann, David IRL
Bennett, Sam IRL
Downey, Sean IRL
Lavery, Philip IRL
Griffin, Paul IRL
Healion, Paul IRL
Irvine, Martyn IRL
An Post - Sean Kelly Team

Manager: Kurt Bogaerts
Eeckhout, Niko BEL
Lisabeth, Kenny BEL
Cassidy, Mark IRL
Mc Laughlin, Ronan IRL
Peeters, Jef BEL
Van Vooren, Steven BEL
De Schrooder, Benny BEL
Saxo Bank

Manager: Dan Frost
O'Grady Stuart AUS
Fuglsang, Jakob DEN
McCartney, Jason USA
Kroon, Karsten NED
Arvesen, Kurt Asle NOR
Breschel, Matti DEN
Kolobnev, Alexander RUS
Cervelo Test Team

Manager: Jens Zemke
Deignan, Philip IRE
Appollonio, Davide ITA
Rasch, Gabriel NOR
Hammond, Roger GBR
Hunt, Jeremy GBR
Lloyd, Daniel GBR
Reimer, Martin GER
Rapha Condor

Manager: John Herety
House, Kristian GBR
Newton, Christopher GBR
Lapthorne, Darren AUS
Southam, Tom GBR
Richardson, Simon GBR
Craven, Dan NAM
Downing, Dean GBR
CandiTV-Marshalls Pasta

Manager: Phil Griffiths
Downing, Russ GBR
Elliott, Malcolm GBR
Briggs, Graham GBR
Sampson, James GBR
Williams, Peter GBR
Appleby, Dan GBR
Roche, Andrew IRL
Australian National Team

Manager: Brian Stephens
Bobridge, Jack AUS
Howard, Leigh AUS
Meyer, Travis AUS
Matthews, Michael AUS
O'Brien, Mark AUS
Walker, Nicholas AUS
Roe, Timothy AUS
Joker-Bianchi

Manager: Gino Van Oudenhove
Kristoff, Alexander NOR
Willman, Frederik NOR
Remme, Stian NOR
Vold, Sven Erik NOR
Nordhaug, Lars Petter NOR
Haavardsholm, Ole NOR
Stake Laengen, Vegard NOR
Rabobank

Manager: Nico Verhoeven
Bol, Jeste NED
Keizer, Martijn NED
Kruijswijk, Steven NED
Sinkeldam, Ramon NED
Van Staeyen, Michael BEL
Van Winden, Dennis NED
Vrijmoed, Maurice NED
BMC Racing

Manager: John Lelangue
Frank, Mathias SUI
Frei, Thomas SUI
Stewart, Jackson USA
Stalder, Florian SUI
Kohler, Martin SUI
Wyss, Danilo SUI
Cruz, Antonio USA
ISD-Neri

Manager: Bogdan Bondariev
Grivko, Andrey UKR
Abakoumov, Igor UKR
Kostyuk, Denys UKR
De Negri, Pierpaolo ITA
Kvachuk, Denys UKR
Huzarsky, Bartosz POL
Matveyev, Sergey UKR
MTN Energade

Manager: Douglas Ryder
Mcleod, Ian RSA
Thomson, Jay RSA
Van Heerden, Juan RSA
Van Heerden, Christoff RSA
Potgieter, Bradley RSA
Nlyonshuti, Adrien RWA
TBC
Team Type 1
Manager: Vassili Davidenko
Creed, Michael USA
Hanson, Keneth USA
Milne, Shawn USA
Kobzarenko, Valeriy UKR
Ilsesic Aldo, Ino SLO
Wilson, Matt AUS
Calabria, Fabio AUS
Team Halfords-Bikehut

Manager: Keith Lambert
Hayles, Robert GBR
Clancy, Edward GBR
McNally, Mark GBR
Partridge, Robert GBR
Tennant, Andrew GBR
Wilkinson, Ian GBR
Bibby, Ian GBR
TOUR OF IRELAND RELATED LINKS Lance Armstrong and Mark Cavendish confirmed for 'compact' Tour of IrelandPinotti wins 2008 Tour of Ireland