Tour Series changes rules for 2015 in a bid to boost racing
New GC-based format aimed at encouraging aggressive racing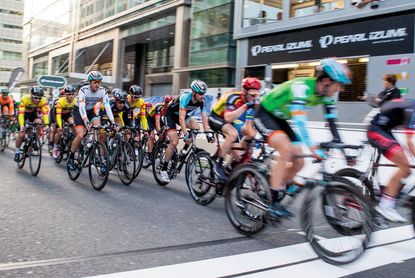 (Image credit: Daniel Gould)
The rules of this year's Pearl Izumi Tour Series have been changed in a bid to make the racing more aggressive and unpredictable.
As predicted by Cycling Weekly last June, the changes will mean that the finishing time of each team's five riders will now be added together, and the squad with the lowest cumulative time will win the round.
This is a dramatic shift from the series's original format, in which the team with the lowest combined score from its three highest finishers won the round.
However, this has had a negative impact on the racing; for example, in 2014, NFTO's Jon Mould won three individual rounds, as eventual series winner Rapha Condor-JLT focused on placing riders as high behind him instead of closing him down.
The new format is believed to have been suggested by team managers, however strict penalties will be applied to teams who both start and finish rounds with fewer than five riders.
This year's Pearl Izumi Tour Series begins in Ryde on next Thursday [May 14].
Thank you for reading 20 articles this month* Join now for unlimited access
Enjoy your first month for just £1 / $1 / €1
*Read 5 free articles per month without a subscription
Join now for unlimited access
Try first month for just £1 / $1 / €1