TOUR WINNER SAYS HAS 'PLAN B' IF TEAM NOT ADMITTED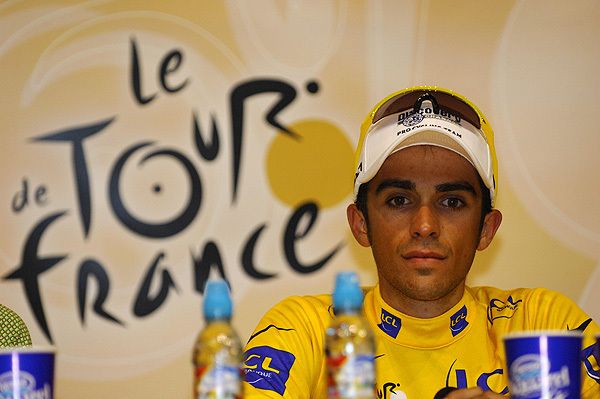 Last year's Tour de France winner Alberto Contador has said that he ?has a ?plan B? should his squad, Astana, be prevented from starting the race this July.
?I?m thinking about the fact I may not start,? Contador told Spanish sports daily MARCA on Wednesday. ?It?s very much uppermost in my mind.?
?However, I?m still training hard for July, although if they don?t invite us I?ve got other plans.?
?I?ll ride the Olympics, because it?s got a very tough route and I could get a medal in the time trial. Then I?d do the Tour of Spain, which is my home race.?
There has been fierce speculation in recent weeks that the Tour won?t let Contador?s Astana squad, be present in this year?s race. The Giro?s recent decision not to let Astana ride has made that debate even hotter.
Contador insists that he has the right to be in the Tour ?because I am the past winner. But that decision is not in my hands.?
ASO officials have said as recently as last week that the problem is not with Contador, but with his team - which was at the centre of the scandals of last year?s race, albeit under completely different management and when Contador was not in the squad.
?When I signed for Astana, I knew this could happen,? Contador argued. ?But I hope the Tour remembers the good show I put on in the mountains last year and that this team, even if it has the same sponsor, has nothing to do with last year?s squad.?
Commenting on Astana?s failure to be accepted to the Giro, he insisted that ?they said that we weren?t competitive enough with [Janek] Brajokovic as race leader, but that could have been discussed. A team like ours deserves to be in all three major Tours.?
However, whilst the Giro?s non-acceptance is a set-back for Astana, getting barred from the Tour would be a much more serious blow to a squad geared for riding stage races.
Should Astana be rejected, 2008 would be the third year in a row - and fourth in the last decade - that the race has started without the rider who stood in yellow on the Champs Elysees the previous July.
In 1999, the Tour started without the late Marco Pantani, the 1998 champion, after he quit the Giro because of a test revealing high hematocrit values and in 2006, Lance Armstrong had retired following seven straight wins, leaving the Tour throne vacant.
In 2007, Floyd Landis was unable to start because of a positive for synthetic testosterone - and Spaniard Oscar Pereiro had still not been officially declared the winner in his place. 2008 could see history repeating itself, yet again, albeit for different reasons.
RELATED LINKS
Could Tour de France snub Astana and High Road too?
Astana and High Road not invited to 2008 Giro d'Italia
Comment: Shocking decision by Giro organisers