Track cycling world championships: Sunday's coverage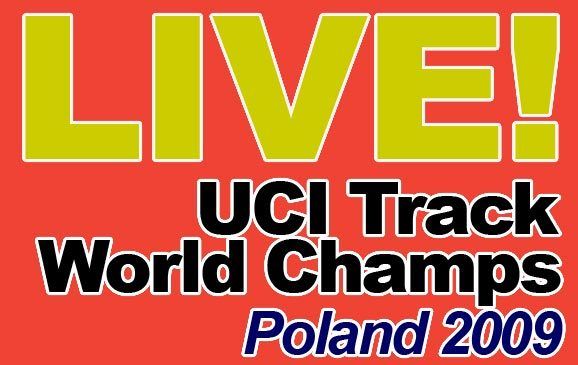 Press refresh to access the latest updates
All times are UK times
The Hub - Home for all CW's track worlds coverage
TODAY'S HIGHLIGHTS
* Armitstead wins bronze in the points race
* Howard wins men's Omnium to ensure Aussies top medal table
* Bauge wins his first world sprint title
UPDATES
16.11 Well, that's all from us here in Poland. Hope you've enjoyed the coverage. Look out for Cycling Weekly, on sale on Thursday. In the meantime, check on The Hub for all of our online coverage from the week.
It's been a great week's racing, with plenty of medals for Britain. Okay, so the gold didn't flow, but the team showed its strength in depth at a time when they are not pinging. For the first time Britain has a rider capable of winning women's bunch races - Lizzie Armitstead is Britain's first medallist in a world championship points race since Sally Hodge in 1988.
15.48 Bauge is the world sprint champion Well, when it mattered, Bauge turned on the power and beat Awang convincingly.
15.46 By the way, Australia's Leigh Howard clinched the Omnium gold so Australia top the medal table.
15.45 Men's sprint final decider It's Awang of Malaysia against Bauge of France. They're tied 1-1. Bauge is huge, Awang is a lot smaller, but he's matched the Frenchman so far.
15.36 We are hearing that Nicole Cooke pulled out of a wet, cold Trofeo Binda World Cup race after 46km today, but that Emma Pooley is still in the race. Apparently Pooley attacked on the first climb and was away alone for 50 miles before being caught and dropped. More news when we get it.
15.22 Criterium International update Bradley Wiggins gets second place in the 8.3km time trial that concludes the two-day stage race in Charleville-Mezieres in France. Tony Martin of Columbia won it. Wiggins was six seconds back. Ben Swift was 41st, 50 seconds back in the TT.
Jens Voigt wins overall for the fifth time in his career. Frantisek Rabon second, Danny Pate third. Ben Swift 33rd overall, Wiggins 45th.
15.09 Awang is the sprinting revelation this week. He's just beaten Bauge, this time with his front wheel on the ground, to tie the gold medal final 1-1. They will have a deciding race later on, after the Omnium's kilo competition.
14.54 Bronze for Armitstead in points race
So that's Armitstead's second world championship medal of the week, after silver in the scratch race.
Gonzalez, the rider who beat her in the scratch, won the last sprint to leapfrog from fourth to second. But Armitstead was also in the points, while Wang wasn't, so the British rider stays third. A fine result in what was a very exciting points race.
1 Giorgia Bronzini (Ita) 18pts
2 Yumari Gonzalez Valdieso (Cub) 15pts
3 Lizzie Armitstead (GB) 13pts
4 Cui Wang (Chn) 12pts
14.53Gonzalez won the last sprint, so she overtakes Armitstead. But Armitstead was in the points too, so may have overtaken Wang to keep third place.
No doubt about the winner, though. Giorgia Bronzini of Italy.
14.52 Wang could beat Bronzini if she won the last sprint with the Italian failing to score.
Armitstead is leading it out with a lap to go.
14.51 Pauliukaite, who is fifth and only two points behind Armitstead, has attacked from six laps out but it's all back together now.
14.49 Armitstead is second over the line, behind Bronzini at sprint number nine.
Bronzini is looking good for the win now but Armitstead has risen into third position and if she can put a bit of distance between her and Wang in the final sprint she could get another silver.
The overall position is:
1. Bronzini 17
2. Wang 12
3. Armitstead 11
14.49 With two sprints to go, Armistead is well placed, but she needs to score well at each of the two remaining sprints to have a shout of a medal. She's currenly two points behind the bronze medal position.
14.49 Wang and Wong are off the front, Olaberria and Bronzini were the other scorers at sprint number eight of 10. So Armitstead is now equal fifth... then another crash as there's a touch of wheels. It's chaos. It was the American Shelley Olds who just rode into the back of Armitstead as they were going opposite ways up and down the banking.
14.44 Current situation is
1 Bronzini 11pts
2 Gonzalez 10
3 Pauliukaite 9
4 Armitstead 8
But Wang and Wong are trying to get off the front again.
14.43 Armitstead got second at sprint 7, behind the breakaway rider Pauliukaite. It also meant she missed the crash which sent four riders flying.
14.42 Now the Lithuanian rider Svetlana Pauliukaite is trying to get a lap. Huge crash in the bunch as they wind up for sprint seven. Big big crash.
14.40 Wang and Wong are in the lead, attempting to get a lap.
That's Cui Wang of China and Wan Yiu Wong of Hong Kong.
It's not lasted long though, now the race is on at the front. Armitstead scored points at sprint six. Gonzalez still leads overall.
14.37 Yumari Gonzalez, who won the scratch race, is the new leader after the fifth sprint.
14.35 It's all come back together again now. Olaberria of Spain and Machacova of Czech Republic tied in the lead on six points.
14.33 The bunch in the women's points race has split to pieces.
14.30 Lizzie Armitstead is in the women's points race at the moment.
After three of the 10 sprints, the situation is that Olaberia is in the lead on 6pts. Armitstead is in sixth place on three points.
14.29 Victoria Pendleton said she was "absolutely cream-crackered" after the Keirin competition.
Pendleton has ridden all four sprint events this week, winning a medal of each colour.
She has been one of Britain's stars of the week and after the thrilling conclusion to last night's gruelling sprint competition, no one would have blamed her if she had decided not to start the Keirin. But she did, and after fighting through the repechage round, she was knocked out in the second round.
14.23 Gregory Bauge leads 1-0 against Azizulhasni Awang of Malaysia in the men's sprint final, following a very close first sprint. The sprinting really has been exceptional in both the men's and the women's competitions, with some incredibly close matches.
14.02 Women's Keirin final results
1 Shuang Guo (Chn)
2 Clara Sanchez (Fra)
3 Willy Kanis (Ned)
4 Elisa Frisoni (Ita)
5 Anna Meares (Aus)
6 Sandie Clair (Fra)
13.58 Pendleton back off there as the German rider Vogel made a bit of a twitchy move in front of her. 11th place in the Keirin competition for Pendleton as Simona Krupeckaite was a DNS for that race.
13.52 The women's Keirin finals are next on the track and first up is a 7-12 place final, featuring Victoria Pendleton.
Men's sprint semi-finals
Azizulhasni Awang (Mas) beats Shane Perkins (Aus) 2-0
Gregory Bauge (Fra) beats Kevin Sireau (Fra) 2-0
13.26 Bauge looked very strong in his race against Sireau. In the final straight they were shoulder to shoulder. Sireau wobbled to his right, bumped into Bauge and went down. Bauge did well to stay upright and after a big wobble, got over the line first. So it's an Awang v Bauge final.
13.24 Awang is really impressive this week. The most improved sprinter of the season. But whether he can trouble Bauge is another matter. The second match of the all-French semi-final is up next.
13.22 Pendleton knocked out of the Keirin Victoria Pendleton's bid for a fourth medal in the championships is over after she finished fourth in the Keirin second round. She will now ride the 7-12 place final.
13.01pm You join us back here in Poland as the men's sprint semi-finals get underway. Awang is the most-improved track rider of late, as he beats Perkins in race one.
11.19 That's the end of the morning session. Racing here resumes at 1pm UK time.
11.18 That brings the men's omnium 3,000m pursuit competition to a close.
1 Diudia (Ukr) 3-17.055
2 Phinney (USA) 3-17.387
7 Bellis (GB) 3-22.014
11.12 My colleague Simon Richardson has just raised the very valid question: Is the Omnium worthy of inclusion in the World Championships?
The thing is, the World Track Championships expanded to five days last year in Manchester. Partly that was because of the bumper entry in Olympic year as everyone sought to seal their places in Beijing. The men's Omnium was added last year.
This year the women's Omnium has been included. Both events do feel like a bit of a programme filler and it seems odd to include them at the weekend when the crowds have been bigger.
Perhaps the thinking there is to show the crowd the variety of track racing. The men's Omnium has a flying 200m, a kilometre tt, a 3,000m pursuit, a scratch race and a bunch race. It really is a mix of everything - sprinting, endurance and bunch racing.
But it's a bit of a Jack of All Trades event and the entry features a lot of young riders. As an event to blood new riders, it has a value to the federations, but should the winners get a rainbow jersey and gold medal? Couldn't it be an exhibition event? Or would no one bother with it at all if there was not a meaningful prize?
11.12 Volodymyr Diudia of Ukraine has beaten Phinney's 3,000m pursuit time. The next heat features Robert Bartko of Germany and Hayden Godfrey of New Zealand, the defending Omnium champion.
11.11 CW has just had a chat with Team Columbia's directeur sportif Brian Holm. He's been here a couple of days and was delighted to see his country, Denmark, win the men's team pursuit for the first time. He was also happy the Danes won the Madison although he added: "I'd rather Mark would have won."
10.57 No surprise there, Phinney records a time of 3-17.387, which is the fastest so far in the Omnium's individual pursuit.
10.53 Taylor Phinney is about to start his 3,000-metre pursuit effort. Considering he's the new world champion over 4,000 metres, it's in the bag, surely?
10.45 Criterium International update Jens Voigt won the stage this morning, as he bids for a fourth win in the event. Garmin's Danny Pate was second at seven seconds. Ben Swift was 38th at 1-01, with Bradley Wiggins 48th at 2-42. Time trial this afternoon.
10.41 In the men's Omnium's 3,000m individual pursuit Jonny Bellis caught Lisouski in a time of 3-22.014. Wonder how Taylor Phinney will do against that?
10.21 The battle for the medal table is hotting up. The Australians currently lead with three gold medals and four silvers.
Great Britain are second with two gold medals and four silvers. Denmark and France are tied in third with two golds.
There's still a chance the Brits could top the medal table, which would be a remarkable achievement for the team considering the names missing.
The French are favourites to win the sprint gold, the Aussies are chasing gold in the men's Omnium with Leigh Howard, Pendleton is still in the hunt in the Keirin, but so is Meares for Australia.
And Armitstead and Belinda Goss will be in the hunt in the points race, so the race to top the table could go right to the wire.
Women's Keirin first round repechage
Through to second round Guo, Clair, Sanchez, Meares, Krupeckaite, Guerra Rodriguez, Vogel, Welte, Kanis, Frisoni, Pendleton, McCulloch
10.20 Pendleton through to second round Pendleton hung back until the last lap, but moved smoothly up the outside and won the repechage to make the second round.
10.16 Can Pendleton summon the strength from somewhere to get through? It's the end of a heavy schedule, particularly when you consider how tight her sprint races were yesterday. To be fair, in the first round of the Keirin she got boxed in a bit and didn't really make a bid to move up when the pace went on.
10.15 Heat two - Willy Kanis and Elisa Frisoni go through.
10.10 The two Germans go through - Krisitina Vogel and Miriam Welte. Varnish was fourth, but got well stuck in.
10.09 Ah, I love the smell of Derny fuel in the morning.
10.05 First heat in the repechage features Jess Varnish. She needs to finish in the first two to go through and is up against two Germans, Vogel and Welte, and Hijgenaar of the Netherlands.
10.04 Veteran German Robert Bartko has just won the scratch race that forms part of the men's Omnium. Leigh Howard of Australia leads overall. Jonny Bellis was in the second group as the scratch race split up, so he's pretty much out of contention for the medals after two races.
9.52 While we're hear, we'll be keeping our ears and eyes open for news from around the world on the road.
Ben Swift was lying seventh overall going into this morning's Criterium International stage. This morning they have 98 hilly kilometres to cover before this afternoon's time trial.
Roger Hammond, Jeremy Hunt and Daniel Lloyd were due to start the Brabantse Pijl race, which starts near Hammond's Belgian base in Leuven.
And don't forget the big one - the opening round of the Women's World Cup, the Binda trophy in Italy. Emma Pooley is in flying form for Cervelo. Nicole Cooke is also in the race for Vision 1, with her team-mate Helen Wyman present.
Women's Keirin round one
Through to second round Guo, Clair, Sanchez, Meares, Krupeckaite, Guerra Rodriguez
9.51 So Simona Krupeckaite and Lisandra Guerra Rodriguez progressed to the second round of the Keirin. Pendleton and Varnish will be in the repechage races later.
9.37 Before this Keirin competition got undeway, the men's Omnium started with the 200m time trial. Hayden Godfrey of New Zealand, won that round. Britain's Jonny Bellis was 15th out of the 18 riders.
9.36 If you were watching the BBC's coverage and wondered why Gabby Logan looked an awful lot like Simon Brotherton, that was because Mrs Logan was forced to travel home due to illness
9.35 Jess Varnish of GB was fourth in heat two. The two qualifiers were Clara Sanchez (France) and Anna Meares (Australia). Varnish will race in the repechage.
9.34 In heat one Pendleton took her usual place behind the bike but when the hammer went down, she drifted backwards and finished fifth.
Shuang Guo of China and Sandie Clair of France go through. Pendleton will have to race again in the repechage.
It's hardly surprising she looked a bit out of sorts. Trying to back up in the Keirin just hours after such a gruelling sprint competition is asking a lot.
Pendleton has competed on every day of these championships - in the 500m on Wednedsay, the team sprint on Thursday, sprint on Friday and Saturday and today in the Keirin.
09.26 Good morning. Just 13 hours after the exhilarating, exhausting and memorable sprint victory over Willy Kanis and Victoria Pendleton is back on track.
It feels like no time at all for your CW correspondents, what with the clocks going back, so it must feel like she hasn't been away.
Pendleton is in heat one of the Keirin, and is with Guo, Clair, Vogel, Dabrowska and Streltsova. First two riders through, remainder to the repechage.
2009 UCI TRACK CYCLING WORLD CHAMPIONSHIPS
Follow Cycling Weekly on Twitter>>
RACE REPORTS
The CW Hub: Track World Championships index
Women's points race: Armitstead proves she's a future champion
Women's keirin
Men's omnium
Men's Madison: Danes win as Kennaugh hits the deck
Women's sprint: Pendleton wins fourth title
Women's omnium
Women's scratch race: Silver for Armitstead
Men's kilo TT: Nimke beats Sir Chris's kilo record to take gold
Men's team pursuit: Britain get fourth
Women's team pursuit: Britain clinch gold
women's team sprint: Reade and Pendleton score silver
Men's scratch race: Cavendish marked out of contention
Men's individual pursuit: Phinney wins gold
Men's team sprint: France beat Britain
Men's Points Race: Newton gets bronze
Women's individual pursuit: Houvenaghel beaten to silver
500m TT: World record for Krupeckaite, bronze for Pendleton
NEWS AND FEATURES
Track worlds day four summary: Sensational Pendleton digs deep
Track worlds day three summary: Armitstead again
Track worlds day two summary: Golden girls deliver
Track worlds day one summary: steady start for team GB
Why there's no Brit in the individual pursuit
No individual pursuit for Britain at track worlds
No room for complacency in British Cycling: Iain Dyer interviewCavendish in the frame for Scratch race world title bid
2009 Track Cycling World Championships preview
Crampton set to fill Sir Chris Hoy's team sprint spot
2009 World Track Champs GB squad named
Hoy to miss world track champs
Track World Championships: British medal winners
CW's Dummies' Guide to Track Racing
PHOTOS
GB RIDER PROFILES
Men
Jonathan Bellis
Steven Burke
Mark Cavendish
Ed Clancy
Matt Crampton
David Daniell
Ross Edgar
Jason Kenny
Chris Newton
Jamie Staff
Women
Lizzie Armitstead
Wendy Houvenaghel
Victoria Pendleton
Shanaze Reade
Joanna Rowsell
Jessica Varnish
RECENT RESULTS
International track results last season: 2007-2008
International track results this season: 2008-2009
2008 TRACK WORLD CHAMPIONSHIPS LINKS
Full results from the 2008 track worlds
Report: Sunday, day five>>
Report: Saturday, day four>>
Report: Friday, day three>>
Report: Thursday, day two>>
Report: Wednesday, day one>>
EXTERNAL LINKS
Track Cycling World Championships 2009 official website