Tweets of the Week: Chris Froome vs Mel C plus Danny MacAskgill and Annemiek van Vleuten madness
The latest from the world of cycling social media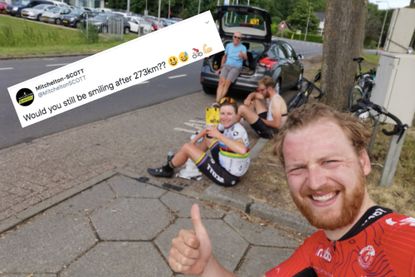 We've seen some unexpected moments on cycling social media in the last week.
From Chris Froome, going head-to-head with Mel C, to Danny MacAskill doing some insane things on an e-bike, it's been another big seven days in the virtual world.
Once again we've trawled through the social feeds of the cycling stars to bring you the best content - check it out below.
1. Even elite athletes have moments they'd rather forget
2. Vaughters takes talent spotting to a new level
3. When road riders head to the trails
4. The cycling rivalry we've all been waiting for
5. Michele Scarponi's parrot has a new friend in Antonio Nibali
6. I can't smile after 60km...
7. A new race format for Uran?
8. Danny MacAskill takes an e-bike to its limit
9. A riding challenge we can get on board with
10. There's a lot to consider in this photo
We'll be back in seven days with more tweets of the week.
Thank you for reading 20 articles this month* Join now for unlimited access
Enjoy your first month for just £1 / $1 / €1
*Read 5 free articles per month without a subscription
Join now for unlimited access
Try first month for just £1 / $1 / €1