Tyler Farrar: Rider Profile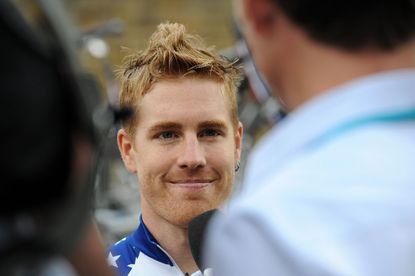 TYLER FARRAR
Date of birth: 02/06/1984
From: Wenatchee, USA
Team: Garmin-Sharp
Previous teams: Cofidis (2006-2007); Health Net (2004-2005); Jelly Belly (2003)
Tyler Farrar career profile
Tyler Farrar is one of a host of up-and-coming young sprinters and one of the few riders to have beaten British sprint star Mark Cavendish in recent years.
Forging the early part of his career with the Jelly Belly and Health Net teams in America, Farrar won stages of the Tour de l'Avenir in 2004 and 2005.
These wins in France brought him to the attention of French team Cofidis, and Farrar moved to Europe as a 22-year-old. The young American struggled for results with the French team and moved to more familiar pastures in 2008 with Slipstream/Garmin.
Farrar may have only scored one win in 2008, but also notched up a raft of top-ten placings as he began to find his feet in the cut-throat world of bunch sprinting.
It was not until 2009 that the American truly began to make his mark in professional cycling. After a auspicious start to the year, in which he beat Cavendish at Tirreno-Adriatico, Farrar also won a Classic at Vattenfall and went on to win three stages of the ENECO Tour of the Benelux.
Farrar consolidated his position as one of the world's best sprinters in 2010 with two stage wins apiece at the Giro d'Italia and Vuelta a Espana, along with a successful defence of his 2009 wins at the Vattenfall Cyclassics and Delta Tour Zeeland.
A stage win at the Tour de France was a highlight of the 2011 season, and it was to be over a year until Farrar's next win came along - at the 2012 USA Pro Cycling Challenge.
Farrar's progression has continued to stagnate in 2013, with his only wins being at the Tour of California in May and Tour de l'Eurometropole in October.
Farrar signed with MTN-Qhubeka for the 2015 season.
Tyler Farrar results
2014
Tour of Beijing; stage three
Tour of Beijing; points classification
2013
Tour of California; stage four
Tour de l'Eurometropole; stage three
2012
USA Pro Cycling Challenge; stage one
USA Pro Cycling Challenge; stage five
USA Pro Cycling Challenge; points classification
2011
Tour of Majorca; stage one (result annulled due to race radio protest)
Tour of Majorca; stage two
Tour of the Algarve; points classification
Tirreno-Adriatico; stage two
Tour de France; stage three

2010
Scheldeprijs
Three Days of De Panne; Stage 3a
Giro d'Italia; stage two
Giro d'Italia; stage 10
Vattenfall Cyclassics Hamburg
Delta Tour Zeeland; overall
Vuelta a Espana; stage five
Vuelta a Espana; stage 21
2009
Vuelta a Espana; stage 11
Tirreno-Adriatico; stage three
ENECO Tour; stage four
ENECO Tour; stage two
ENECO Tour; stage one
Circuit Franco-Belge; stage one
Circuit Franco-Belge; stage two
Circuit Franco-Belge; overall
Circuit Franco-Belge; points classification
Delta Tour Zeeland; stage one
Delta Tour Zeeland; overall
Vattenfall Cyclassics Hamburg
2008
Tour du Poitou-Charentes et de la Vienne; stage one
2007
GP CTT Correios de Portugal; stage two
2005
Tour de l'Avenir; stage two
Ronde de l'Isard; stage three (b)
USPRO criterium championship
2004
Tour de l'Avenir; stage seven
Tyler Farrar photos
RELATED LINKS
Cycling Weekly's Rider Profiles: Index
Thank you for reading 20 articles this month* Join now for unlimited access
Enjoy your first month for just £1 / $1 / €1
*Read 5 free articles per month without a subscription
Join now for unlimited access
Try first month for just £1 / $1 / €1