UCI introduces host of changes including approval of disc brakes, steps towards gender equality & mass Worlds event
UCI's Agenda 2022 outlines ambitious plans for the next four years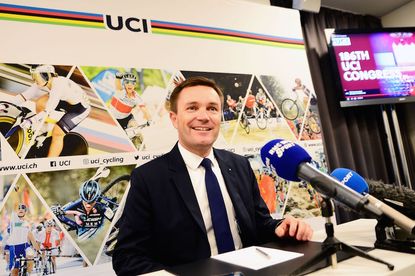 (Image credit: Simon Wilkinson/SWpix.com/REX/Shutterstock)
The Union Cycliste Internationale (UCI) has approved disc brakes indefinitely, made steps towards gender equality and outlined plans for a combined World Championships that will take place every four years.
The Management Committee met in Arzon (France) to approve the agenda that will serve as its road map until 2022, announcing several key changes for the coming seasons, some of which come into effect immediately.
>>> UCI moves to ban Tramadol in-competition use and introduces revised rules for low cortisol
UCI President David Lappartient said: "I am very happy with the approval of Agenda 2022 by the UCI Management Committee. It contains crucial initiatives for guaranteeing equality between men and women, whether they be riders, Federation employees or any other women involved in our sport. It is essential that we all work together for this cause, which is one of my biggest priorities for action.
"This document also contains a totally new concept: one event bringing together several UCI World Championships in the same place, at the same time, as part of a festival of cycling that already sounds fantastic."
The agenda will be published in full following rectification by the Congress on September 28, but the headline notes are:
Women's cycling: Code of Conduct, podium girls and cyclocross equality
Several changes have been made to improve conditions for female cyclists. These include a strict Code of Conduct, which will be signed by all employees of UCI women's teams from 2019 onwards.
This aims to raise awareness of and increase responsibility around harassment that "certain riders may face, including from within their own teams" and sanctions will be applied to anyone failing to respect the code.
The committee also acknowledged work being undertaken to develop and implement a 'Charter to promote gender equality in cycling' - one of the first steps of which will be to create a gender equality policy within the UCI itself, around employment rules to ensure "that men and women are given the same professional opportunities."
The charter also outlines the principles according to which the UCI wishes to implement equal pay.
Several changes have been made with regard to the UCI's own World Championship and World Cup events.
Firstly, all outfits worn by hosts and hostess will need to be approved by the UCI, or an equal representation of both genders promised in order to "guarantee gender equality during podium ceremonies". This rule will take effect from the 2018 UCI Road World Championships in Innsbruck-Tirol (Austria).
>>> Podium girls are being treated as objects
Equal prize money for men and women in the overall standings at the UCI Cyclocross World Cup events was also approved - meaning that the UCI now offers equality in prize money in all disciplines. In order to achieve this, the organisers will gradually increase their financial input over three years, so that parity is reached by 2021/2022.
In addition, a Women's Junior (age 17-18) category will be added, from the beginning of the 2020/2021 season which will mean younger riders get a more level playing field.
Combined UCI World Championships
The UCI didn't stop there. It also intends to bring the diverse cycling disciplines together for a combined World Championships, every four years from 2023.
The 17 to 19 day celebration of cycling will take place in a pre-Olympic year and will group together World Championship events for: road, mountain bike (cross-country Olympic, cross-country marathon and downhill), track, BMX racing, urban cycling (BMX freestyle park, trials and mountain bike eliminator), para-cycling road, para-cycling track, indoor cycling (artistic cycling and cycle-ball) and gran fondo.
It's suggested that this would bring together more than 2,600 elite athletes and 6,000 amateurs. The combined event would mean that those sports which sometimes receive less attention could gather more time in the spotlight and should also create an unmissable spectacle which demands media attention.
Disc brakes
Following almost three years of tests, it was agreed that disc brakes will be authorised in road - thus ending the four year trial - and BMX racing going forwards. The decision came with agreement from teams, riders, mechanics, fans, commissaires, and the World Federation of the Sporting Goods Industry (WFGSGI).
Disc brakes will be allowed in BMX racing from July 1, as is already the case for cyclocross, mountain bike, trials and mass participation events.
Furthermore, the UCI will now recognise the growing 'snow bike' trend', acknowledging the events in its calendar from 2019 and allowing the UCI Snow Bike World Cup to take place from 2020.
Thank you for reading 5 articles this month* Join now for unlimited access
Enjoy your first month for just £1 / $1 / €1
*Read 5 free articles per month without a subscription
Join now for unlimited access
Try first month for just £1 / $1 / €1