USADA to examine Armstrong eligibility for Hincapie Gran Fondo
Anti-doping agency questioning whether Lance Armstrong should be allowed to ride former teammate's event under USA Cycling rules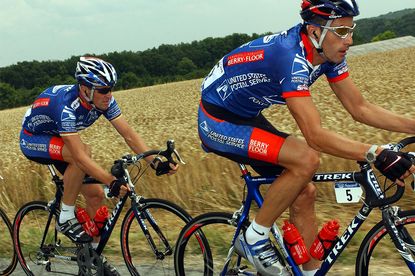 The US Anti-Doping Agency (USADA) is looking into whether Lance Armstrong is eligible to ride the George Hincapie Gran Fondo this weekend under the rules of his current lifetime ban.
Armstrong is due to link up with former US Postal Team riders at the event on Saturday, including Hincapie, Kevin Livingston and Christian Vande Velde, but that is now in doubt as the event is officially classed as 'category F' under USA Cycling rules, therefore an official event of the national governing body.
The Texan received a lifetime ban from cycling in 2012 after admitting to doping prolifically throughout his career, including in all seven of his Tour de France wins, and a USA Cycling representative told Cycling Tips on Thursday that it would be up to USADA to decide whether Armstrong could ride the event.
"It is a sanctioned event," said Bill Kellick of USA Cycling, "but the determination about Lance's participation rests with the U.S. Anti-Doping Agency per Section 10.10.2 of the World Anti-Doping Code."
That section of the code outlines that "the determination of whether an athlete or other person has violated the prohibition against participation, and whether a reduction under Article 10.5.2 is appropriate, shall be made by the Anti-Doping Organization whose results management led to the imposition of the initial period of ineligibility."
USADA also confirmed that they were investigating the issue and are now working with USA Cycling to resolve it.
"The WADA Code rules dictate that a sanctioned athlete cannot compete in an authorized event during that athlete's period of ineligibility," said a spokesperson from USADA .
"After this question was brought to our attention, we reached out to USA Cycling, and we are awaiting their determination as to whether or not this Gran Fondo qualifies as an authorized event under the rules."
The event had been billed as non-sanctioned, but under the current classification of "Fun ride or tour," Armstrong's lifetime ban from the sport could come into effect.
Current professionals including Tejay van Garderen (BMC) and Alex Howes (Garmin-Sharp) are also not allowed to take part in the Gran Fondo event without special dispensation from the UCI, and were quick to play down their associations with Armstrong and his former teammates' doping past.
"I can see the curiosity of people, wondering why we would choose to associate ourselves," said van Garderen earlier this week.
"I don't think he [Armstrong] is the evil guy he's been depicted to be, in all these books and movies, but I suppose that is ultimately going to be left up for people to decide for themselves. Lance took the brunt [of the USADA investigation], much harder than anyone else and in my opinion, he might deserve a bit of a break."
Lance Armstrong is set to reunite with members of the controversial 1999 U.S. Postal Service team this weekend
Thor Hushovd claims in his new Autobiography that Lance Armstrong admitted to him in 2011 that he doped
Thank you for reading 20 articles this month* Join now for unlimited access
Enjoy your first month for just £1 / $1 / €1
*Read 5 free articles per month without a subscription
Join now for unlimited access
Try first month for just £1 / $1 / €1