Thor Hushovd: Lance Armstrong admitted in 2011 that he doped
Thor Hushovd claims in his new Autobiography that Lance Armstrong admitted to him in 2011 that he doped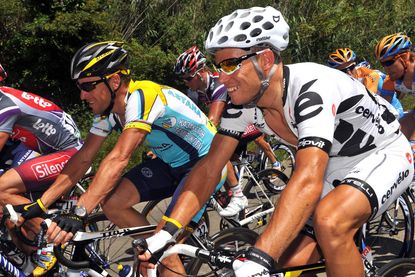 (Image credit: Graham Watson)
Recently retired Thor Hushovd released his autobiography Thor on Wednesday, in which the Norwegian reveals that Lance Armstrong admitted to him that he doped. At a 2011 lunch in Los Angeles, one year before a US investigation found Armstrong guilty, Armstrong told the Hushovd: "We all did it."
"I was invited to lunch when I got to the hotel," Hushovd wrote, according to Norwegian broadcaster TV2.
"We ate good food and drank rosé wine. Far down we saw Los Angeles. When the others left the table, Lance and I remained behind to chat. We got into allegations of Tyler Hamilton when Lance entirely unsolicited, admitted that he doped. 'We all did it,' he said."
Hushovd won the 2010 World Championships in Geelong, Australia, the year before and visited the US for the Tour of California during the time of the lunch. The 36-year-old also won two green jerseys at the Tour de France before retiring on September 20.
Armstrong's former team-mate Tyler Hamilton helped the US Anti-Doping Agency (USADA) in its case. The agency found Armstrong doped throughout his career and during his comeback. Armstrong only admitted his drug use in January 2013.
"I did not believe what I heard. He sat there and said straight out that he was using drugs!" continued Hushovd.
"Doping was completely unthinkable for me. But it seemed to him as if it was not a big deal, that it was not anything special that he sat there and told me this."
When the US agency found Armstrong guilty, Hushovd said at the time that he did not know about it.
"I felt that it was wrong to say anything. In some settings it is just stupid to say things, which I felt was such a situation. I regretted that afterwards. I would say that I was clean, that I never used drugs and that I never got into it," Hushovd wrote in his book.
"After he came forward and admitted drug use, I haven't seen Lance Armstrong. But he sent me a text message after reading one of my comments in the media. He was really annoyed.
"'Do you really think I'm the only one who cheats out there? How stupid can you possibly be,' he wrote. It was a little uncomfortable."
Hushovd explained that anti-doping testing should be out of the UCI's control and handled by World Anti-Doping Agency (WADA) to avoid cover ups. An independent branch of cycling's governing body currently handles it.
More on Thor Hushovd
Norwegian Thor Hushovd retires after this Saturday's GP Impanis-Van Petegem, concluding an illustrious career
Norwegian former World Champion and double Tour de France green jersey winner Thor Hushovd will quit at end of season
Thank you for reading 20 articles this month* Join now for unlimited access
Enjoy your first month for just £1 / $1 / €1
*Read 5 free articles per month without a subscription
Join now for unlimited access
Try first month for just £1 / $1 / €1