VOTE TO GET £50M GRANT FOR CYCLING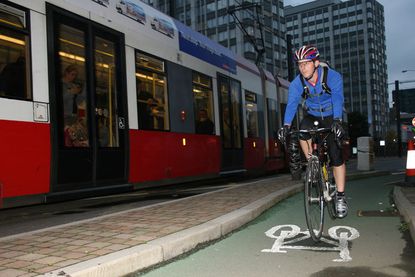 Sustrans, the UK?s leading cycling charity, has been shortlisted for funding of up to £50m for their Connect2 Lottery bid.
The funding will be used to install cycling and walking schemes around the UK. With more and more children and adults facing obesity due to lack of exercise, the chance to get Sustrans a much needed cash?injection should not be ignored.
Sustrans? proposals will be featured on ITV1 on Tuesday 4th December and a life telephone vote takes place on December 7. Vote now online for Sustrans' Connect2 at www.thepeoples50million.org.uk. Phone voting from landlines and mobiles begins on December 7 - please text 'Connect2' to 80010 or complete the form at www.sustransconnect2.org.uk if you would like to be sent the number to vote. To find out more visit www.sustrans.org.uk
Thank you for reading 20 articles this month* Join now for unlimited access
Enjoy your first month for just £1 / $1 / €1
*Read 5 free articles per month without a subscription
Join now for unlimited access
Try first month for just £1 / $1 / €1