Watch: German rider left fuming after commissaire runs over his bike
Crashing on the cobbles was the least of Marc Dörrie's worries at the PWZ Zuidenveld Tour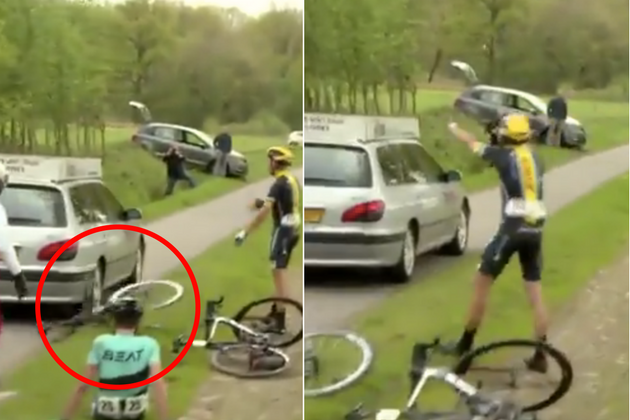 Having hit the ground moments earlier, German rider Marc Dörrie was already not having the best of times at the PWZ Zuidenveld Tour at the weekend, but his race was about to get so much worse as a commissaire drove over and snapped his bike.
The crash occurred roughly 75km into Saturday's race to the south-east of the Dutch town of Assen, with three riders coming to grief on the five section of cobbles near the small village of Exloo.
The circumstances behind the crash are unclear, but three riders found themselves on the ground including Dörrie (Lotto-Kern Haus), Daan Hoeyberghs (Beat Cycling Club), and Tijmen Eising (Metec-TKH).
>>> Ag2r riders shares photo of the metal screw and pins that he's had in his back for the last six months
None of the riders appear to be badly hurt in the crash with Hoeyberghs sitting on the ground and Eising sorting out his bike on the right of the road.
Nut if Eising was able to fix any problems with his bike Dörrie certainly isn't as a commissaire renders his machine beyond repair by driving over the seatpost and back wheel, with a shuddering crack being audible in the video above.
Suffice to say that Dörrie doesn't look too pleased with the commissaire's decision to run over his bike rather than waiting a few seconds for him to pull it out of the way, raising his arms in frustrations and sending a few choice words in the direction of the commissaire's car as it drives off.
>>> Rival pro teams donate bikes to amateur squad after their bikes are stolen from van at race
This is far from the first time that a rider has found their bike mangled by a commissaire in a hurry. The most memorable such moment coming in the 1987 Tour of Flanders when breakaway rider Jesper Skibby found himself falling on the steep slopes of the Koppenberg, blocking the road and meaning that the commissaire was forced to take the decision to run over his bike as the bunch approached behind.
That incident led to the Koppenberg being removed from the race altogether until 2002. However it's not so clear if there was quite so much urgency for the commissaire's car to get out of the way at the PWZ Zuidenveld Tour.