Watch: Shocking moment kids push bike into road which upends cyclists
Instagram video shows the shocking moment a group of children deliberately pushed a bike into the path of a group of cyclists.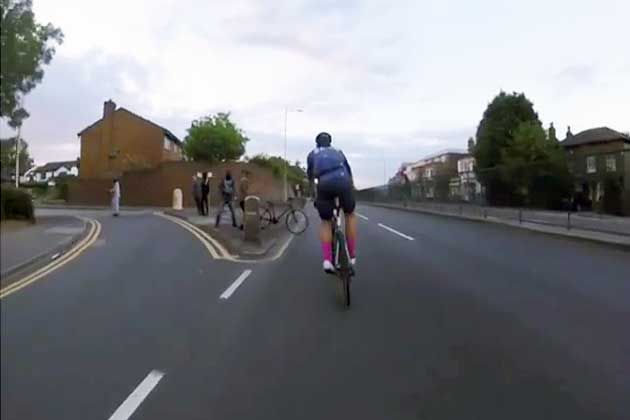 A video on Instagram shows the shocking moment that a group of children push a mountain bike into the road which forces two cyclists to crash.
The video, posted by Richard Frazier on Sunday night, sees two children - thought to be in their early teens - wait on a travel island until a group of five riders come close.
>>> Watch: Frightening moment that man drives Audi into racing cyclists after disagreement (video)
As the two riders at the front of the group approach the island, one of the children can be seen pushing the mountain bike into the road in Woodford, north-west London.
It causes the first cyclist to sharply brake to avoid the bike, which in turn the following cyclist - Nick Harnett - tumbles into him and goes over his handlebars. He was forced to abort the ride and take a train home, as the remaining four continued en-route to the south coast, unscathed.
Frazier posted on Instagram: "We left London Fields last night as a group of five, but less than 90 minutes later were reduced to four following a ridiculous decision from a group of kids near Epping. They rolled an old mountain bike out into the front wheel of @bamesjerry. I was behind him and went over the top and @nicknumbernine didn't have the time to stop either.
"Thankfully James and I got off relatively lightly, but @nicknumbernine ended up on the train back to London far sooner than any of us would've liked."
Frazier said that the group of five went "completely mental" at the children and gave the bike to some customers at a nearby pub to ensure that no other cyclists would be victims of the cowardly act.