Watch: Frightening moment that man drives Audi into racing cyclists after disagreement (video)
35-year-old driver given 14-month jail sentence after he intentionally drove into a group of cyclists waiting at the finish of an event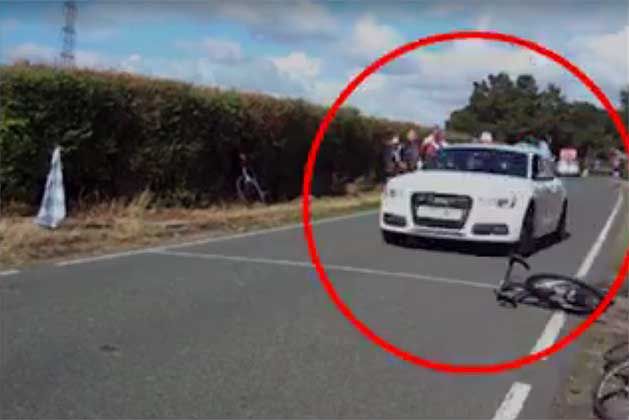 https://www.facebook.com/EssexPoliceUK/videos/1414189685331594/
An Essex man who purposefully drove his Audi A5 into a group of racing cyclists has been given a 14-month jail sentence and a 22-month driving ban.
A video released by Essex Police shows the moment that Keith Ancona, 35, from Maldon used his car to knock over five cyclists after he refused to wait until a race had finished.
The incident took place in Sunday October 2 2016 on Batts Road, Steeple. Ancona had been involved in an argument with some of the riders present at the event as he had driven past a roadblock.
One of the riders had attempted to prevent Ancona from continuing in his car by standing in front of the vehicle. However, Ancona accelerated into a group of riders, causing injury and damaging their bikes.
>>> Motorist who deliberately drove at cyclists jailed for two and a half years
Ancona then failed to stop at the scene, and the video shot by a roadside spectator at the cycling event shows him driving off at speed.
Ancona was with his partner and two daughters, who were on their way to a birthday party, reports the Maldon Standard.
Ancona handed himself into police five days after the incident.
He original pleaded not guilty at Chelmsford Magistrates' Court, but subsequently altered his plea to guilty of dangerous driving and causing actual bodily harm.
"This is a great result where I feel justice has been served for the victims," said investigating officer PC Alan Lamb.
"The result also serves to provide reassurance for the rest of the cycling community and shows we do not tolerate this sort of behaviour and will take action against dangerous drivers.
"We had CCTV footage of this incident, which was provided to us by a member of the public. This proved to be an invaluable asset to our investigations and is something we would encourage everyone to send across to us if they have video evidence of an incident."