Why did Mark Cavendish 'headbutt' a sprint rival in the closing stages of Dubai Tour stage two?
Mark Cavendish appears to move his head into the arm of Grzegorz Stepniak in the final sprint of the Dubai Tour stage two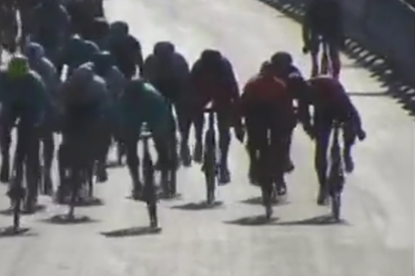 Mark Cavendish is no stranger to courting controversy in the hectic sprint finishes that he excels in, and the Manxman did something strange in stage two of the Dubai Tour.
In the closing metres of the stage to Palm Jumeirah, Cavendish found himself out of position after a crash a kilometre previously and was trying to manoeuvre his way back to the front of the bunch.
As he was chaperoned to the left of the road by CCC Sprandi Polkowice rider Grzegorz Stepniak, Cavendish - wearing the red jersey of the sprint classification leader - moved his head into the arm of the Pole. You can see it happen at the 1-03 mark on the above video and judge for yourself.
It's not the first time Cavendish has used his body to get a better position in a sprint, although this time there seemed to be no real reason to do it.
Whereas in the 2013 Tour de France when Cav's shoulder connected with Giant-Alpecin's Tom Veelers, sending him crashing to the ground, this time in Dubai he seemed to simply stroke Stepniak's arm with his helmet.
In the context of this sprint, Cavendish had little to gain by trying to disrupt Stepniak - he was already well beaten in the stage. Maybe it is just a natural reaction when someone pushes him in a direction that he does not want to go, maybe it was out of frustration of not being involved in the winning sprint.
The world of sprinting is a tough one and sometimes you may have to get physical.
Thank you for reading 20 articles this month* Join now for unlimited access
Enjoy your first month for just £1 / $1 / €1
*Read 5 free articles per month without a subscription
Join now for unlimited access
Try first month for just £1 / $1 / €1