Why the Licence Commission did not strip Astana of their WorldTour status
Cycling's governing body, the UCI, releases a reasoned decision explaining why the Licence Commission did not take the ultimate sanction against Astana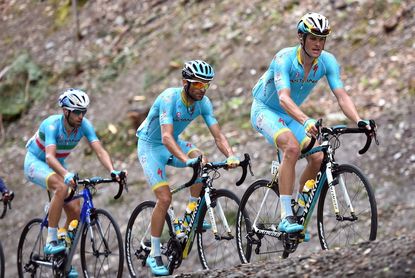 (Image credit: Watson)
The UCI has explained that it would not be proportionate to have withdrawn Astana's WorldTour licence, insisting the team has the chance to prove its can improve its anti-doping structures.
In a reasoned decision published on May 5, the cycling's governing body says it is satisfied that the Kazakh team will be supervised by the Institute of Sport Sciences of the University of Lausanne (ISSUL) and monitored by the Licence Commission for the rest of the season.
The UCI initially requested for Astana to be stripped of their licence, but the Licence Commission seems convinced that the team is committed to adhering to the strict conditions set upon them.
The Licence Commission stated: "At this stage, in view of the modifications that have already taken place, those that are announced, the commitment to adhere to the conditions laid down by the ISSUL with the approval of and under the supervision of the Commission, and the absence of further incidents since autumn 2014, it is found that the sanction of a withdrawal, motivated mainly by facts of the past, would not, as of today, respect the principle of proportionality."
The Commission also noted that "the withdrawal of a licence is the most serious sanction that a UCI WorldTeam can face" and that "such a sanction should only be imposed if other less restrictive sanctions cannot be envisaged" upon deciding that the negative issues raised the ISSUL audit were capable of improving.
UCI president Brian Cookson said: "The UCI recognises the constructive approach adopted by the Licence Commission. We are pleased to note that Astana Pro Team has committed to a process of in-depth reforms thanks to this procedure initiated before the Licence Commission.
>>> Nibali: Astana criticisms more about politics than cycling
"Taking into account that the team will be under the supervision of the ISSUL and monitored by the Licence Commission for the rest of the 2015 season, we are satisfied by this decision, which we believe is proportionate.
"We are confident of the fact that the measures that the team has committed to put in place will help it improve its culture, its structures and its systems for governing anti-doping.
"We believe it is our responsibility to accompany each UCI WorldTeam towards increased professionalism and we firmly believe that the application of the 'cahier des charges' will contribute towards this."
The reasoned decision notes that any non-compliance by Astana will be reported to the UCI by ISSUL and can result in the re-opening of the case by the Licence Commission at any time.
Thank you for reading 20 articles this month* Join now for unlimited access
Enjoy your first month for just £1 / $1 / €1
*Read 5 free articles per month without a subscription
Join now for unlimited access
Try first month for just £1 / $1 / €1