Wiggle test their bikes by launching them off a bike bungee
Wiggle test the flying distances of four different bikes by flinging them off a ramp into a ravine, with the riders attached with bungee ropes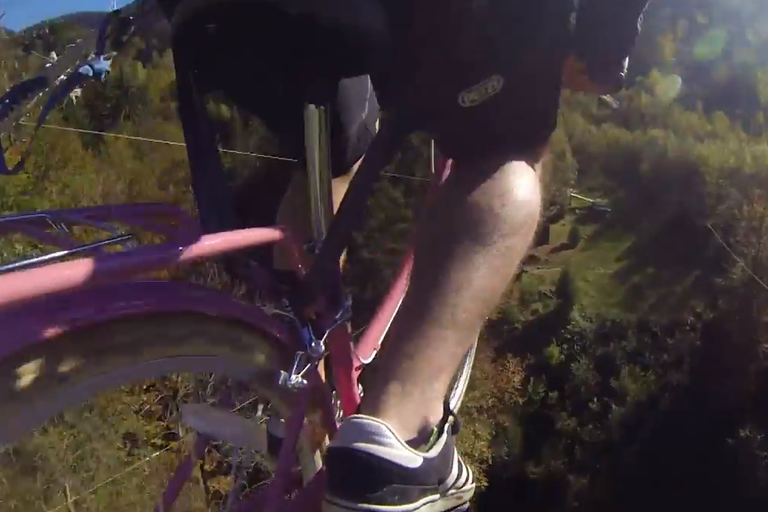 One of the most important things to consider when you're buying a new bike is just how far, and fast, you will plunge down a mountain ravine if you misjudge a descent.
Thankfully the good people at Wiggle have conducted some tests and launched a few bikes and their riders off a ramp (with bungee cords attached) so that you don't have to.
First up was the Verenti Insight 0.4 Sora, one of Wiggle's own brands. CW didn't put it through such extreme testing back in April, but travelling 32m through the air the Verenti certainly showed off its aerodynamic qualities.
Next was the pink Bobbin BonBin, a bike that potentially wasn't designed for jumps, or even rapid descents, which was highlighted by its relatively disappointing 30m jump.
Unsurprisingly the GT Zaskar Comp mountain bike was the overall winner with an impressive leap of 33m.
So, there you have it. If you have a propensity to overshoot the hairpin on your mountain descents, riding a pink Bobbin BonBon will ensure you don't launch yourself too far.
Lilly Yokoi runs through her trick-filled bicycle acrobatic routine in 1965
Cyclist suffers cuts, bruises and muscle injuries as taxi driver pulls out of side road into him