Win at all costs: who pays the price?
With British Cycling under pressure over accusations of bullying, sexism and sharp practice, is it time to reassess the way we treat the stars of tomorrow and strive to create a less ruthless sporting culture?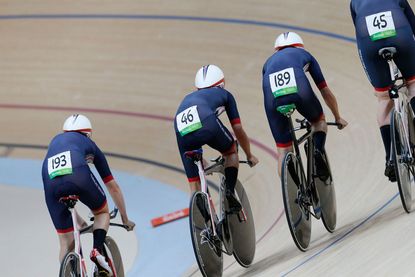 Get The Leadout Newsletter
The latest race content, interviews, features, reviews and expert buying guides, direct to your inbox!
Thank you for signing up to The Pick. You will receive a verification email shortly.
There was a problem. Please refresh the page and try again.
"Better never stops"… "Win at all costs"… "Marginal gains" — all phrases that have been bandied around to highlight the change in culture that has transformed British sport over the last 20 years.
Whereas once we were the hapless underdogs — with standard-bearers like Eddie 'the Eagle' Edwards — we now have a firm seat at the pointy end of the Olympic and Paralympic medal tables.
Since lottery funding began in 1997, GB athletes across all sports have won 847 summer and winter Olympic and Paralympic medals, and over 10 per cent of these have come directly from cyclists.
>>> Staff speak of 'culture of fear' and 'dictatorial regime' at British Cycling
The success of the transformation at the elite end of sport is not in doubt, but has sport in a broader sense paid a price?
Much of the change is down to money. The lottery funding process has been so successful that Australia has decided to introduce a similar system next year.
British Cycling received £37m of lottery money over the four-year period up to the Rio Games. Its cyclists won 33 medals, equating to £2.5m per Olympic medal and £325,000 per Paralympic medal.
But it is more than money just being pumped in. It is the culture of excellence — doing whatever it takes to win.
That's what makes the difference. But when does that attitude, doing whatever it takes, come what may, go too far? And what effects trickle down into amateur and grassroots sport?
In the last few months, a number of sports have faced accusations about the way their athletes have been treated.
>>> Jess Varnish 'insulated' as she considers legal action after 'laughable' British Cycling report
Bullying in canoeing and para-swimming, controversial weight loss tactics in taekwondo, concussion risks ignored in rugby, and hundreds of sexual abuse claims in football.
Cycling has not escaped untarnished.
Certain cycling coaches have been accused of favouritism, sexism and aggression, while a doctor who worked with Bradley Wiggins admitted failing to keep proper medical records, and TUE practices have been called into question.
Meanwhile, a recent Cycling Weekly doping survey indicated that one in 20 amateur riders is taking banned substances.
Bullying, harassment and discrimination have no place in coaching, but it seems some coaches, even those working with pro athletes, have crossed the line.
Poor communication and a lack of respect have been lightly dismissed by some as 'mere banter'; huge pressure to succeed apparently 'goes with the territory' of being an elite athlete.
>>> Full survey results: One in 20 amateur racers admit to doping
But when athletes fear being ostracised or losing opportunities if they complain, the risk is that they tolerate more than they should have to.
"The mental health risks can be high when pushed to an extreme on a regular basis," says Professor Andy Lane, a sport psychologist who has worked with Olympic cyclists.
When the pressure and attitude becomes bullying, those mental health risks are amplified.
Dave Readle, a performance psychologist who has worked at British Cycling, says he witnessed athletes being pushed into anxiety and depression, and treated as commodities:
"It was a medal factory, but humans were the wastage at the end of it, once [the system] had sucked everything up. It spat you out as though you were surplus to requirements."
CW approached British Cycling for a response but our request was declined.
>>> British Cycling appoints people director to improve rider and staff welfare
The effect of continued intense pressure is not just poor mental health but physical effects too.
Mike McNamee, professor of Applied Ethics at Swansea University, points out that extreme fitness is not necessarily conducive to health:
"Good sport begins where good health ends. Elite sports require such an extreme level and specificity of fitness that it is very likely to compromise the all-round health of the athlete."
From exercise addiction, eating disorders, anxiety around racing, to depression, the risks of excessive pressure are manifold — and now that many amateurs are taking sport as seriously as elites, the risks apply to all of us.
What's more, amateurs don't have the same level of support to fall back on.
>>> The hidden motor in your head: How mind training can make you ride faster
The pressure that comes from knowing that standards are improving all the time can be immense.
Kitty Pemberton-Platt, 27, a third-cat racer with Rapha Cycling Club, told CW: "The divide between amateur and professional is lower than ever."
Despite her love of cycling, she admits:"I often find it hard to replace the feeling when I can't ride. It leaves a gap which I struggle to fill. The pressure before racing often seems almost too much. I'm often harder on myself than I'd ever dare to be towards anyone else."
With higher standards overall come higher personal expectations for amateurs. Mel Sykes, 34, races TTs, crits and road races as a fourth-cat for 3RT Cycling:
"I want to be better, to be able to be top of local Strava segments and beat some of the elite women who are local to me. The pressure of riding in road races has left me unable to sleep the night before, worrying about whether I will be good enough to be competitive."
Watch now: How to ride short, steep climbs
When elite athletes train under high pressure, in an environment where they do not feel at ease, working towards goals based on results rather than processes, a negative cycle can begin.
If demeaned by a coach whose expectations are unrealistic, the rider's stress can deepen and lead to moral disengagement.
Unethical behaviours begin to seem worth a try — anything to get ahead. An overstressed, desperate athlete is more likely to cheat or be aggressive towards rivals.
>>> Dr Hutch: You don't need a cycling coach, you need a therapist
The use of performance-enhancing drugs is a particular concern, even in the amateur ranks, as CW's recent survey showed.
A quarter of respondents said they knew a cyclist who had doped, and 57 per cent said that amateurs are influenced by the pros.
"Certain athletes, if they think they can get away with it, they will try anything to get an advantage," says Sykes. "I'm sure more are doping than are getting caught."
None of the amateur racers interviewed for this piece had received information from British Cycling on the anti-doping rules.
Doping is arguably more risky for amateurs than it is for pros, as dosages and administration of substances goes unsupervised.
Amateur dopers risk their health not only in taking PEDs but in buying them from dodgy, unhygienic, unregulated clinics or websites, possibly taking the wrong amounts and without understanding the potential side effects.
Responding to the five per cent doping prevalence figure implied by CW's survey, McNamee, who is also a member of the WADA Ethics panel, said he believes the actual figure could be even higher:
"I suspect, from the limited research available, that doping is more prevalent in sub-elite sport than at elite levels."
In his view, this is because, "deterrence and education, and the potential withdrawal of lottery funds, put elite athletes off doping.
"People in sub-elite sport want to win just as much, without as many disincentives."
Winner takes all
Athletes assessed to have medal-winning potential at the next Olympic or Paralympic games get a living allowance from the lottery of up to £28,000 per year, and all their coaching, kit, training, medical and competition costs are covered.
The average salary for a pro male rider on a UCI team in 2012 was estimated at £210,000. Female UCI team riders are paid an estimated £16,000 at most.
Most riders not on the Olympic Programme — but who may still get called up for world or European-level races — get no funding at all. The disparity is stark; some would say unfair.
Such is the fixation on Olympic and Paralympic medals, athletes who don't fit the model — or develop later than their peers — can get left behind.
Hayley Simmonds is a great example of this. Her form last year on the national time trial circuit was unrivalled, yet she was overlooked when it came to the Olympic TT.
>>> Hayley Simmonds: How losing 45kg helped her realise her time trial potential
At the time, she told CW:
"I find it hard to believe that any athlete not on one of BC's programmes can have any faith in being given a fair opportunity to utilise their talent at an international level, irrespective of how many national championships they win and by what margin."
Some women's teams, such as Dame Sarah Storey's squad, Storey Racing, have crowdfunded to survive.
Despite these issues, once a sport has professionalised, there is no going back. With the right support systems and precautions in place, we can all benefit.
Whether you're an elite, sub-elite, junior or Sunday sportive rider, professionalisation can bring great racing for us all to watch and learn from, pushing back the boundaries of what is possible.
Training is improved, and investment brings technological progress. But effecting positive change is difficult, especially when funding is based on Olympic medal prospects.
That said, Julie Harrington, BC's new CEO, has it in her power to develop a more caring, inclusive culture, offering a higher duty of care to all BC members, at every level — while maintaining the medal focus.
It's a tough ask. Add the need to reduce doping by amateurs as well as elites and Harrington has a lot on her plate if she is to stop the medal factory's contamination of our sport and instead maximise its productivity for the benefit of all.
Thank you for reading 20 articles this month* Join now for unlimited access
Enjoy your first month for just £1 / $1 / €1
*Read 5 free articles per month without a subscription
Join now for unlimited access
Try first month for just £1 / $1 / €1
Get The Leadout Newsletter
The latest race content, interviews, features, reviews and expert buying guides, direct to your inbox!
Dr Josephine Perry is a Chartered Sport and Exercise Psychologist whose purpose is to help people discover the metrics which matter most to them so they are able to accomplish more than they had previously believed possible. She integrates expertise in sport psychology and communications to support athletes, stage performers and business leaders to develop the approaches, mental skills and strategies which will help them achieve their ambitions. Josephine has written five books including Performing Under Pressure, The 10 Pillars of Success and I Can: The Teenage Athlete's Guide to Mental Fitness. For Cycling Weekly she tends to write about the psychological side of training and racing and how to manage mental health issues which may prevent brilliant performance. At last count she owned eight bikes and so is a passionate advocate of the idea that the ideal number of bikes to own is N+1.