British Cycling appoints people director to improve rider and staff welfare
The drive for results "has sometimes been at the expense of ensuring that our athletes and staff are looked after" says British Cycling's new people director, Michael Chivers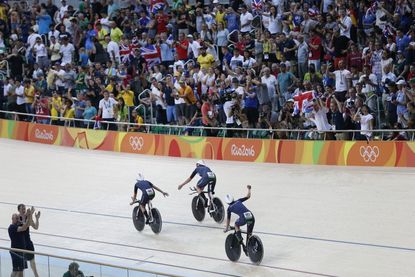 (Image credit: Yuzuru SUNADA)
British Cycling has announced the appointment of a people director for the first time. The organisation says that the new role is part of a transformation that puts "the welfare of athletes and staff at its core".
Michael Chivers has been appointed to the role as part of BC's reorganisation of its executive leadership team. He has previously worked for the AA, Hampshire County Council, Sony, Sony Ericsson and Maersk Line.
The creation of the new position comes after allegations of bullying and sexism within the governing body, specifically from former Great Britain riders, and a subsequent internal investigation.
>>> How British Cycling hopes to change culture that led to allegations of sexism and discrimination
Upon his appointment in March, new BC chair Jonathan Browning unveiled an action plan that focused on the culture and behaviour of its staff and coaches, and the welfare of its riders.
"Michael Chivers' experience and expertise in change and people management will be invaluable in pushing ahead British Cycling's plans to ensure the organisation is effective and accountable in its management of athletes and staff so that it fosters a transparent and inclusive culture, following past failings in this area," said Browning.
In his statement, Chivers said that BC has previously been "results-driven" and that this has on occasion been at the "expense" of athlete welfare.
"There is no doubt that British Cycling's major success story in terms of both elite glory and participation has been down to the exceptional work of its people," said Chivers. "But for too long we've been a purely results driven organisation and it is clear that this has sometimes been at the expense of ensuring that our athletes and staff are looked after, with due care and proper processes followed.
>>> Andy Tennant speaks out to defend British Cycling approach over bullying claims
"As part of the wide-scale professionalisation of our policies and procedures, we need to ensure that we have an engaged and motivated workforce and that our athletes are given the best experience from the moment they step on to one of our pathways right through to the time when they leave us.
"There are only six roles on the executive leadership team at British Cycling and the fact that one of them is solely dedicated to athlete and staff welfare and performance is a sign of how seriously the organisation is taking this. I feel privileged to be able to dedicate myself to making sure that we absolutely get this right."
The people director role joins those of chief executive officer, chief operating officer, performance director, commercial director and director of cycling in BC's executive leadership team.
Thank you for reading 10 articles this month* Join now for unlimited access
Enjoy your first month for just £1 / $1 / €1
*Read 5 free articles per month without a subscription
Join now for unlimited access
Try first month for just £1 / $1 / €1