Winless Thor Hushovd anxious to find his thunder
"There comes a point in every rider's life where they are confronted with their fallibility as a bike rider." - BMC sporting manager Allan Peiper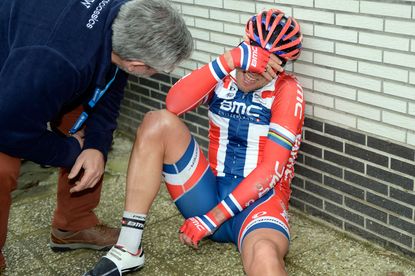 (Image credit: Graham Watson)
Highly decorated Norwegian national champion Thor Hushovd will play a support role in his 13th Tour of Flanders appearance tomorrow as he tries to rediscover his thunder.
Hushovd is aiming to play a role in the final of the 260km Monument working for BMC leader Greg Van Avermaet, who has earned his protected position via merit.
"If you want to be the leader you have to perform as a leader and this I haven't done the last few races," Hushovd said in a press conference yesterday. "That's what Greg has done now for two or three years in every big race. It's normal that he's the main leader on team BMC this year.
"When I look back it's changed a little," Hushovd continued of his role, "but it's just up to me to show I'm there and then I have my chance.
"If BMC have more riders in the final everyone has a chance. You always see a final where groups go away and if I can be in that group it's good for Greg. He can sit easy behind, or the other way. That makes it better for all of us."
Hushovd was unable to support Van Avermaet at the pointy end of last week's E3-Harelbeke, which is commonly considered a Flanders test event.
The 36-year-old God of Thunder appeared to just roll off the course leaving Van Avermaet to fend alone in the final where he placed 10th.
"I don't know how to put it down with Thor," BMC sporting manager Allan Peiper told Cycling Weekly the day after the race. "He had a year of sickness in 2012. Coming back last year he won nine races at the end of the season. Okay, they weren't like Paris-Roubaix however he won some quite nice races.
"But," Peiper paused. "There comes a point in every rider's life where they are confronted with their fallibility as a bike rider. Age catches up - can I do it, can I not do it? Those are some of the factors. Even so, he shouldn't have been dropped at 140km and pulled the pin after 150. That's a bit disconcerting."
The 2010 road world champion has suffered from breathing problems though evaded attributing that or another reason to his showing, or lack thereof, in Harelbeke during yesterday's press conference.
"I stopped. I turned left in a corner where the rest of the bunch turned right," Hushovd said.
"I think his confidence has taken a bit of a blow," Peiper reflected. "That's only normal if you've been world champion, you've placed in all these races, you've been close to winning most of these classics – he's won [2006] Gent-Wevelgem before. If you're not even in the game, it's got to be disappointing."
Hushovd finished ninth in the main group at Gent-Wevelgem last weekend, took confidence from a Flanders recon yesterday and appears in good spirits.
"I've been feeling quite good," the 2005 and 2009 Tour de France green jersey winner said. "I was not happy after Harelbeke. Gent-Wevelgem was much better and I felt quite good on the recon yesterday so there's hope for coming into Flanders with the form going one direction - up. Then just hope for a day where things work for me and the team."
Peiper is determined to help Hushovd unlock the handbrake so to speak and preferably before Paris-Roubaix next weekend. Regardless, Hushovd, quasi classics winner or domestique, is still considered a valued member of the BMC squad.
"We have confidence in him that he knows at least how to ride for other guys," Peiper said. "His experience at the classics, his ability to make position and know the course makes him a vital part of the team, even in a different role. That's not under question.
"I don't think he makes a big deal about where he is in the team as long as he's part of it."
Tour of Beijing 2013, stage one: Thor Hushovd wins stage one to take overall race lead in China
Norwegian champion Thor Hushovd claimed victory on stage two of the inaugural Arctic Race of Norway
Tour of Poland 2013, stage five: Thor Hushovd gives BMC its third stage victory in Poland as Jon Izaguirre takes
Tour of Poland 2013, stage three: Norwegian Thor Hushovd wins bunch sprint; Rafal Majka retains overall lead
Thor Hushovd - rider profile, biog, cycling results, photos
Thank you for reading 10 articles this month* Join now for unlimited access
Enjoy your first month for just £1 / $1 / €1
*Read 5 free articles per month without a subscription
Join now for unlimited access
Try first month for just £1 / $1 / €1
Sophie Smith is an Australian journalist, broadcaster and author of Pain & Privilege: Inside Le Tour. She follows the WorldTour circuit, working for British, Australian and US press, and has covered 10 Tours de France.