WISH PEDLARS BIKE RIDE: HAMPSHIRE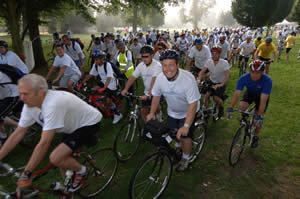 Make-A-Wish Foundation UK is inviting people to sign up for its 14th annual Wish Pedlars Bike Ride, taking place on Sunday, September 9 2007 in Aldershot, Hampshire. The sponsored fundraising event is held in aid of Make-A-Wish, the leading wishgranting charity which grants wishes for children and young people fighting life threatening illnesses.
This year's ride offers three circular routes, all starting and finishing at Manor Park in Aldershot. More experienced cyclists can join the 56 mile cycle ride, which tours through the picturesque Hampshire countryside to Alresford, returning to Aldershot via Frensham. There is also a shorter, but equally scenic, 26 mile route, as well as a 10 mile ride that all the family can enjoy. The cycle routes were devised with the help of the Cyclists Touring Club.
Wish Pedlars 2007 will also feature the world's largest bike, which seats 24 people. The bike will be riding the 10 mile route and spaces are still available for those looking for a fun and unusual cycling experience.
Back at Manor Park, Make-A-Wish will be holding a family fun day with rides, games, craft stalls and refreshments to welcome back the returning cyclists.
Mike Curling, Chairman of the Wish Pedlars Committee, says: "For thirteen years, the Wish Pedlars bike ride has been a fantastic day out for local cyclists, their friends and families. I hope that this year even more people will join us and help Make-A-Wish to grant wishes for special children."
Make-A-Wish is currently celebrating its 21st anniversary year in which it aims to grant its 5,000th wish since 1986.
Money raised at this year's Wish Pedlars event will go towards helping the charity grant more magical wishes through the London and South East England region.
Entry to the Wish Pedlars bike ride costs £15 per person for the 56 mile and 26 mile routes, and £10 for the 10 mile family route. Those who would like to ride the world's largest bike will need to send a £20 registration fee and are asked to try and raise a minimum of £75 sponsorship money.
For further information, including an entry form, please visit www.wishpedlars.org.uk, or call 01962 820302. Entries will be taken on the day and fundraising is optional.
Thank you for reading 20 articles this month* Join now for unlimited access
Enjoy your first month for just £1 / $1 / €1
*Read 5 free articles per month without a subscription
Join now for unlimited access
Try first month for just £1 / $1 / €1