World cross champs: Wyman crashes while Vos wins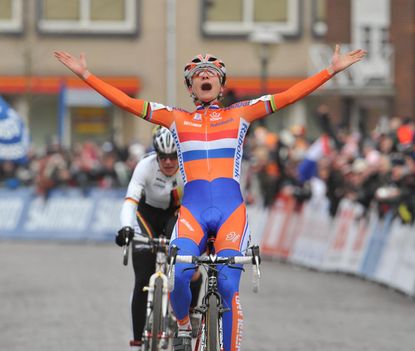 Cyclo-Cross World Championships photo gallery, by Graham Watson>>
A pile up on the very first corner dashed Helen Wyman?s medal hopes in Hoogerheide.
The home nation?s Saskia Elemans lost control and hit the tarmac at the end of the opening straight, taking Wyman and GB team-mate Nikki Harris with her, and effectively ending the race for the ten or more riders caught up in the mayhem.
?When a course is that fast it is hard to get back, and you just blow up trying ? and I blew up trying,? said Wyman.
?I had an amazing start as well,? she added. ?My best start all season. I thought I was in the perfect place, but Saskia crashed down on the corner and I had nowhere to go but straight into her. I went over the handlebars ? my hip is really sore.?
One rider blissfully unaware of the chaos behind her was Katie Compton. The American attacked from the gun and held a decent gap for the opening half of the race.
Defending World Champion Hanka Kupfernagel drove the chase, with Holland?s Marianne Vos sitting on her wheel, and eventually made contact with three laps remaining.
Barring mechanicals, the medals were already accounted for by this trio, with a huge gap to the chasing bunch.
Kupfernagel attacked, Vos followed, Compton struggled, but they were back together for the bell and it was going to come down to a three-way sprint, with Vos giving the home nation its second gold of the weekend, followed by Kupfernagel and an exhausted Compton.
Nikki Harris recovered well despite getting caught up in the crash to finish a creditable 14th, while Gabby Day came in 24th.
WOMEN: RESULTS
1. Marianne Vos (Ned)
2. Hanka Kupfernagel (GER)
3. Katie Compton (USA)
British
14. Nikki Harris
16. Helen Wyman
24. Gabby Day
2009 CYCLO-CROSS WORLD CHAMPIONSHIPS: LINKS
Cyclo-Cross World Championships photo gallery, by Graham Watson>>
Elite men: Solo victory for Albert in Holland
Elite women: Wyman crashes while Vos wins
Under-23 men: Fletcher shows promise
Juniors: Dutchman takes gold
World cross champs: blog from Hoogerheide
Thank you for reading 20 articles this month* Join now for unlimited access
Enjoy your first month for just £1 / $1 / €1
*Read 5 free articles per month without a subscription
Join now for unlimited access
Try first month for just £1 / $1 / €1