Wyman takes women's 'cross title for fifth year running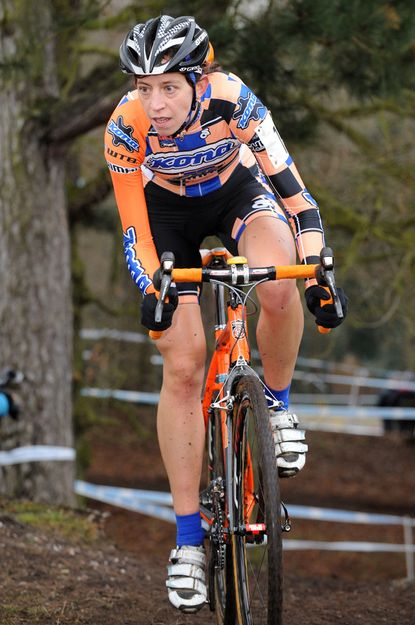 British Cyclo-Cross National Championships 2010 photo gallery, by Andy Jones>>
Helen Wyman (Kona Factory Racing) successfully defended her national title at the Cyclo-Cross National Championships on Sunday, securing her fifth consecutive victory in the event - matching Caroline Alexander's record.
Wyman put the pressure down from the gun and quickly opened up a gap on her rivals. Initially Nikki Harris (AVB) seemed to have the measure of Wyman, but on the long, flat sections and draggy climbs that comprised much of the Birmingham course, the defending champion was able to utilise her power and go solo.
By the finish she had opened up a minute and a half's margin on Harris in second. Third place went to Gabby Day (CycleFit Racing Team) who'd spent much of the race chasing Harris after suffering an untimely puncture during the race's opening skirmish.
"I genuinely didn't expect to win by that much," said Wyman after the presentation. "I know how good Gabby is and I know how well Nikki's been riding and I thought it would be a really hard race. Sometimes you are just able to ride perfectly and make no mistakes. This is just my kind of course."
While Harris was disappointed to have not capitalised on what she thought was Wyman-beating form, there was joy for her brother Jamie Harris (Cult Racing Team) in the under-23 men's event.
In a similar style to Wyman, he took off midway through the first lap and spent the rest of the race on his own.
Harris' victory marks a successful return to racing after two years out of the sport.
"I'm a lot more serious about my cycling now," said the 21-year old. "I've been really focused and motivated. Seeing what Nikki's been doing has really inspired me too."
Behind Harris, Stephen Adams (Langdale Lightweghts RT) and David Nichols (Arctic Premier RT) tussled for second place. The verdict eventually went to Adams after he put down the hammer on the closing lap.
RESULTS

Cyclo-cross National Championships 2010: Women
1. Helen Wyman (Kona Factory Racing)
2. Nikki Harris (AVB)
3. Gabby Day (CycleFit RT)
Cyclo-cross National Championships 2010:Under-23 men

1. Jamie Harris (Cult Racing Team)
2. Stephen Adams (Langdale Lightweghts RT)
3. David Nichols (Arctic Premier RT)
Five in a row for Wyman
Jamie Harris claims under-23 title
Motorpoint's two champions: Bibby and junior winner Hannah Barnes
Thank you for reading 20 articles this month* Join now for unlimited access
Enjoy your first month for just £1 / $1 / €1
*Read 5 free articles per month without a subscription
Join now for unlimited access
Try first month for just £1 / $1 / €1