Your choice for the worst cycling invention in history
We asked readers what they considered to be the worst cycling invention, and received a flurry of nominations for awful biking kit from rain capes to road disc brakes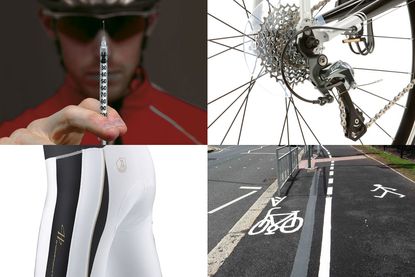 In October we ran an article highlighting five awful cycling inventions, and the article received a huge response. Some agreed with our choices, other very much did not!
So we gave you an opportunity to nominate your least favourite cycling invention, and we had a flood of responses.
Have you got anything to add? Let us know what you consider to be the worst cycling invention in history in the comment box below.
>>> Top five worst cycling inventions
Gel saddle covers. They've no place in cycling, They are no good for people on bikes, they move about.
Richard Coleman
Bicycle theft.
Kev Malone
The 'mountain' bike is responsible for convincing generations that bicycles are a crap way of getting from A to B.
Ian Wilson
The cycling cape: a death trap in bad weather… and those little electric motors hidden in front wheels. That's just cheating.
Simon Walker
The derailleur! Ha ha, love and kisses, the Singlespeed Mafia (Winchester Branch).
Dave Rowe
White shorts.
Stefan Pool
Benotto bar tape for those that can remember it, a nightmare to fit, you never got enough and it always snapped towards the end, plus it was deadly if wet or when wearing gloves.
Andy Hargreaves
Kirk frames.
Simon Daw
Disc brakes for road bikes – industry con job.
Stephen Howell
Cycle lanes – a waste of paint!
Andrew Cheetham
If you truly mean in history then it would have to go to the High Wheeler. If you mean since mountain bikes started in the 80s, then that would be the Campagnolo off-road groupset.
Scott Ilg
The motor vehicle.
Simon Tuck
Handlebars. Can we have a wheel instead?
Terry Murray
The test to detect EPO!
Danny Walmsley
MAMILS! Worst thing in cycling EVER. Can't stand them. "Oh, I see you have a Venge, how many watts do you max out on average?" Who cares! Just ride your bike for fun, old man!
Mike Lowrider
The Rules. Ride your way. Not how they tell you.
Nick Hussey
Lance Armstrong.
Richard Crewe
Someone – and it's probably just as well that I cannot remember who – once brought out a seatpost that had a bike pump concealed within it. All well and good, until you actually needed to use it: you had to undo the seatclamp to get it out and then pumping with a saddle in the way was a faff. Solution to a problem that never existed, that one.
Graham Northrop
Hills over 12 per cent that last over 10 kilometres.
Ken Behan
Those extending dog leads.
Kurt Walls
Carbon-fibre bikes – man up and push the metal.
Neil Porter
Mavic Mektronic or Shimano Biopace... I can't decide...
Stuart Gardner
Watch: Top five superbikes of 2016
Those online ride logging websites so that everyone can see exactly how bad you are, and how short your rides are. There's no hiding from the truth any more.
Chris Fowler
Turbo trainer tyres! Will anyone admit to buying them and believing the 'spin'?
Jon Ward
Leather brake blocks on chrome rims when it's raining.
Joey Hales
Thank you for reading 5 articles this month* Join now for unlimited access
Enjoy your first month for just £1 / $1 / €1
*Read 5 free articles per month without a subscription
Join now for unlimited access
Try first month for just £1 / $1 / €1