Laurent Jalabert: the jig is up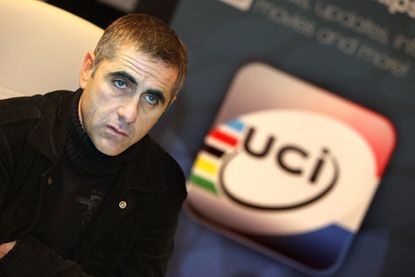 Get The Leadout Newsletter
The latest race content, interviews, features, reviews and expert buying guides, direct to your inbox!
Thank you for signing up to The Pick. You will receive a verification email shortly.
There was a problem. Please refresh the page and try again.
Laurent Jalabert, former World number one, former French national road champion and National team selector (till this spring), has been named by French sports daily newspaper l'Equipe as having provided a sample in the 1998 Tour de France which has tested positive for EPO.
Samples from the controversial 1998 Tour - the Tour of the Festina affair won by Marco Pantani - were frozen and used for research into developing an EPO test by a French laboratory run by the AFLD (Agence Francais de Lutte contre le Dopage) in 2004.
In 1998, there was no test for EPO and now the names of those riders who tested positive for EPO are being revealed. But why now? The dope control samples were tested by the AFLD in 2004, but only on condition that the anonymity of the riders was maintained.
Unsurprisingly, the AFLD found traces of EPO in many of the samples, but until now, only rumours circulated about the actual numbers and names circulated.
However, in the wake of the Armstrong-USADA fall out, the French Senate opened an inquiry into the efficacy of anti-doping practices in France and, as part of this process, the Senators reasoned that identification of the names who tested positive was in order. And, somewhat mysteriously, the first name out of the hat was that of Laurent Jalabert.
It would be hard not to see some payback and politics involved here. On May 15, Jalabert was called in to testify to the Senate inquiry - under oath - to explain his position and thoughts on doping. In spite of the fact that he was under oath, Jalabert fudged the issue and never came clean during his 50 minute question and answer session.
Early in his hearing, Jalabert said, "I can tell that you want me to say I was doped," said Jalabert at one point. But he fudged that one, in the end).
"In the three teams I was part of, I was surrounded and supported by a group of people I had complete confidence in - from the mechanics to the team managers and the medical staff too...I admit that we were looked after and, during competition, there were times, I have to accept this, that we used a product that was forbidden... as long as you had medical authorisation. And there were times when I used these products because it was necessary."
"The implication - never challenged - is that cortisone was administered for tendonitis or saddle sores and perhaps, sometimes, the theraputic limits might have been exceeded."
The clear implication was that Jalabert never knowingly took EPO and none of the French senators thought to laugh and ask him to be serious. Recall that after the Festina affair Jalabert's former team mates at the time, Alex Zulle and Neil Stephens, had different recollections of what was going on at ONCE in that era. Zulle claimed the doping regime at Festina was the same as had been in operation, while Stephens went for the same 'I didn't know what they were injecting me with' line of defence that is, literally, unbelievable.
Jalabert then added. "But I can assure you that at no time did I go looking for a doctor or anyone like that with the intention of improving my performance, to try to take part in the arms race. I never spent a single Euro - or rather a Franc, at the time, it was a while ago - to go to see a doctor or buy any banned products.
"That wasn't in my 'culture' and it wasn't something that I wanted to do. But it's true that I was in these teams and I was looked after ("soigne") in those teams and now, can I say today that it was illegal? I can't be sure. I can't be sure either that it was entirely legal."
It is clear that Jalabert's performance didn't impress onlookers - although the Senators seemed happy to believe this national hero ('Notre Jaja') turned high profile TV commentator was possibly doped but ignorant of the process.
We can only speculate that those who knew Jalabert was lying leaked the AFLD data to l'Equipe and dropped Jalabert in it. Furthermore, there are credible sources who have contacted us to say that Jalabert did indeed work with Dr Michele Ferrari, something that has been rumoured (but again never asked by the Senators).
"It was a massive shock and I can't really argue at the moment because I have no idea what they are basing this on. What I want to know is how the journalists at l'Equipe were able to get this information when I didn't have it myself," said Jalabert on French radio.
When Jalabert was contacted by TV station France2, he said, "I can't say if it's true and I can't say if it's false, but what I will say is that it is a surprise. I only learned about it by reading the paper and I wasn't ready for it. So samples collected in 1998 were tested in 2004 and we get this news now, in 2013? Well...".
In the immediate fall out, Jalabert stepped down from his role as cycling co-commentator on France2, days before the start of the Tour. But there will be worse to come on July 18 - the day of the Alpe d'Huez stage of this year's Tour, when the French Senators present their enquiry and, contained within it will be the names of all the riders who (retrospectively) tested positive in that catastrophic 1998 Tour.
Twitter: @KenBobPryde
Thank you for reading 20 articles this month* Join now for unlimited access
Enjoy your first month for just £1 / $1 / €1
*Read 5 free articles per month without a subscription
Join now for unlimited access
Try first month for just £1 / $1 / €1
Get The Leadout Newsletter
The latest race content, interviews, features, reviews and expert buying guides, direct to your inbox!