L'Ecole Britannique: Why young British riders are in vogue across the channel
Groupama-FDJ's development squad has become the go-to place for young British riders in recent years and its turning them into WorldTour pros who get results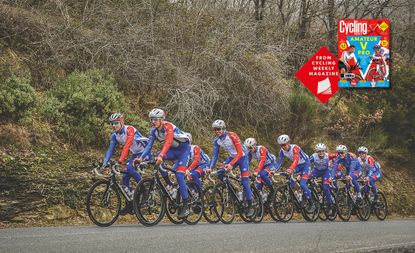 (Image credit: Groupama FDJ)
Midnight, and a blue, red and white Skoda pulls into the car park of a hotel in Besancon, Eastern France. An averagely tall teenager of slight build, with short mousy-coloured hair emerges from the vehicle into the cold October night. Bleary-eyed and tired, he's ready to hit the sack straight away after a five-hour drive. It has been a long day.
>>> Subscribe to CW magazine and get more features like this every week (opens in new tab)
Earlier that day, while the sun was still up, he competed in sodden conditions at the Paris-Roubaix Juniors race. There he toiled in the mud to help his team-mate Max Poole finish sixth, before coming home outside the timecut himself. Worn out, mud still under his fingernails, his season now finished, he endured the long transfer to his bed for the night.
Although young Finlay Pickering's 2021 was ending in something of a damp squib he had celebrated good results in recent times, including a top 10 in the junior time trial World Championships.
The following day he will be met at the hotel by Groupama-FDJ coach Joseph Berlin-Sémon, who will take him to the Service Course where he will be welcomed by the La Conti team. But right now all he wants to do is sleep.
That October Monday was the Yorkshire lad's first meeting with the French team since signing as a professional rider in the development team for 2022. He is not the first Brit, or even the first Yorkshireman to join the outfit led by one of the stalwarts of French professional cycling, Marc Madiot.
Since January, the 18-year old from Hull has been stablemates with fellow Northerners, Joe Pidcock and Sam Watson along with riders from Australia, New Zealand, Italy, Estonia and of course France.
As Pickering was drying out from his Roubaix adventure, in the Alps, Lewis Askey was rounding off his winter break before joining team mates, including compatriot Jake Stewart, in the Groupama-FDJ WorldTour classics squad.
Given the team's image and identity it is striking that five British riders have joined this quintessentially French team co-sponsored by a leading French insurance company and the French National lottery, in the last four years.
The effusive Madiot rarely speaks in English, and he, along with brother and head of sport, Yvon are proud of their roots in the Mayenne, one of the oldest départments in France. So, what has been the reason for this recent debarquement des Anglais in this Gallic set-up?
You can read the full feature in the February 24 issue of Cycling Weekly magazine, on sale in shops and online now (opens in new tab). You can also subscribe to CW (opens in new tab), get more great features like this each week and have it delivered direct to your door.
Thank you for reading 5 articles this month* Join now for unlimited access
Enjoy your first month for just £1 / $1 / €1
*Read 5 free articles per month without a subscription
Join now for unlimited access
Try first month for just £1 / $1 / €1