LeMond suggests changes need to be made to drug testing and UCI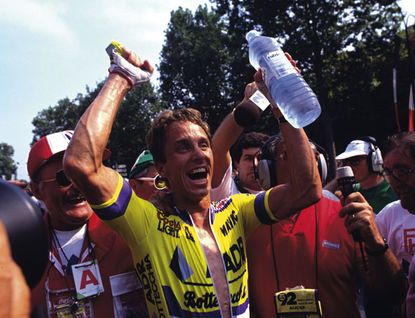 Three-time Tour de France winner Greg LeMond has suggested changes in drug testing and in the sport's governing body, the Union Cycliste Internationale, especially in the wake of the Lance Armstrong doping case.
"It's about getting trust in the system, and it's totally doable," he said in a radio interview with Ireland's NewsTalk on Saturday.
The American won the Tour de France three times and World Championships twice in the 1980s and 1990s. He butted heads with Armstrong, saying in 2001 that it was disappointing that he worked with known doping doctor Michele Ferrari. In the interview, he explained that plea-bargaining could help go after the drug dealers.
"I actually went to WADA [World Anti-Doping Agency] to see if they would change their deal about plea-bargaining. I'd much rather have Floyd [Landis] come out, admit it, but give up his source because somebody is giving those drugs to somebody. It's usually a doctor, a team manager, somebody, and if they do that it leads to an outing of those guys... If that would have started in the '90s, [Michele] Ferrari would have been out, [Francesco] Conconi would have been out - all these doctors. They're the same ones that were doping riders in the '80s, '90s - they're still there."
Landis and Tyler Hamilton alleged that Armstrong tested positive in the 2001 Tour of Switzerland and that the Union Cycliste International (UCI) covered up the doping test. LeMond said that an independent doping agency needs to handle the testing.
"It needs to change. Drug testing needs to be separated from the governing body [the UCI] completely. I'd love to see that. I would buy into the UCI's part much more in the sport if they would voluntarily help set-up an independent doping agency like USADA and WADA, and have it to where there's a real body of scientists that cannot be influenced by anybody. Not anybody."
Armstrong donated around $125,000 to the UCI in 2002. UCI President Pat McQuaid said last month, "If it were happen today, we would treat it differently and state it differently." However, he added that if another cyclist wanted to give a donation "we would accept it. I don't see a problem with it."
"Any donations from anybody outside is absolutely unethical," explained LeMond. "And it reeks of something that's... What does it say to all the other riders? It's quite usual that everybody who's left that team [US Postal/Discovery] are positive, and while on the team, nobody's positive. It needs to just change, and the people are going to change it. Right now is the time to do it."
The USADA is due to send the UCI its investigation files by next week. Armstrong is banned from competing, but continues to race in unsanctioned triathlons. Last week, he raced in California and spoke afterwards regarding the case. He said that people need to "move on".
"Some people don't do that. They sit around and talk about the past. You always get high-school friends who sit around and talk about 'hey remember that time...' and I'm like 'Why are you asking me about that?' ... What else do they want to strip? The Tour of Colorado? Tour of the Gila? It's so dumb. I don't care. Honestly," Armstrong told Lava Magazine.
It asked about people opposing him racing. The California triathlon does not fall under USADA testing. A Maryland event dropped its USA Triathlon sanctioning so that Armstrong could compete yesterday.
"Others won't move on. It's sad. I'm aware that it's [opposition] out there. It's like, why are you continuing? You got what you wanted; Lance Armstrong never did anything in his life. Great. For some, it's like, shouldn't you be out training and focusing on what you're doing? F**king move on. So strange."
Armstrong, who maintains he always raced clean, refused to defend himself in the USADA case. The agency said he doped with EPO, testosterone and blood transfusions, banned him for life and stripped all of his results from 1998 onwards, including all seven Tour de France wins.
Related links
Landis fined and ordered to pay costs in UCI defamation case
Kimmage: UCI just want to shut me up
USADA strips Armstrong of seven Tour titles
Thank you for reading 20 articles this month* Join now for unlimited access
Enjoy your first month for just £1 / $1 / €1
*Read 5 free articles per month without a subscription
Join now for unlimited access
Try first month for just £1 / $1 / €1