Lord Sugar: The Big Interview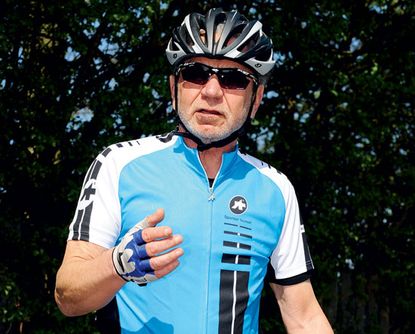 In recent years cycling has become a pursuit of the rich and famous, with chief executives queuing up to profess their love of pedal power. But few people would expect Lord Alan Sugar - founder of Amstrad, former chairman of Tottenham Hotspur, star of The Apprentice and most recently ennobled by Gordon Brown as Baron Sugar of Clapton to take a seat in the House of Lords as the government's enterprise tsar - to be leading the charge.
Lord Sugar, 63, has been a committed road cyclist for five years and racks up an impressive number of miles on UK roads and at his homes in Spain and Florida. It comes as no surprise that he runs a fleet of exclusive Pinarellos, but with an estimated fortune of £830 million and a ranking of 59th richest man in the country, he can afford them.
CW: Why did you start serious road cycling?
AS: I've always cycled a bit but I started road riding seriously after suffering injuries from tennis. I tore my groin and the bloke that operated on me didn't do it properly. So I had two years of really not doing anything and I must have put on a couple of stone. But I got rid of that weight from riding the bike.
I go out two or three times a week and try to get 150 miles done. A normal ride for me is 50 or 60 miles. Cycling is a great thing for me, and I think it should be a part of every businessman's life. It's good to go out for three or four hours and get some fresh air and clear your head. It lets you think things through before making a decision. And I've got my BlackBerry in my back pocket so I'm always contactable - I can stop on the corner of a road and answer emails.
Tell us about your bikes.
AS: I used to keep a bike at each of my houses in Spain, Florida and the UK, but I decided to bring them all here. I spend two-thirds of the year in the UK so it makes more sense to have all the bikes here, and I find I get better servicing for them over here - shops in other countries and especially in America can be rubbish at fixing my bikes. Also if I need the bikes somewhere else I just put them in my plane.
I bought my first real road bike, a Pinarello FP5, in America. The dollar was weak at the time and Pinarello bikes were cheaper in the US than they were in England. Then there's the bike I used to keep at my house in Spain which is probably the one I have ridden most and is also probably my favourite. It's a 'Prince of Spain' special edition Pinarello Prince painted in the Spanish national colours in honour of Alejandro Valverde. Now I've just got a Pinarello Dogma.
I understand that there is no justification for average people to go and spend £6,000 for a bike if you can get a nice bit of kit for £1,000. I've just got expensive bikes because I like the brand and I can afford them. But I do use my bikes, I do a lot of miles on them, in fact I've probably done 5,000 miles on my Prince of Spain model.
Where has been your favourite place to ride?
AS: The south of France, cycling through the pretty little villages and nice scenery down there. The roads in France, Spain and Italy seem to be in better condition than over here - fewer potholes.
Also I think drivers in France tend to be a bit more understanding because cycling is part of their culture. But having said that, I've noticed in France that if a cyclist is riding in the road when he could be on a good cycle track alongside, drivers tend to get a bit annoyed.
In the winter I go out to America, to Florida. I won't cycle in the snow over here. It's not the cold, I don't mind that, but I'll never go out when there's snow and slush and ice around because I'm just frightened of falling off.
Now that you are in the House of Lords, do you think there is anything government can do to help British cyclists?
AS: I think that there's an acknowledgement by government now, more than ever before, that cycling is a good thing - it keeps people fit and healthy and it helps in the fight against carbon emissions. There are some good things going on with the creation and signage of cycle routes in this country. But probably the most important thing we need is to educate drivers to understand cyclists' needs. I think everybody needs to be more situationally aware, both drivers and cyclists.
But I think sometimes cyclists don't help themselves, especially in London for example, where some people on bikes give the rest of us a bad name.
Have you ever been tempted to start a cycle business of any kind?
AS: No, I've got too much on my plate already. It would be pretty easy to do it, though. All you need to do is get some carbon frames from Taiwan, rebrand them and choose your components. The key thing would be to market them well. You'd probably need a good rider, a famous rider, to endorse them.
Seeing as you sold Amstrad to Sky, do you have any interest in professional cycling?
AS: No not really. I've been asked to go and see races a few times by people like Garmin, who supply equipment for my planes, but I'm not really interested. I cycle just for fitness and health.
Does your flying background help with life in the saddle?
AS: Nah, not at all. Well only in a sense that you tend to be a very cautious person anyway, because you're trained to be cautious when you fly, so you're extra safe on the roads. But it doesn't help you actually ride a bike. I suppose from a navigational standpoint it helps too - it's amazing how many people don't realise where they are.
Have you any plans for any bigger rides?
AS: I'm going to do a 110-mile ride from San Remo to St Tropez this summer with my son-in-law. The road is up and down, so it's not really easy. At that time of year we'll drink maybe 10 bottles of water. The sweat is pouring off of you in that temperature so you've got to replace the liquids. The temperature tends to be 80°F in the shade, and can be 100°F in the open.
This article originally appeared in Cycling Weekly magazine May 6 2010 issue
Thank you for reading 20 articles this month* Join now for unlimited access
Enjoy your first month for just £1 / $1 / €1
*Read 5 free articles per month without a subscription
Join now for unlimited access
Try first month for just £1 / $1 / €1