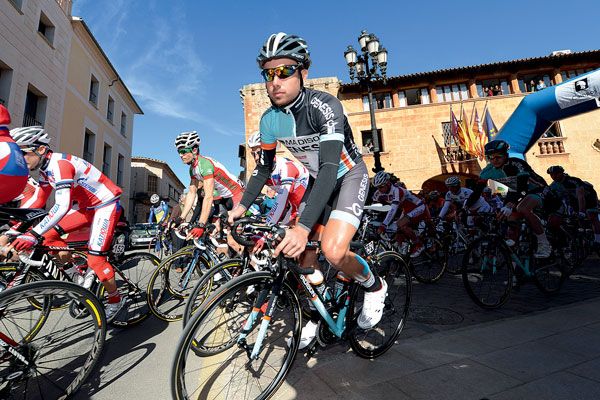 There's a new British team on the scene, and guess what? They're probably going to be good. With financial backing from the UK's leading distributor of bicycle parts and accessories, and Roger Hammond calling the shots, Madison-Genesis look well-equipped for their debut season.
To prove a point, they won their first race, courtesy of Ian Bibby at the London Bike Show Nocturne criterium in January. On the steel Genesis Volare bike, too, which is around 500g heavier than the carbon models used by their rivals. So much for marginal gains being the future of cycling.
So what of the riders? As has become commonplace with the top domestic teams, much importance has been placed on the Tour Series. Dean Downing holds the record for most individual victories (six) in the event, and won the overall title with Rapha-Condor-Sharp in 2011. Even more impressively, Andy Tennant was part of the winning team in 2009, 2010 and 2011. Not that he missed out on kissing attractive podium girls last year - his girlfriend is the race's 'presentation hostess', Lauren.
They also signed Jack Pullar, who was one of the revelations of 2012. The season saw him rise from relatively unknown rider to national hill-climb champion.
But the team's big star is likely to be Bibby. Former top pro Hammond believes he is the most talented rider on the domestic scene which, given that he can climb, descend and sprint, may not be an understatement. Bibby has already impressed this season, finishing ninth in February's Trofeo Deia in Majorca.
With time ticking on his chances of moving to a UCI WorldTour squad, the 26-year-old Bibby may be the driving force behind a successful first year for the team.
Q&A with Dean Downing
Which rider on the team will win the most races?
Bibs [Ian Bibby]. He's so talented and I think he's proved that already this season. He's had some decent results over the past few years, but I still think he will surprise some people this year.
Who will be the biggest surprise?
One of the youngsters - possibly Alex Peters. Sometimes, younger riders can ask you the most basic of questions - ones they really should know the answers to. But some of the questions Alex has put to me were fantastic.
Who is the biggest joker?
Bibs and Jack [Pullar] as a pair. They're the double act of the team. Liam [Holohan] has got the worst jokes, that's for sure. When we were in Majorca for our training camp, everything to him was "juanbelievable".
Who's going to win the Tour Series?
I'm not sure. I would suggest Raleigh have the strongest team, UK Youth look strong too, but with the riders we've got, I think we can win a round or two.
| | | |
| --- | --- | --- |
| Sebastian Baylis | 26 | Mid Devon CC |
| Ian Bibby | 30 | Endura Racing |
| Dean Downing | 38 | Rapha-Condor-Sharp |
| Liam Holohan | 25 | Raleigh-GAC |
| Dominic Jelfs (Irl) | 22 | Hennebont Cyclisme |
| Alex Peters | 18 | Mosquito Bikes |
| Jack Pullar | 23 | Wheelbase.co.uk-MGD |
| Chris Snook | 26 | Banjo Cycles |
| Andrew Tennant | 26 | Rapha-Condor-Sharp |
| Brennan Townshend | 19 | Raleigh-GAC |
>>>Back to 2013 British Team Guide home page >>>