Ministry of Justice agrees to look at bad driving laws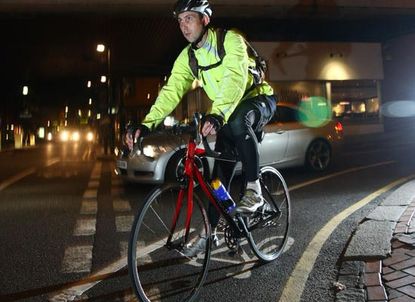 Martin Jones, Deputy Director of Sentencing, Neighbourhood Justice and Transparency at the Ministry of Justice has agreed to look at the laws concerning bad driving after today's evidence session at the 'Get Britain Cycling' parliamentary inquiry.
He made the comment after experts on road safety and cycling told a panel of peers and MPs from the All Party Parliamentary Cycling Group that the UK needs tougher penalties and stronger policing of dangerous drivers if we are to get more people cycling.
The inquiry heard that perceived risk was stopping more people from cycling. There was also a call for greater focus on cycling awareness in driving tests and cycle training in schools.
Representatives from the AA, the Freight Transport Association, Cycle Training UK, British Cycling, the Parliamentary Advisory Council for Transport Safety, the Metropolitan Police, Ministry of Justice, charities RoadPeace and CTC, and a cycling barrister gave evidence.
APPCG Chair, Julian Huppert MP, said: "Today's hearing focused on all aspects of road safety but the most compelling argument presented to the inquiry was the fact that the justice system isn't protecting cyclists when things go wrong. I've seen people get knocked off their bikes and in most instances, it just isn't taken seriously enough."
Referring to a recent case where a taxi driver received a £35 fine for killing a cyclist, Chris Peck of the CTC called for more long driving licence suspensions.
He added: "In many cases involving death there is no prosecution because there is a lack of evidence. These cases come up time and time again."
He said since 'careless driving' was introduced fewer more serious 'dangerous driving' offences were handed out.
Martin Porter QC, author of the Cycling Silk blog, said police were "spineless" when dealing with drivers.
He added: "There isn't the will to take any action, and in any other area of injury where there was a near miss which could have caused potential harm it is taken seriously so it doesn't happen again."
Edmund King, president of the AA, said: "There are issues of perception of danger, and I think that is linked to education of drivers and cyclists.
"If you don't get people on a bike before they are 17, their attitudes will be set. They won't have experienced life on the road as a cyclist," he added.
David Dansky, Head of Training and Development at Cycle Training UK, said match funding from councils would ensure more children got Bikeability training, while driver education would reduce conflict when cyclists ride assertively.
This morning's meeting followed an announcement today by Transport Minister Norman Baker promising £62 million for cycling in England.
Related links
What is 'Get Britain Cycling'?
Cycling experts present evidence to Parliament
The Times campaign: one year on
How Britain has failed cycling
Comment: Cycling takes centre stage at Westminster
Thank you for reading 20 articles this month* Join now for unlimited access
Enjoy your first month for just £1 / $1 / €1
*Read 5 free articles per month without a subscription
Join now for unlimited access
Try first month for just £1 / $1 / €1