Nikki Harris to miss cyclo-cross world champs through injury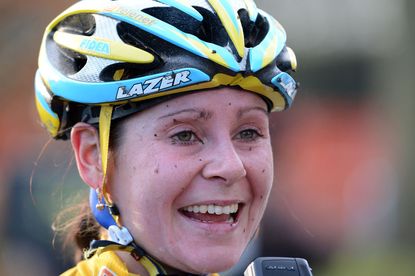 British Cyclo-Cross Champion Nikki Harris has withdrawn from next weekend's World Championships in Kentucky through injury.
Harris has enjoyed a strong season to date, winning her first senior British title and finishing third in the World Cup series. However a knee injury first sustained in December has resulted in a premature end to her campaign.
In a press release, she said: "I've had some issues with my knee over the past few weeks after I hit it on the handlebars at the Zolder World Cup. I managed to mask the pain for a few weeks and hoped it would recover and I could finish my season strongly as I had planned.
"After an appointment with the specialist today we learned that the injury has now worsened and I have an acute tear in some tissue on my patella. Due to this I will unfortunately have to draw a close to my season immediately and take some rest. After a few weeks we can re-evaluate how things are going and decide If surgery is necessary or not.
"It's obviously a huge disappointment to me, my team and British Cycling that I won't be able to take part in the up-and-coming world championships in Louisville and the remainder of the cyclo-cross season."
British Cycling confirmed that it will not call up a replacement for Harris to compete in the championships (February 2-3).
Related links
Nikki Harris and Helen Wyman head up strong GB women's Worlds cross team
Thank you for reading 20 articles this month* Join now for unlimited access
Enjoy your first month for just £1 / $1 / €1
*Read 5 free articles per month without a subscription
Join now for unlimited access
Try first month for just £1 / $1 / €1