Over 100,000 women take part in British Cycling events in 2013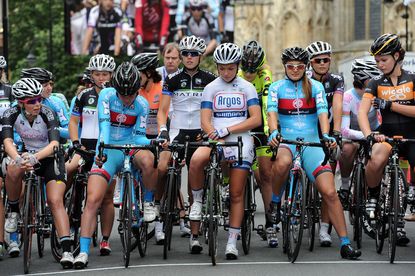 Around 106,000 women have taken part in British Cycling events this year so far, the sport's national governing body announced on Thursday, indicating that it is on track to reach its target of getting one million more women cycling by 2020.
BC launched a women's strategy in March of this year, with the aim of getting more women cycling and involved in the sport. Since March, BC reports that its women's membership has grown 19 per cent and that women taking part in racing has increased 24 per cent.
According to BC's figures, 23,000 women took part in its women-only Breeze cycling events; 37,000 women rode in Sky Ride events; and 6,000 in Sky Ride Local events - a third of all participants are now women. There was a seven per cent increase in the number of women taking part in BC cyclo-sportives - up to 24,000.
Outside of women taking part in events, BC also reports that the women's national race series has increased 50 per cent to 10 events in 2013, and that it has trained 10 per cent more female coaches compared to the same period last year.
"In the six months since we launched our strategy we've made some great progress and our plan to get one million more women cycling over the next seven years is firmly on track," said British Cycling chief execitive Ian Drake.
"We've got some fantastic headline figures that we're announcing today. They show that there are thousands of women who want to ride recreationally - a big win for our partnership with Sky, especially the fact that over a third of the 100,000 women we've engaged so far this year was through Sky Ride.
"The introduction of the Women's Tour from next year can only build momentum further. We know that British Cycling has a long journey ahead to change the culture of our sport but we are heading in the right direction."
Secretary of State for Culture, Media and Sport, Maria Miller added: "It's fantastic that British Cycling's women's strategy has got off to a flying start. The approach to promote both recreational cycling as well as sportives to women is clearly paying off.
"With great role models such as Laura Trott and Becky James, an increase in women's races, a Women's Tour announced and more female coaches coming through, the sport is in a great position to keep up this momentum."
Related links
British Cycling aims to get one million more women cycling regularly
British Cycling's women's academy in the pipeline
British Cycling launches new Breeze women's cycling initiative
Thank you for reading 20 articles this month* Join now for unlimited access
Enjoy your first month for just £1 / $1 / €1
*Read 5 free articles per month without a subscription
Join now for unlimited access
Try first month for just £1 / $1 / €1