Parents of toddler killed while riding in a designated bike lane sue city of Chicago; Mondelez International
"Safety should be every elected official's top priority and our little Lily paid the ultimate price for others' misconduct and disregard for the safety of bicyclists," says grieving dad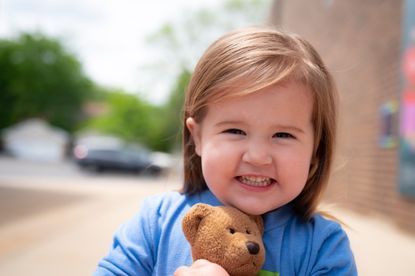 (Image credit: Clifford Law Offices)
The parents of a three-year-old girl killed while bike riding in a Chicago bike lane filed a 10-count wrongful death and negligence lawsuit on January 18 against the city, Mondelez International, a truck leasing company and the electric utility company, Commonwealth Edison Company (ComEd).
On the morning of June 9, 2022, Kate Snow and Timothy Shambrook set out by bike to drop off their toddler at a summer day camp. The three-year old child named Elizabeth Grace "Lily" Shambrook was secured in a child carrier on Snow's bike while Timothy Shambrook followed on his bicycle behind the mother-daughter duo.
The complaint filed describes that as the trio traveled in a designated bike lane along a residential street of Chicago's Uptown neighborhood, they encountered a ComEd utility truck "illegally parked" in the bike lane and blocking further access. Forced to maneuvre around the truck, Snow veered into the vehicle traffic lane where another truck —a Mondelez International semi-tractor trailer truck— had stopped at or near the intersection's stop sign.
Snow proceeded to navigate the space in between the two trucks. The complaint alleges that the Mondelez truck "was operated and driven in such a manner as to cause contact" between the trucks and Snow, resulting in Snow and her child falling to the ground.
As the Mondelez truck pulled away from the intersection, the truck's rear tires drove over the head and body of the child, resulting in "severe personal injuries and her death," the complaint states.
The complaint alleges negligence on the part of ComEd for numerous acts including "intentionally and knowingly usurped use of the designated bike lane" and parking its utility truck in an illegal and unsafe space.
Mondelez International and the Penske truck leasing company (by whom the truck driver was employed) are named for, among others, "negligently operated, managed, maintained and controlled their tractor-trailer truck" and "driving their vehicle without making sure it was safe to do so" and for allegedly continuing to drive on after having made contact with Snow.
And finally, the city of Chicago is being sued for "willful and wanton misconduct" in, among other alleged faults, issuing ComEd a city permit detailing specific staging areas and then failing to monitor ComEd's actions and, ultimately, failing to effectively separate vehicular traffic from bicyclists using the bike lane.
"The City of Chicago issued a permit to ComEd without adequate concert for the size and amount of heavy equipment that would be brought into the neighborhood, or where their vehicles actually would be parked. We all co-exist in a society where it takes cooperation and concerns for others who need to do their jobs to ensure that senseless tragedies like this cease. That concern was missing. The flagrant and repeated disregard for the safety of bicyclists and lack of respect for designated bike lanes by operators of trucks and vehicles create deadly hazards that simply can't be tolerated," says Robert A. Clifford, senior partner of Clifford Law Offices who has filed the lawsuit on behalf of the Shambrook-Snow family.
While grieving, the toddler's parents are determined to help make Chicago safer for biking.
"People have to care. The city has to care. Corporations have to care. They all need to respect bicycle lanes and the bicyclists using them," the parents said in a statement.
"Hopefully, this lawsuit will open the eyes of many because we would never want this tragedy to happen to any other family anywhere."
Within weeks of the tragedy, the city of Chicago announced an aggressive plan to build concrete barriers along every designated bike lane by the end of 2023 to prevent vehicles from entering the bike lane.
In December, the Chicago City Council also passed an ordinance requiring signage when a city permit or any type of ongoing work results in the closure of a bike lane. It also requires signage warning vehicles to yield to bicyclists and empowers city workers to ticket, tow and impound vehicles driving, standing or parking in bike lanes.
"This ordinance is a first step but simply doesn't go far enough and just papers over the real problems," Shambrook said in a statement. "Safety should be every elected official's top priority and our little Lily paid the ultimate price for others' misconduct and disregard for the safety of bicyclists."
Thank you for reading 10 articles this month* Join now for unlimited access
Enjoy your first month for just £1 / $1 / €1
*Read 5 free articles per month without a subscription
Join now for unlimited access
Try first month for just £1 / $1 / €1
Cycling Weekly's North American Editor, Anne-Marije Rook is old school. She holds a degree in journalism and started out as a newspaper reporter — in print! She can even be seen bringing a pen and notepad to the press conference.
Originally from The Netherlands, she grew up a bike commuter and didn't find bike racing until her early twenties when living in Seattle, Washington. Strengthened by the many miles spent darting around Seattle's hilly streets on a steel single speed, Rook's progression in the sport was a quick one. As she competed at the elite level, her journalism career followed, and soon she became a full-time cycling journalist. She's now been a cycling journalist for 11 years.