Pinotti returns to bike and decides future post-HTC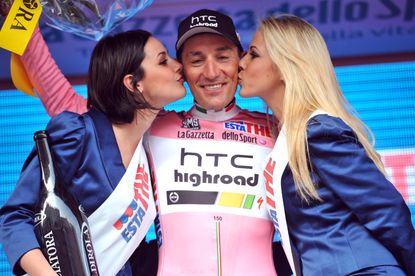 Italian Marco Pinotti is looking for a new team post-HTC-Highroad and planning for the Olympics. A crash at the Giro d'Italia in May put him bed for six weeks, only allowing him to returning to training on the road this month.
"It's something I never wanted to hear," Pinotti told Cycling Weekly when he heard his team HTC-Highroad may fold.
From his home in Bergamo in northern Italy, he heard the confirmation: Owner Bob Stapleton announced he was unable to find a replacement sponsor after a long search.
Pinotti accompanied Stapleton on his successful ride. After working with the women's team, Stapleton took over management of team T-Mobile in late 2007. The German team had been impacted with several doping scandals in 2006 and 2007. He restructured the team, based it in the US and helped fund it as team Highroad.
Mark Cavendish was the team's star rider thanks to 20 stage wins in the Tour de France. Last month, he won five stages and, for the first time, the green points jersey.
"It's sad. A winning team with the best setup in the world can't find a sponsor," continued Pinotti.
"HTC is a model team due to its mentality. Many riders who've left have kept that winning mentality. Every year, the team confirms its quality with its number of wins, and via young riders. It's not due to one rider, but to the structure. The team knows how to give the best for every rider and motivate every rider.
"It's hard to find or recreate an ambience as the one that has team HTC has. I learned a lot in these five years."
Mauro Gianetti's team Geox is reportedly interested in Pinotti. He had Pinotti in his Saunier Duval team for two years, 2005-2006.
Pinotti confirmed that he has heard from many interested teams and said that HTC's riders are an asset to any team.
"A foreign team is better for me," he told La Gazzetta dello Sport earlier this week. "I'm available to the world and want to benefit from the others' experiences."
His aim is to return and race the 2012 Olympic Games in London. He crashed during the Giro's rain-soaked leg on May 27 and fractured part of his pelvis. The crash ended what had been a successful race. Pinotti wore the pink jersey at the end of the first day thanks to his team's time trial win and helped Mark Cavendish win two stages.
After making his return to training on the road, Pinotti is hoping to race again in his HTC jersey before the season ends.
"I'm looking at the calendar," he told Cycling Weekly. "Maybe the Tour of Britain, the two races in Canada, the Tour of Beijing and, of course, the Giro di Lombardia."
Related links
HTC-Highroad team to disband at end of season
Thank you for reading 5 articles this month* Join now for unlimited access
Enjoy your first month for just £1 / $1 / €1
*Read 5 free articles per month without a subscription
Join now for unlimited access
Try first month for just £1 / $1 / €1