Bike maintenance: pre-ride bike check
It is important to check your bike everytime you ride, not only to save you the hassle when something goes wrong away from home, but for your safety too...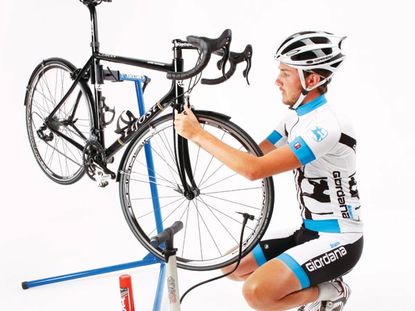 It's worth getting into the habit of going through our ABC of pre-ride checks, even if your bike was in good condition when you last rode it.
These two-minute checks can help to prevent unwanted dramas or incidents that could delay you or cause an unexpected early end to your ride, be it group training, your daily commute or a ride with the kids.
And what's more, by using these checks regularly you should be able to detect any potential problems before they develop into something worse, which could potentially hit your wallet hard too.
A is for air
Always check tyre pressures before riding. For 700c tyres, between 90 and 110psi is a good guide. Towards the lower end if you are a light individual or conditions are wet, and towards the upper end for heavier riders or for dry, smooth roads.
Remove small pieces of flint that may have lodged in your tyre, as these could work their way through, causing a flat. Also, check wheel quick-releases to ensure they are fully tightened. Finally, hold the wheel and see if there is any noticeable side-to-side wobbling. This indicates a problem with your hubs and they may need adjusting. A spinning wheel should be smooth and quiet. Lack of smoothness, any wobbling or noise would indicate a potential problem that you should get checked out as soon as possible.
Top tip: Check for cuts in the tyre; they often contain flint and glass, which should be dug out. Too many cuts and the tyre's had its day.
B is for brakes and bolts
Rubbing brake pads will wear themselves and your rim out prematurely. As a general rule your brakes should be fully applied by the time your brake lever is pulled halfway to the bars. Check your brake pads have sufficient life left in them for the duration and conditions of your ride — most modern pads have wear indicators to help you decide.
If your brake lever pulls in too far, you can easily adjust it back to an acceptable braking position using the barrel adjusters, either at the lever body, or on the caliper arm. Turning them outwards — anti-clockwise — will add tension to the cable, reducing the lever travel. A simple adjustment that requires no tools.
If your brake levers don't spring back smoothly after you've pulled them you may have dirty or frayed cables or a problem with the brake caliper itself. Check the cables' condition and lubricate them and the caliper's pivots with light oil.
Finally, check the brake pads contact the rim at the same time to ensure even wear. A bit of trial and error will soon make it obvious how adding or removing tension centres the brake. Remember, 'B' is also for bolts. Check handlebar, stem, seatpost, cable clamps, plus mech and mech hanger bolts frequently to make sure they're still firmly tightened. A torque wrench is ideal (and essential for carbon parts), but a standard set of Allen keys or multi-tool will do.
Top tip: Bottle cages often work themselves loose. Make sure the bolts are tight before you put your drink bottles in.
C is for chain and controls
Controls include your handlebars, stem, headset and gears. Check your stem and handlebars, especially where they meet, for signs of surface damage that goes beyond mere scratches. Apply the front brake fully and try to rock your bike back and forth. Any play or looseness indicates a loose or damaged headset and it will need adjusting.
Cranks also come under our 'C' check. By making them parallel with the ground and holding each one, see if you can push or pull them to the left or right (when looking from above) this will indicate wear in the bearing of your bottom bracket. After this, check your pedals for movement and make sure your chainrings aren't bent.
Next check for smooth gear changes. Gear cables should be clean and without signs of corrosion and the pivot points on your derailleurs should move freely.
To start with, have a quick run through the gears. If the chain does not move up onto the next cog smoothly, or it rattles and skips between the two randomly, make small anti-clockwise turns of the barrel adjuster — increasing the cable's tension — on your rear mech until the chain shifts correctly. Now make sure you can shift with precision up and down the cassette. Back-pedal and watch the chain pass through the rear derailleur. Skipping and hitching indicates a stiff link in your chain. Laterally flexing and lubing the chain across the stiff link may free it. You may need to use a chain tool.
Top tip: Take the time to turn your shoes over and check for worn cleats. If your foot comes loose when you're climbing, it will hurt!
Tools for the job
Multi-tool: with Allen keys, flat and cross-headed screwdrivers and maybe a chain splitter.
Track pump: with a pressure gauge.
Chain tool: pocket-size or as part of multi-tool.
Chain lube: dry Teflon types are best for road bikes. Avoid 'wet' aerosol oils.
Disposable gloves: buy them in multi-packs to save money and use for oily jobs.
Bike stand: not essential but a stand makes check-ups and maintenance jobs much easier than leaning the bike against a wall or post.
Thank you for reading 10 articles this month* Join now for unlimited access
Enjoy your first month for just £1 / $1 / €1
*Read 5 free articles per month without a subscription
Join now for unlimited access
Try first month for just £1 / $1 / €1
Nigel Wynn worked as associate editor on CyclingWeekly.com, he worked almost single-handedly on the Cycling Weekly website in its early days. His passion for cycling, his writing and his creativity, as well as his hard work and dedication, were the original driving force behind the website's success. Without him, CyclingWeekly.com would certainly not exist on the size and scale that it enjoys today. Nigel sadly passed away, following a brave battle with a cancer-related illness, in 2018. He was a highly valued colleague, and more importantly, n exceptional person to work with - his presence is sorely missed.