Pregnancy shouldn't end careers - and the 'Mothers of Uno-X' are leading the way
These three pro mums have a unique support circle, and, they're collecting data which could be instrumental for the athlete mothers of the future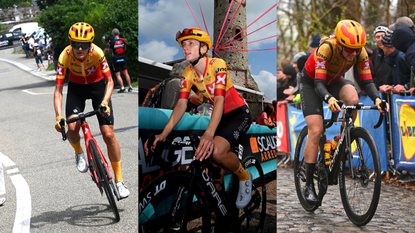 (Image credit: Getty Images)
It is an inconvenient fact for female athletes that the years of peak physical performance just so happen to coincide with the years of peak fertility. Whilst the development of women's sport appears to be slow, it's not as slow as evolution. For decades, the choice for female cyclists keen to become parents seemed clear: choose your career, or a family.
Things are changing. And with three riders at varying stages of the pregnancy and postpartum journey among its roster - two of them involved in collecting data throughout - WorldTour team Uno-X is playing a major role in progression.
"I know that ten years ago it wouldn't really have occurred to many people that they'd be able to carry on [after becoming pregnant]. I think that has probably happened for some riders - they've stopped not because they wanted to but because they didn't really have the options," muses Olympic and World champion - and, mother to one-year-old Nico - Elinor Barker.
"When you look at some of the riders who have come back, probably myself included, if we'd stopped when we were pregnant, we probably would have missed out on some of the biggest successes of our careers," she says - having scooped up Gold medals in the Team Pursuit and Madison at the UCI World Championships in Glasgow in August, whilst also ramping up her road season with Uno-X.
Mothers of the Peloton
Uno-X is certainly not the only team supporting its riders as they return to racing. There are now many inspirational mothers within the peloton, including:
Lizzie Deginan, Lidl-Trek: Triple Monument winner Lizzie Deignan gave birth to her second child, Shea, in September 2022, and returned to formal training on 1 December, riding to sixth at the 2023 Glasgow World Championships.
Chantal Van Den Broek-Blaak, SD-Worx: Former world champion Van Den Broek-Blaak welcomed baby Noa in May 2023, and rode the Duo Criterium in the Netherlands in August, with a World Tour return still pending.
Ellen Van Dijk: Three-time-time trial World Champion and Hour Record Holder Van Dijk rode over 17,000 kilometres during her pregnancy. She gave birth in October 2023 and has been candid about her desire to return in time for the 2024 Olympics, in Paris.
Barker is one of three (that we're aware of) mums within the 'Mothers of Uno-X' WhatsApp group. Nico being over one (like my own daughter), she's the most 'advanced'. Alongside her are 36-year-old Joss Lowden, mother to three-month-old Theo, and Julie Norman Leth, who is still to welcome her firstborn to the world, but is confident that their arrival is not an event which should coincide with her retirement.
"I have the idea that going into motherhood, at the same time as going into retirement - trying to find out who I am not being a cyclist, at the same time as figuring out who I am as a mother - would be an unhealthy combination for me," the 31-year-old tells me.
Lowden's appetite for retirement is similarly minimal, "I'm literally in my prime," the former Hour Record holder says, when I point out the the biological timer on female fertility is somewhat inconvenient for us all.
Even the UCI - in recently released guidelines - acknowledges that "an increasing number of elite and competitive amateur female athletes are reaching their career peak during the period of optimal fertility and therefore becoming pregnant during their competitive cycling careers."
A range of factors could be behind this: growing awareness that it is possible to continue a cycling career beyond motherhood, and the increasing age of pregnancy - from 28 for a first child in the UK in 2013 to 31 in 2023 - allowing women to establish a career they're not willing to let go of.
Barker returned to racing, at the UK National Championships, three months after the birth of Nico. A return such as this requires an obvious commitment to training during pregnancy - a topic fraught with misinformation, a lack of data - and - a lot of fear over giving advice that could harm a mother or child.
Case in point: cycling's governing body, the UCI, recently released guidelines apparently tailored to competitive athletes, which advise expectant mothers not to exercise for "more than one hour at a time" - advice which all three athletes called extremely conservative, confirming that they'd certainly surpassed this benchmark.
Whilst all three agreed that some of the advice, around recommended heart rates and training in the heat, should be applauded, Norman Leth commented that reading some parts of the advice - without the backing of a team with more detailed information - could be "scary" for expectant mothers.
Having each other to confer with - and rider's individual coach able to share notes with colleagues - has been instrumental.
"I'm in a super lucky situation," Norman Leth tells me. "I have a lot of good people around me. And we are also seeking new knowledge. The team is interested in getting smarter, we are interested in educating ourselves.
The riders of Uno-X are certainly getting smarter - with both Lowden and Norman Leth collecting data that may one day be available to the public, to help progress understanding of the physiology of expectant mums.
"I did lactate testing throughout my whole pregnancy, at sea level and altitude," Lowden details, adding "we did it because it's interesting, and it hasn't really been done before.
"I'm continuing the testing post [birth], as well. I did a test within about two weeks of just starting to ride again, and we'll carry on - probably - until I'm back to fitness.
"Then, we'll have like the full picture of what it looks like."
The biggest limiter, she found, was the maximum heart rate suggested for expectant mothers - which appears to increase every few years. During my own pregnancy, most information gave 85%, but both Lowden - and the UCI guidelines - now suggest 90% of a rider's max. This figure still required a workaround.
"We said we'd stop the test as soon as my heart rate reached 178, 179," she says. "But the thing is, my lactate never reached threshold. So we couldn't really test threshold, but that doesn't really matter because you get the projection and the rate of increase.
What do the UCI guidelines say?
The UCI states that there are "gaps in knowledge regarding [..] safe cycling" during pregnancy, hence the need for guidelines.
Advice includes that riders should:
> Undertake cycling activities when pregnant up to the level that you did consistently prior to becoming pregnant.
> Not cycle at an exercise intensity greater than 90% of your maximum heart rate when pregnant.
> Not cycle for periods longer than 1 hour at any one time when pregnant.
"What was interesting was it just didn't change throughout my pregnancy. And actually, the best test I did was at the very end of my pregnancy. One test we did in March, we had to stop it at about 240, 260 watts. If I'd been able to carry on, we would have stopped at around 260, 270 - and that's not hugely down," she says.
"The biggest change I noticed was that as soon as I got pregnant my heart rate just went really, really high. And that was fundamentally the biggest limiter, my legs were always good."
The balacing act
Barker never had the chance to complete a baseline test, her pregnancy being somewhat of a surprise, and discovered soon after taking a Team Pursuit Gold medal at the Olympics.
"I found out at eight weeks, at seven weeks I had no idea, so I was a bit like 'Oh my God, this thing is happening, what do I do'," she confirms, "there was so much to figure out."
Instead, she has been able to provide an example to her team mates when it comes to how to structure a racing season around the demands of a newborn - a species which, I can confirm, doesn't distinguish well between night and day, and tends to arrive with a seemingly insatiable appetite.
"It's been incredibly hard. It's pushed me closer to my limit than I've ever been before - physically and mentally," Barker says. "There were quite a few times I was riding for longer than I'd slept for the previous night. I think that must have happened 10 to 15 times. And whichever way you look at it, that's either, you know, a short ride and a disgusting amount of sleep. Or it's a very, very long ride after a decent night."
Being able to take Nico along to training camps and racing blocks made a huge difference.
"I was able to take him on both training camps in the winter, and take him to the Classics blocks - he stayed with me for six weeks out of the two months that I was away - that made it just so much easier to get through mentally. I've been able to get to the end of the season without completely losing my mind because we banked all that time together," she says.
"I think, if Uno-X weren't so supportive, and if I was expected - which is pretty normal - to go on these training camps and to go to the Classics, and leave the baby at home, I don't think it's something that I would be able to continue, it would definitely shorten my career," she confirms.
"I've got four more years with Uno-X, which is like fantastic. But I know that if I wasn't able to conduct my season in this way, and bring him along with me, I don't think I'd have been able to sign that contract."
Uno-X's genereal manager, Jens Haugland told us that "there is no change in contract or payment terms" for its riders when it comes to pregnancy and maternity leave, adding: "it is also entirely natural for us that pregnancy leads to an automatic extension of the agreement on unchanged terms if the rider desires it. We have no requirements for when the rider must return; it is in the individual nature of pregnancy that we must adapt to each situation."
Barker calls hers an "insanely lucky position", and it's a term Norman Leth uses repeatedly.
"I'm just in a super lucky situation. I think a lot of athletes otherwise may stop their career earlier to start a family," she says. "I never thought I'd continue riding after getting pregnant. Not because I didn't think it was possible, but just because I thought 'when I do get pregnant, I will be done with cycling'. Well, turns out I'm not quite," she tells me.
The pattern would suggest that she's not alone.
Thank you for reading 20 articles this month* Join now for unlimited access
Enjoy your first month for just £1 / $1 / €1
*Read 5 free articles per month without a subscription
Join now for unlimited access
Try first month for just £1 / $1 / €1