President McQuaid: the fightback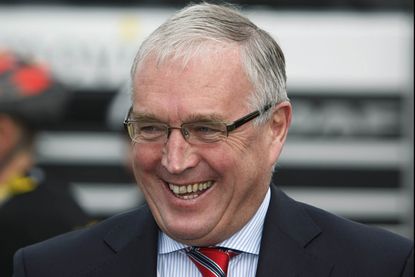 Incumbent UCI president Pat McQuaid released his manifesto ahead of the election in September which will see him pitted against BC's Brian Cookson for the big job at the UCI.
Pat McQuaid, the much-criticised UCI President, is clearly not going to give up his position at UCI headquarters without a fight. After current British Cycling President Brian Cookson launched his manifesto statement a fortnight ago, McQuaid released his 20-page 'rebuttal' titled 'A Bright Future for a Changed Sport.' It's an impressive document, leading off with McQuaid's personal history in the sport.
In a press release, McQuaid said: "I am delighted to launch my re-election campaign and to present my vision for cycling's future to the cycling family whose support over the past eight years has enabled me to transform our sport."
"Cycling has changed since I was first elected as UCI President in 2005. It is now a global sport. It is now possible to race and win clean. We have travelled a great distance together and we must never turn back from cycling's bright future," he added.
McQuaid's manifesto set out four priorities for the next four years:
· To preserve the new culture and era of clean cycling
· To ensure equality in cycling through the development of women's cycling
· To modernise the way that cycling is presented as a global sport
· To foster the global development of cycling
"My mission now is to preserve the changed culture within the peloton and team entourage. I have introduced the most sophisticated and effective anti-doping infrastructure in world sport to cycling. Our sport is leading the way and I am proud that other sports are following in its footsteps.
"The UCI now invests over $7.5 million a year to keep our sport clean and to catch and prosecute those riders who refuse to embrace the new culture of clean cycling. The misdeeds of a few should not be allowed to tarnish the reputation of cycling or today's riders."
There was more. Much more and only a fool would disagree with any of it. Which is to say that the plans and suggestions set out over the 20 pages are all eminently reasonable - better dope controls, more investment in women's cycling, increased globalisation of the sport, a change in the points allocation for teams and riders and much more besides.
The only note that raised eyebrows was a little reminder that McQuaid is also a IOC member and noted that his position on the IOC board was a major asset to cycling.
The release finished by pointing out that he "made it clear that cycling would lose its IOC member and his voice and influence in successfully resisting calls for cycling to be dropped from the Olympic programme were he not be re-elected as UCI President."
Aside from all the feel good stuff to appeal to critics in cycling's heartlands, the not-so-subtle reminder that he was a player at the IOC was a reminder to all that, at this level, sport politics is not simply about having some touchy-feely crowd pleasing ideas for the bloggers and social media commentators. Realpolitik is more important than how many Twitter followers you have.
Indeed, while we in the UK might think that Cookson is a shoo-in for the job, French journalists who have had discussions with the Englishman declared themselves unimpressed, finding him too much of a uninspiring technocrat. Given McQuaid's connections as well as a record he says he is happy to fight on, it appears that the Presidential race is far from a foregone conclusion.
Related links
Cookson unveils manifesto for UCI presidency bid
Brian Cookson announces his intention to run for UCI presidency
Thank you for reading 5 articles this month* Join now for unlimited access
Enjoy your first month for just £1 / $1 / €1
*Read 5 free articles per month without a subscription
Join now for unlimited access
Try first month for just £1 / $1 / €1