Pro cycling's side hustles - from chocolate shops to architecture
Sometimes you just need a little extra cash. Chris Marshall-Bell talks to the pro riders who have a business they run on the side to find out how they do it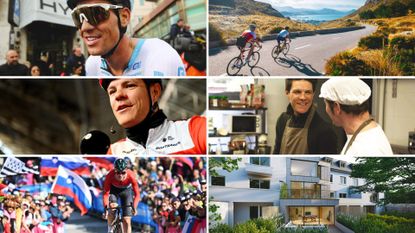 (Image credit: Getty Images/Alamy/Beta Architektur)
Get The Leadout Newsletter
The latest race content, interviews, features, reviews and expert buying guides, direct to your inbox!
Thank you for signing up to The Pick. You will receive a verification email shortly.
There was a problem. Please refresh the page and try again.
Being a professional cyclist is a life of long training hours, sharp tan lines and more caffeine than the recommended amount. For the younger riders, and especially those without families, it's also a life with a lot of spare time, in particular in the winter months when racing is on hold.
It's not uncommon for teenagers and early 20-somethings to study a part-time university degree alongside their career as a cyclist, but rarely do riders seriously think about a post-cycling career until they get into their 30s.
When it comes to hanging up their wheels, most riders stick around in cycling, swapping the bike for the team car, venturing into the media, or setting up cafes to consume yet more coffee.
A small percentage of riders, however, have an extra job or two during their career, and are owners or co-owners of businesses. Cycling Weekly tracked down a few of them.
Jasper Stuyven
Day job: Classics rider for Lidl-Trek
Side hustle: Co-owner of a chocolate shop
There are a few stereotypes about the people of Belgium: they all ride bikes, they brew the strongest beer, and they make the best chocolate.
So if Jasper Stuyven, a proud Flanderian, was ever going to go into business, logic suggests it would either be a bike shop, a brewery, or a chocolatier.
In 2016, his uncle Ivan came to him with an idea. "He previously owned a chocolate shop until 2013, but had been thinking about creating a new one," Stuyven says. "But he didn't feel comfortable benefiting from using our last name without me being part of it. So he asked me if I wanted to go into business with him and I did."
Within a short time, Chocolate Atelier Stuyven – Stuyven Chocolate Workshop in English – was opened in Betekom, 15km north of the cyclist's home city of Leuven. "My uncle is the one running the place, producing the chocolate and working hard.
"I used to go more often but my schedule is so busy. I still do the online stuff, though. I organise the photographers, I arrange the photo shoots for the new products, but if I'm not there it's sometimes easier to cut me out of the daily operation."
The shop specialises in luxury, crafted chocolates. There are, of course, bikes, bidons and jerseys made from chocolate, as well as typical gift selections.
"We don't make a lot of the chocolate," Stuyven explains. "We buy 90% of it, working with our preferred suppliers and choosing our favourite flavours. Then we add extra flavour, our own little touches and experiences to make the finishing product."
Has Stuyven made his own chocolate? "Of course, and I have to say I am quite good. Maybe I'm a natural at it!" The Lidl- Trek rider, the winner of the 2021 Milan-San Remo, still has plenty of years left as a pro cyclist, but already has one eye on the future. "I wouldn't say I rely on the chocolate shop, but it's important for me to have something else on the side, and when I stop this will be one of many interesting things I'll have to do."
Zdeněk Stybar
Day job: Classics rider for Jayco-Alula
Side hustle: B&B and Bike rental owner
Before he became a top Classics rider, Zdeněk Stybar was a superstar in cyclo-cross, winning the World Championships three times between 2010 and 2014.
It was during one post-race meal in his hometown of Planá in Czech Republic in 2012 that he was unexpectedly presented with a business proposition. "The lady whose restaurant we were eating in said that she was looking to sell it, and that the property came with four rooms as part of a bed and breakfast," he says. "At the time, my wife and I were looking for a family home in Czech, and we thought this could be a good opportunity and business investment."
Time passed by, and eventually Stybar, with the help of his family, bought the property. They started renovation straight away, adding a further three rooms, extending their own apartment and renting out the restaurant. A few years later, they bought the adjacent building, an old brewery, and added another six rooms. "We now have our family apartment, 13 hotel rooms, a wine cellar and a restaurant, and everything's run by my mother and sister," Stybar says. Initially, he wanted a cycling clientele (he insists the cycling terrain is brilliant), but rooms are mostly occupied by business people.
In 2017, Stybar expanded his entrepreneurship by setting up his own bike rental business in Majorca, Spain. The company, 54/11, is based in the capital of Palma, and is run by a good friend of his. He says: "Thanks to her intelligence, and her knowledge of so many languages, we've had a lot of success." Their bike stock totals almost 400. "Between March and May the bikes are booked out almost 12 months in advance," he says.
"We can organise almost everything, and we also run guided tours, visiting the lesser-known restaurants in the middle of the islands. It's important that smaller businesses support one another."
Bob Jungles
Day job: All rounder for Bora-Hansgrohe
Side hustle: Co-founder of architectural firm
When Bob Jungels, a Tour de France stage winner and Liège-Bastogne-Liège champion, bought his own house in 2016, he set about doing his own renovations and transformations. "And I immediately developed this passion for modern architecture," he says.
"On all of my training rides I would be thinking about different ideas, having different thoughts to make the house better, and it was always on my mind."
Jungels had two close friends who were architects and in September 2016 they decided to join forces in and set up Beta Architektur in Luxembourg.
"They wanted to open their own business and that's where I came into play as I could help financially," the 30-year-old explains. "During the season I don't have time to be fully engaged in the business on a daily basis, but in the off-season I pass by a lot to help the guys, stay up-to- date, and to learn things.
"Up until now business has been going pretty good. Luxembourg is a very good place to have an architectural company because construction is really big here. Real estate is rising like crazy in the last few years and it's been very lucrative for us."
Could Jungels swap the bike for the pencil at some point down the line? "I have developed a passion for it and it's something I can imagine doing in the future," he answers. "For me, being an architect is about the combination of having something that is functional and also looks nice. But it's tricky and not easy to achieve, especially in small spaces. I'm not at the point yet where I am good enough to draw my own plans."
The many side hustles of the pro peloton
It appears that the Belgians are the most business-minded of the peloton. Stan Dewulf, a Classics specialist for Ag2r-Citroën, co-founded The Biking Brewers in 2022 with a childhood friend. Their first beer, an 8% blonde tripel named Etappe, has sold well throughout the country in its first year.
Arnaud De Lie, meanwhile, is a 21-year-old sprinter for Lotto-Dstny... and a farmer. He was born on a cattle farm, still lives there, and continues to help his parents every day that he's home. "Sometimes I'm there at 7am milking the cows and I'll help more on recovery days," he says.
Few, however, are as politically-minded as Florian Vermeersch, who at the age of 18, just after he finished his school education, became a town councillor for the Open Vld party in Lochristi, East Flanders. "It just happened by coincidence," the Lotto- Dstny rider, now 24 and still a politician, says. "I know the mayor of our city and one day he came to me and said, 'For the next election we have one vacant spot'. I said I will do it but never expected to be elected."
The women's peloton is replete with riders who have second incomes, including Human Powered Health's Marjolein Van't Geloof. The 27-year-old, also a Classics specialist (it seems to be the prerequisite), is a highly-acclaimed sports physio in the Netherlands. She works for two cycling-specific physiotherapies.
Britain's Claire Steels, who rides for Israel-PremierTech Roland, only switched to cycling from duathlon in 2020 and has enjoyed a rapid progression. Based in Majorca, she owns Steels Fitness, is a tour guide, Riding is big business and a personal trainer.
Under-wraps: why riders rarely speak about their second jobs
As a rider gets older, the questions become more frequent. "Because we're racing with the same people of a similar age, eventually the conversation starts to become more and more about what's next," says Jasper Stuyven. "It's natural, but it's not something we as riders speak about all of the time."
Zdeněk Stybar remembers sitting on the beach in his off-season and agitating for something else to do. "I was sitting there with my computer on the armchair trying to make my start-up for garage furniture off the ground," he says. "But I had no time for it. I realised that in the winter we have a lot of time to study and do other work, but when the racing starts you don't have the energy to really focus on other activities, and even less so when you start having kids.
"When a young pro asks me for advice, I tell them to invest in start-up businesses, and to do it in the winter when we've got afternoons free. You can earn a lot more money in business than via cycling."
Thank you for reading 20 articles this month* Join now for unlimited access
Enjoy your first month for just £1 / $1 / €1
*Read 5 free articles per month without a subscription
Join now for unlimited access
Try first month for just £1 / $1 / €1
Get The Leadout Newsletter
The latest race content, interviews, features, reviews and expert buying guides, direct to your inbox!
Chris first started writing for Cycling Weekly in 2013 on work experience and has since become a regular name in the magazine and on the website. Reporting from races, long interviews with riders from the peloton and riding features drive his love of writing about all things two wheels.
Probably a bit too obsessed with mountains, he was previously found playing and guiding in the Canadian Rockies, and now mostly lives in the Val d'Aran in the Spanish Pyrenees where he's a ski instructor in the winter and cycling guide in the summer. He almost certainly holds the record for the most number of interviews conducted from snowy mountains.