1000 miles later: Lands End to John O'Groats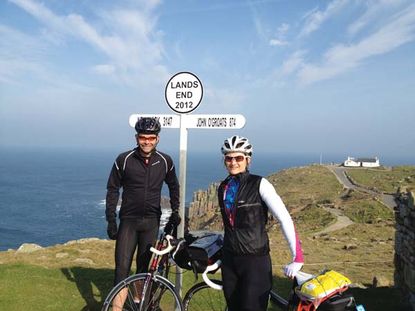 If beauty is in the eye of the beholder, then a bike challenge is in the legs of the rider. In this case my legs, at least I hope so. I'm challenging myself, and my equipment to ride some 1000 miles from Lands End to John O'Groats unaided over nine days in March. And just for the record it's not for charity or anything 'noble', just for fun....




I'm sitting looking at a map of Great Britain, and it's still not really sunk in. I've just ridden from tip to tip, 1004 miles of, according to my riding buddy, a 'sporting route'. My eyes trace the path I took, remembering the climbs, descents, rivers, and the views.
They say its all about the journey and mine began on a Friday night in Croydon. Work commitments meant having to start my end to end from the office. This also meant carrying out my fledgling flight on the fully laden Sabbath at night straight into rush hour traffic.
Riding the loaded bike for the first time was a learning experience, by the time I had arrived at St Pancreas to catch the Sleeper down to Penzance I was much better accustomed to the change in steering and the pendulum effect of the extra weight of the rack and bar bag having initially been resigned to having to climb every hill in the saddle.
This swift adaption was is in part down to the bike and tires. The geometry of the front end of the bike, gave it smooth and predicable handling and combined with the 25c Continental Four Season tyres, means that I was able trust the lean of bike, without worrying about it tipping in too much or washing out on a corner.
The first drama of the ride was came early on, in fact, before I'd had even left London. Loading the bike onto the train I managed to accidentally knock the GPS onto the tracks below.
The heart stopping moment was discreetly dealt with via hanging down off the edge of the platform to retrieve the GPS, but it was a potential catastrophe, the entire route was planned on it.
This appeared to be an omen as this wasn't to be the last of the of our GPS troubles...
I had a feeling something was wrong while trying to use the Bryton Rider 50 to guide us across London to pick up the sleeper train down to Penzance.
It turns out that it needed a complete reboot, but this couldn't be undertaken until we had reached my Brother in-laws in Stockport, the first stop with access to a PC.
So now we had no route, an interim solution was found in the welcoming party of friends from Penzance Wheelers. They met us from the train, lead us down to Lands End for quick photos, and then did a superb job of riding with us for the first 30 miles.
Admitting technological defeat, we ended up purchasing a good old fashioned map. Even when we got the GPS up and running, I realised that it was great for giving directions, calculating distances, but it gave no scale.
A map helped put everything in perspective, giving the names of towns, villages and later on mountains and Lochs to look out for. With the GPS alone I felt detached from the landscape, which to me is the important stuff.
My confidence wobble came on day two. I woke up realising the enormity of the task ahead, but I soon became accustomed to the daily routine: breakfast, ride 50miles or so, lunch, then pressing on for the next 50miles.
After finding our digs for the night, evenings were spent eating, washing kit and bottles, checking bikes then crashing out.
We became tarmac spotters. In some places it was so bad that we gave up pointing out potholes to each other, adopting an everyman for himself approach. But, it was on these roads that my love for the Sabbath Silk Road was cemented. It delivered the perfect combination of comfort and stiffness; smoothing the road as much as possible for miles on end, yet without feeling overly wallowy - feeling like all pedaling effort is harnessed and converted in to forward motion, as physical and mental necessity.
What I hadn't expected was the bond that I developed with the rest of the equipment. I didn't suffer with one mechanical for the entire journey - not even a puncture. Checking the tyres and its unbelievable to think that they rode exactly a whole thousand miles and there is barely any sign of wear and absolutely no tear.
The bar and rack bags were superb. I astounded myself every morning with my ability to pack everything into them - they were like mini Tardis. Once on the bike I totally forgot about them, there was no interference with my riding from ill placed mounts or drooping bags. I was just able to crack on with the pedalling - a massive mental gain.
At first the extra 20kg of luggage took its toll, as someone who can normally hold their own on the climbs, I suddenly found that any slight elevation would just sap my strength and see me falling behind.
I soon learnt to be a rapid gear shifter, making use of pretty much all gear ratios found in the 50/34 chainset 12-27 cassette; using the entire block as the road wound up to keep as much momentum as possible. The flip slide of the weight was the speed on the downs, it seriously picked up pace; unnerving at first, but the Sabbath, is such a grounded bike that it just lapped up the speed and at times it almost felt like I was be lead down the descents - total confidence inspiring.
The mini heat wave I had hoped for actually occurred. We still had morning frosts, which the Castelli Furba jacket was perfect for, until about 11am where the temperature was well into the high teens, allowing me to get down to just shorts and jersey for the rest of the day.
This was until Scotland. Here a dramatic shift in the weather saw the temperatures plummet, and saw me wearing every piece of clothing I had carried with me. Here the Furba came in to its own. It simply kept me warm and dry - both inside and out, a necessity on endless Scottish climbs.
With no following car or team support, I had to be totally self-sufficient. Getting too cold in this barren and remote landscape meant the danger of overheating on the climbs and then becoming freezing cold on the downs, was really apparent. There was no quick nipping into a café for a brew and warm up. This was verging on survival style riding.
We had joked early on in the ride about the seemingly pointless task of carting rain wear and mudguards across the majority of the country. The first hour of our ride north of Inverness into driving rain, which eventually turned to hail and snow, made me eternally grateful for the SKS mudguards. With not one loose bolt across tarmac akin to cobbles, their staying power was impressive.
The homeward stretch to John O'Groats was one of the toughest days on the bike. Ever.
The snow was beginning to settle and roads that we had ridden as recently as the day before were now closed. Previous bad injuries have made my self-preservation go into hyper drive, and the thought of having to ride in snow and ice petrifies me.
But the fear of failure is a bigger monster for me to deal with and the thought of riding all this way and not finishing was not an option. One small mechanical on this day could truly have been make or break, so a testament to my equipment meant I reached John O'Groats.
It wasn't to a loud fan fair and there were no crowds to welcome us, but in ten days, I'd ridden a thousand miles unaided. It's got to be one of the most thorough tests ever, don't you think?
Knog Blinders £34.99
I wasn't planning on riding at night, but there was the quick jaunt across London to Paddington after work, and the possibility of poor visibility or finishing some rides at dusk, meant I needed at least enough illumination to be seen by if not with. The Knog Blinders lights were prefect. They are impressively bright, despite their size and being rechargeable via a USB cable mean that I could take one plug and two cables to charge, my iphone, GPS and the lights in a oner.
9/10
Santini H20 Leg and Knee warmers £54.99 and £51.00
Pitched as being wind, water resistant and thermal, these were going to be the answer to all my lower leg needs. They did do well at keeping me warm on the frosty starts, and I could see the rain beading off the surface in the odd shower. But as soon as the weather became really miserable, they just couldn't compete. In those conditions, I doubt anything would have put up a fight, but in my opinion, the performance doesn't quite match the price.
7/10
Castelli Furba jacket £180
Pre ride I had big expectations of this jacket, it was a pricy piece of clothing and needed to justify the expense and justify it did. Wearing more or less underneath makes it suitable for most temperatures, and then there's the fact that it kept out even heavy showers, but without making you sticky and sweaty inside. To top it all off, it fits so well that it makes you feel classy and pro like - none of that flapping fabric or ill fitting sleeve lengths that take the edge feeling good on a bike. It has become the best bits of bike kit I have ever warn. In fact it's so versatile, that working on the bases of 'cost per wear', its a best value pieces of bike apparel out.
10/10
www.saddleback.co.uk
SKS Chromoplastic Mudguards £33.99
Temped as I am by new and exciting gadgets and gizmos, there is something to be said for tried and trusted reputation. A bit like the advice I got for selecting the Sabbath, all of the experienced tours said get mudguards and in the same breath - get SKS mudguards. The roll of a mudguard isn't that challenging a feat to achieve, and many other brands do keeping you dry reasonably well. But where SKS stand out from the crowd is in the fit. Not once did they tyre rub, creak or rattle the entire ride. When the heavens did open, pretty spectacularly at some points, they kept surface run off at the front down to a minimum and totally dry at the rear. What more could you possibly ask for in a mudguard?
10/10
www.chickencycles.co.uk
Thank you for reading 10 articles this month* Join now for unlimited access
Enjoy your first month for just £1 / $1 / €1
*Read 5 free articles per month without a subscription
Join now for unlimited access
Try first month for just £1 / $1 / €1
Hannah is Cycling Weekly's longest-serving tech writer, having started with the magazine back in 2011. She has covered all things technical for both print and digital over multiple seasons representing CW at spring Classics, and Grand Tours and all races in between.
Hannah was a successful road and track racer herself, competing in UCI races all over Europe as well as in China, Pakistan and New Zealand.
For fun, she's ridden LEJOG unaided, a lap of Majorca in a day, won a 24-hour mountain bike race and tackled famous mountain passes in the French Alps, Pyrenees, Dolomites and Himalayas.
She lives just outside the Peak District National Park near Manchester UK with her partner, daughter and a small but beautifully formed bike collection.