The biggest cycling clothing company you've never heard of
We visited clothing brand Alé's factory in Italy. The company is a lot older and bigger than you might think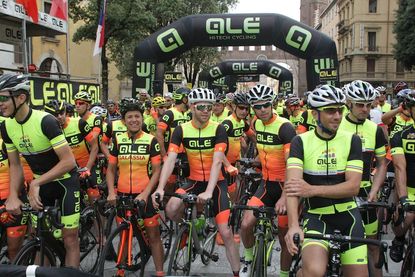 I recently travelled to Verona to take part in the Eddy Merckx Gran Fondo. For those who haven't done a European Gran Fondo, there are several key things that set them apart from the sportives you know and have probably ridden in the UK.
Firstly, they are races. Current professionals, semi-professionals and retired professionals all take to the start line in a bid to win significant monetary prizes.
Secondly most of the riders seem to be riding tubular tyres and have 4% body fat. Thirdly, the clothing people wear is different.
Ride a sportive in the UK and the likes of Castelli and dhb appear to be the most common choices. Ride on the continent and it is immediately apparent the Italians and Spannish love custom club/team kit and fluoro clothing.
>>> Inside Rapha, is it just style over substance?
Ok, I'll come clean, the above photo is not entirely representative of all Gran Fondos. The event was sponsored by Alé and consequently many of the riders were wearing the Italian brand's trademark fluoro patterns.
After the Gran Fondo, I went to visit the Alé factory to learn more about the brand, which is located on an industrial estate next to town of Castel d'Ario.
You may have seen Alé clothing reviewed in Cycling Weekly, but when compared to the likes of Castelli the brand is still relatively unknown to many UK cyclists.
>>> Review: Alé REV1 Master jersey
Unknown to the extent that the UK brand manager Ben Simmons tells me "people often get the pronunciation of the name wrong."
So before we go any further, Alé is pronounced like 'Allez' the French word 'go' as opposed to ale, the popular beverage brewed using a warm fermentation method.
So how big is Alé? The numbers are rather impressive. Barbara Armigliato, heads Alé's Export Customer Service and explained that the company produces on average 2500 units of clothing a day. That's a staggering 75,000 pieces a month.
If Alé is so large, how is it relatively unknown in the UK? The brand Alé was actually launched as recently as 2013, but prior to that the parent company, APG, had been manufacturing clothing for many other clothing companies since 1986.
APG is big, also owning DMT shoes and Cipollini bikes, whose factories are next door to Alé's buildings. In addition to making other people's clothing, APG decided to make its own in its own factory, and that brand is Alé.
>>> Buyer's guide to bib shorts
Alé has significant cycling heritage. The company has made Tour de France yellow jerseys, as well as Discovery and Motorola team kit.
When Nike has made cycling clothing, it was actually made by Alé too.
Made in Italy
Many clothing companies now manufacture in Asia, owing to cheaper labour costs. However, Alé designer Arianna Scarduelli has worked in the company for 10 years and explained that keeping production in Italy, has a number of advantages: "We can see the whole chain, we can control all the steps of production. We produce everything internally and this helps make the quality better.
"Most fabrics are sourced in Italy, but also have some special fabrics we source from elsewhere. For example, we use some special water-repellent and waterproof fabrics from Japan."
Inside the factory there are seamstresses hard at work, at different stages of the production line. The shop floor may look like an Italian Coronation Street scene, but rather than incessant chit chat about Ken Barlow, the dominant noise is the whirring, clicking and stamping of the various machines.
Interestingly, most of the staff in the factory are in fact women. Many of the Italian seamstresses have years of experience, something which is crucial for quality control.
Armigliato explained: "the workers need a lot experience to know exactly where to stitch the chamois and understand the stretch of the fabrics, or else it won't fit properly."
The DNA of the product is all in Italy.
"We can handle every step of production. We source fabric from elsewhere, but everything else is controlled by APG," explains Armigliato.
"The colour schemes are developed in our printing department."
All of the chamois pads are manufactured in hours, and are classified by hours of intended use. The pro's often favour Alé's 8H (eight hour pad).
Watch: How much difference do aero wheels actually make?
How long does it take to turn the raw fabric into a pair of shorts or a jersey? According to Amigliato, "custom clothing orders take 60 days, and if we are talking about a whole collection, where we have much larger numbers, it is three months."
Alé is big on custom clothing and this forms a large part of the company's sales, and while walking through the factory I pass a box that is full of freshly made team kit for one of the biggest WorldTour teams.
It is not just pro teams, with the company producing custom kit for around 9000 clubs/teams and events.
>>> Buyer's guide to summer cycling clothing
In case you are wondering the minimum quantity for a new design is 20 jerseys, coming down to 10 items for subsequent orders.
Euro Fluoro
Alé truly embraces the 'Euro fluoro' look and has already established a strong identity in this respect.
Armigliato told me "we wanted to launch a brand that was new and fresh. There wasn't anything similar on the market and we wanted to offer that."
Armigliato told me that the bright colours seem to resonate especially well with women and the brand also sponsors a women's pro team.
"We want to keep this direction, using bright colours, but we also offer black and white for people who prefer that." Scarduelli adds "the 30 years of experience we have in custom clothing also provides a lot of inspiration. We have seen lots of great designs over the years."
Considering the quality, the price of Alé kit appears to be very competitive against the likes of Castelli, Santini and Sportful.
Will the UK market embrace the Euro fluoro styling? We will have to wait and see.
More info and pictures are available on APG's website.
Thank you for reading 10 articles this month* Join now for unlimited access
Enjoy your first month for just £1 / $1 / €1
*Read 5 free articles per month without a subscription
Join now for unlimited access
Try first month for just £1 / $1 / €1
Oliver Bridgewood - no, Doctor Oliver Bridgewood - is a PhD Chemist who discovered a love of cycling. He enjoys racing time trials, hill climbs, road races and criteriums. During his time at Cycling Weekly, he worked predominantly within the tech team, also utilising his science background to produce insightful fitness articles, before moving to an entirely video-focused role heading up the Cycling Weekly YouTube channel, where his feature-length documentary 'Project 49' was his crowning glory.