Inside Rapha: is it just branding or a British success story?
Is Rapha a triumph of branding or one of Britain's greatest cycling success stories? Cycling Weekly headed to north London to find out...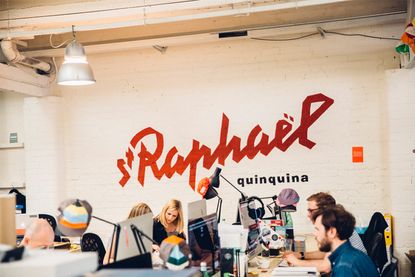 Get The Leadout Newsletter
The latest race content, interviews, features, reviews and expert buying guides, direct to your inbox!
Thank you for signing up to The Pick. You will receive a verification email shortly.
There was a problem. Please refresh the page and try again.
One of the first things that catches your eye on entering Rapha HQ are the race numbers located around employees' desks.
"When you join Rapha, every employee gets a silk race number," explains head of R&D, Simon Huntsman. "It shows how long you have been here."
Huntsman is number eight and proudly proclaims that he is "the longest standing employee after founder Simon Mottram" — No.1 naturally.
Head of central marketing James Fairbank, who joined the company in 2010, is number 47 and in his time has seen the company's annual turnover grow from £2 million to £40 million.
But, he notes, "I have friends who work for Nike and they are like number 87,000 or something."
>>> This is how you can tell you've become addicted to riding in Richmond Park
Rapha may be a cycling success story with an ever-growing presence out on the roads but the company, started in 2004, is not operating out of a gold-plated skyscraper yet. HQ — titled the Imperial Works — is actually a former abattoir somewhere around the back of Kings Cross Station.
The vibe inside is typical of a creative 21st century start-up: post-industrial and open-plan with walls festooned with cycling memorabilia.
Team spirit
The brand inevitably has it detractors, who say that Rapha's cycling apparel is too expensive and for poseurs. Even Fairbank admits, "Before I worked for Rapha, I couldn't afford to buy much of the stuff."
>>> Rapha becomes more affordable with new 'Core' range
But he believes the business has been successful precisely because it's focused "on a particular part of the market rather than trying to be all things to all people.
"Some people think we are a bunch of marketers trying to make as much money as possible, but if they could come down and visit us and take a look around, nothing could be further from the truth," he says. "We are just cyclists. And we are passionate about it."
>>> London's new East-West Cycle Superhighway expected to open on April 30
Indeed, the bike racks downstairs are full and it's estimated that at least 90 per cent of the staff regularly travel to work by bike. It's not just commuting either: Wednesday is company ride day when staff are encouraged to ride, even if they're busy.
Having staff that ride is important to Rapha. "All the product team ride and that knowledge gets extracted and put back into the products," claims Huntsman.
For instance the O-ring zip pullers that have become synonymous with Rapha products "came from needing to locate your zip puller really easily" when overheating on a climb.
Huntsman also cites Rapha's gloves, which feature two different tried and tested pads on the back of the thumbs for wiping away sweat and snot.
It's not the stuff of fluffy blue-sky, white-board brainstorming, and Huntsman notes: "Things like that only come directly from rider insight."
If Rapha was already getting plenty of insight in-house, they gained a whole load more when they took over from Adidas as kit supplier to Team Sky at the beginning of 2013.
Although the relationship will end after this season, they've found that working with a core group of team riders who are particularly interested in their kit has reaped rewards.
"We get so much insight from those guys as to what their priorities are and what they think is important," says Huntsman. "Some things we think are important, they couldn't really care
less about."
>>> Nine of the best moments in the Rapha/Team Sky partnership
But even in these instances, Rapha has a mission of 'Zero Distraction'. "If we ask riders how was it, and the riders say that they didn't notice, then we consider it job done."
Fairbank adds: "A huge amount of effort goes into making sure the fit is right. Psychologically the riders like putting something on where there is no wrinkling, no gathering, and no excess fabric."
And when it comes to matters of personal preference, chamois type and leg length on shorts is entirely up to the rider.
A way of life
Working with the team is not always at the cutting edge. Remember that mesh jersey that gave Chris Froome sunburn? "It came from Sky that they wanted an open mesh," Huntsman explains.
"This is a good example where we can say, 'You asked for that but we can actually give you better solutions that keep you cooler and also protect you from the sun.'"
It's from Huntsman's R&D department that new products, some including technologies borrowed from other industries, are devised and prototyped. Working with a long-term focus, they've recently been researching yarn technology for crash protection, wearable tech and biometric data.
>>> Rapha launches Spring Summer 2016 collection
"We are actually looking at heating elements and lighting in garments too," explains an excited Huntsman. There are, he notes, other companies working on some of these things — but they want to "do it the Rapha way".
"It is not hyperbole," says Fairbank of the company's passion for cycling. "We believe this is the greatest sport in the world and that should inform every aspect of people's life — from the food you eat, to the coffee you drink, to the friends you keep — the whole lot."
Thank you for reading 20 articles this month* Join now for unlimited access
Enjoy your first month for just £1 / $1 / €1
*Read 5 free articles per month without a subscription
Join now for unlimited access
Try first month for just £1 / $1 / €1
Get The Leadout Newsletter
The latest race content, interviews, features, reviews and expert buying guides, direct to your inbox!
Oliver Bridgewood - no, Doctor Oliver Bridgewood - is a PhD Chemist who discovered a love of cycling. He enjoys racing time trials, hill climbs, road races and criteriums. During his time at Cycling Weekly, he worked predominantly within the tech team, also utilising his science background to produce insightful fitness articles, before moving to an entirely video-focused role heading up the Cycling Weekly YouTube channel, where his feature-length documentary 'Project 49' was his crowning glory.