New ANT+ Bike Radar technology will tell you when cars are behind you
Wireless data protocol could be used by many manufacturers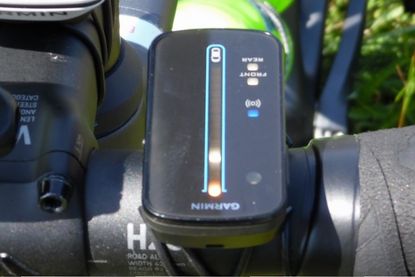 To most of us ANT+ means nothing more than the technology that connects your cycling computer to the various sensors that we all now have adorning both our body and our bike. However the company behind it, Dynastream Innovations, has released a new system that hopes to make us all safer on the road.
>>> Buyer's guide to GPS cycling computers
The new ANT+ Bike Radar system is designed to let you know the relative speed and distance of vehicles approaching from behind, with this information displayed on a compatible headunit mounted to your handlebars. Hopefully this means that you will get less of a shock when cars come speeding past, particularly if you haven't heard them coming.
Watch: Nine beginner mistakes and how to avoid them
Garmin's Varia Rearview light is the first product to us the new technology, showing the relative speed and distances of up to eight vehicles approaching from behind at a distance of up to 140m, communicating with the Garmin Edge 1000 computer to give you a warning. As an added bonus the light will also adapt its brightness and pattern in an attemp to catch the driver's attention.
>>> Police harness new technology to catch drivers who pass too close to cyclists_
Now that the system has received its full release, we expect to see many other manufacturers incorporating it into their new products, and with the same system hopefully being used across the industry, you will be able to mix and match products from different brands, all working seamlessly together.
Thank you for reading 20 articles this month* Join now for unlimited access
Enjoy your first month for just £1 / $1 / €1
*Read 5 free articles per month without a subscription
Join now for unlimited access
Try first month for just £1 / $1 / €1