What is an ANT+ dongle and how do I use one?
We explain exactly what an ANT+ dongle is, the different types and how they work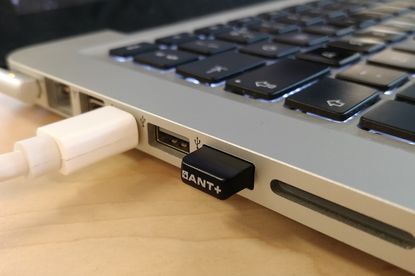 So you have your smart turbo ready, you've got Zwift, Sufferfest or TrainerRoad open and ready to go but you can't connect any of your devices or your smart turbo trainer.
This is because most modern training equipment only communicates via Bluetooth Smart of ANT+. Bluetooth Smart is only available on newer devices, so it might be your laptop doesn't have it. What's more, ANT+ isn't available natively on many computers, laptops and other devices, so you need an external receiver.
One other reason you might need an ANT+ dongle is that some sensors made by Garmin only communicate in that protocol and don't use Bluetooth at all.
So, if you, like me, fall between the Bluetooth Smart and ANT+ cracks, how do you pair your laptop with your smart turbo? Enter the ANT+ dongle.
What is an ANT+ dongle?
The ANT+ Stick is a neat device that sits in one of your laptop's USB ports, allowing it to send and receive the ANT+ protocol. They used to be the size of a normal USB stick, but ANT+ Mini USB sticks have now become common, meaning they can sit in there all the time, ready to be used without any risk of snapping off if left unnatended.
Online, you might also have seen cabled versions available, as well as extension cables. These do exactly the same thing as the USB, but aren't wireless. While that makes them less flexible, it can help improve the connection by moving the receiver further from you laptop, avoiding conflict with other transmission, minimising dropouts.
USB 1.0 and USB 2.0: What's the difference?
When you go the purchase your ANT+ dongle, you might find a choice between USB 1.0 and USB 2.0. The latter communicates on eight different channels, whereas USB 1.0 only four.
Zwift, Sufferfest and TrainerRoad are now only compatible with USB 2.0, as USB 1.0 doesn't have enough bandwidth. Each measurement (speed, cadence, power, etc) is communicated on one channel, and USB 2.0 allows for eight metrics in total whilst the USB 1.0's four isn't enough.
Considering USB 1.0 is no longer in production, it's most likely you'll have, or will buy, a 2.0 version.
For your phone:
Zwift is available on iPhone and iPad, but if you want to connect your smart turbo, you'll have to buy a different adapter altogether, thanks to Apple's proprietary charging ports.
If you own an older Apple device (still using a 30 pin connector) you're in luck. You'll only need to by a 30 pin ANT+ wireless key, which fits straight into the phone. However, it's far more likely you'll be running a lighting port equipped iOS device, so you'll need to buy a 30 pin to Lightening adapter.
While Zwift might not yet be compatible with Android devices, many actually have native ANT+ capabilities already in the device. If you want to check whether yours does, the ANT+ directory has a handy list.
If your phone isn't one of the lucky few with such capabilities don't despair. You can purchase ANT+ dongles for Android phones, too. These come in many different guises, including the Tacx ANT+ micro USB dongle, or a Selfloops ANT+ accessory.
The latter looks like an external battery pack, and as well as providing an ANT+ connection it can also charge your phone and give you weather readings.
If there's anything we haven't cleared up let us know in the comments below!
Thank you for reading 10 articles this month* Join now for unlimited access
Enjoy your first month for just £1 / $1 / €1
*Read 5 free articles per month without a subscription
Join now for unlimited access
Try first month for just £1 / $1 / €1