The hidden GPS tracker that's also a cycle computer (video)
As cyclists we all fear our pride and joy being half-inched by thieves. The Bike Hawk GPS tracker has huge potential to fight bike crime and make criminals think twice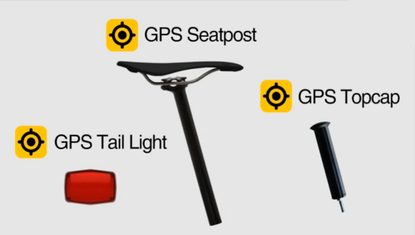 Bike Hawk offer what could potentially be a revolutionary new GPS and anti-theft system for your bike. Unlike a Garmin GPS system, Bike Hawk is hidden, either in a seat post, the headset or rear light.
Bike Hawk claims the accuracy of its system is 2.5 metres and the battery can last 1.5 months on a full charge. Have no fear about the battery running low, when your bike gets pinched, the device will send your phone notifications when the battery needs recharging, so you can always keep it topped up. The GPS tracker is not just for anti-theft, it can also be used in conjunction with the popular apps Strava and Endomondo too.
Another way of protecting your ride is by taking out some specific bike insurance, so that should the worst happen, you will at be covered.
>>> Connected cycle launch GPS pedals
>>> For a review of the Bryton Rider GPS computer, click here.
Bike Hawk also offers special bolts, which will require a special tool to remove. This helps stop thieves discovering the device, if they choose to disassemble the bike. A well thought out touch. For the weight weenies among you, the headset version only weighs a reported 64g.
How it Works
Bike Hawk trackers are designed to triangulate your bikes position from orbiting GPS satellites. By using GPS, and also connecting to the cellular network, the makers claim that their trackers have an almost infinite range, so you can track your bike from anywhere in the world.
According to Bike Hawk you first "arm" the GPS tracker when you lock your bike. If it then moves, the motion sensor will detect it and start uploading your bikes location. You will then instantly receive a push notification and SMS to your smart phone allowing you track your bike in real time using dedicated apps.
How much does it cost?
The Indigogo crowd sourcing page currently has great offers. You can get 45% off the retail price, the downside being that you have to wait until June 2015. Still at $82 for the headset GPS tracker, we think this is a steal, so to speak. We look forward to seeing what happens with this new and exciting company.
For more information, head over to Bike Hawk's crowd sourcing page.
Thank you for reading 20 articles this month* Join now for unlimited access
Enjoy your first month for just £1 / $1 / €1
*Read 5 free articles per month without a subscription
Join now for unlimited access
Try first month for just £1 / $1 / €1